How To Start Extreme Couponing in 5 Steps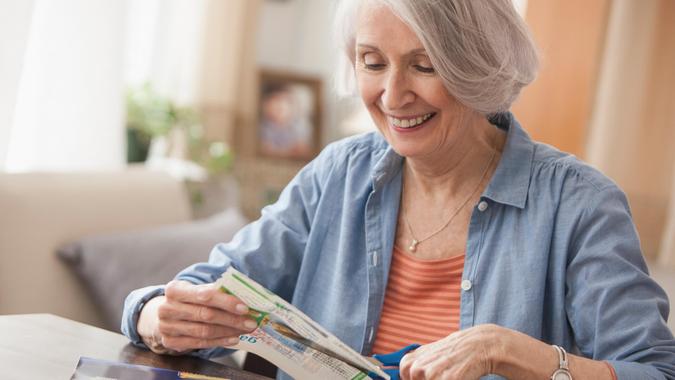 Jose Luis Pelaez Inc / Getty Images/Blend Images
Have you ever been grocery shopping and just before ringing you up, the cashier asks, "Do you have any coupons?" A "yes" answer can make you feel like you've hit the jackpot, especially if you have multiple coupons that can save you a bunch of money on groceries.
If you're not familiar with couponing, extreme couponing and how they both work, continue reading to learn more about the extreme couponing frenzy and how you can get in on it to save some money on future grocery bills.
What Is Couponing and How Do You Do It?
Most people usually think of a coupon as a printed ad that can be cut out to get a discount on products or services. Couponers typically clip printed manufacturers' coupons from newspapers, magazines and store flyers they receive in the mail to save money at store checkouts.
Make Your Money Work for You
Couponing vs. Extreme Couponing
You may be wondering what the difference is between regular couponing and extreme couponing. Here are a few examples to explain.
| Regular Couponing | Extreme Couponing |
| --- | --- |
| You use coupons to buy items that you will use at the lowest prices possible. | You use coupons to buy as much as you can at the lowest prices possible whether you use the items or not. |
| You use coupons to buy what you will use in three months or less. | You use coupons to buy an abundance of items that you stockpile. |
| You casually use coupons to shop for savings. | You spend an enormous amount of time couponing as if it were your full-time job. |
Types of Coupons
There are generally two types of coupons that regular couponers and extreme couponers clip — paper coupons and digital coupons. In addition to magazines and newspapers, you can find paper coupons near the front of your neighborhood grocery store in their weekly circular holder. If you're an avid online shopper, you can find coupons galore on merchants' websites.
Make Your Money Work for You
Read on to learn about some of the websites where you can find online coupons to kick your extreme couponing skills up a notch.
7 of the Best Places To Find Coupons Online
In addition to printed sources, there are many places online where you can virtually clip coupons for your future extreme couponing adventures. Here are some popular as well as some little-known coupon websites to help you save on groceries and more.
| Website | Specialty | How To Use It for Couponing |
| --- | --- | --- |
| Birchbox.com | Beauty products | Log in to your account and abandon your cart before checking out. Birchbox will send you a follow-up email with a discount coupon for your next purchase. |
| Refundsweepers.com | Coupon trading website | Trade coupons you know you won't use for those that you want. |
| Reddit | Freebies section | View the freebie feed with newly updated coupon items. No membership is required. |
| The Krazy Coupon Lady | Variety of coupons at one source | See current promotions categorized by brand and product type. Download the mobile app. |
| Social media sites | Facebook, Twitter and Instagram | Find discounts and freebies on social media sites by using hashtags like #coupons, #deals and #freebies. |
| P&G Good Everyday | Procter & Gamble online coupons | Clip and print from a large selection of consumer goods manufacturers' coupons. |
| eBay | Segmented coupon section | Filter coupons by retailer or by coupon type. You can buy bulk lots to get multiple coupons. |
Don't Forget About Couponing Mobile Apps
Here are a couple of the most popular mobile apps for coupon enthusiasts available on Android and iOS devices:
RetailMeNot: Automatically applies promotion and cash-back codes at checkout to items you shop for online at various merchant sites

Coupon Sherpa: Offers printable in-store coupons and promo codes for groceries and other items
Make Your Money Work for You
Reasons Why People Extreme Coupon
Shoppers use coupons for various reasons to save money. Here are some specific reasons why people participate in extreme couponing:
To save for big-ticket items like a family vacation, new home or new car

To save money on things that they regularly use and were going to buy anyway

To raise money for a charitable cause
How Did Extreme Couponing Start?
The ultimate goal of extreme couponers is to use savvy shopping skills to save as much money as possible and rack up the most merchandise.
Extreme couponing got its claim to fame on the TLC show of the same name. The show features skilled shoppers as they scavenge stores to save big on grocery shopping sprees. The extreme couponers reveal a bit about their backstory and explain their passion for getting deals on their purchases.
For these super shoppers, couponing is not only about saving money; it's also a way of life for them. They share shopping tips and tricks with the audience on how to get the best deals. It's fascinating to see how they rack up savings and stockpile merchandise. Some contestants even donate their wealth of goods to local charities and people in need within their communities.
If what you've read so far has your curiosity piqued and you are ready to get started with extreme couponing, follow the five steps below to begin saving big money while shopping.
Start Extreme Couponing in 5 Easy Steps
Most everyone could use a discount when shopping for food now and then. Food prices are steadily rising. The U.S. Department of Agriculture reported that this year, prices on foods purchased in stores and restaurants are expected to increase between 1% and 3%.
You can get ahead of the inflation game by following these five steps to begin extreme couponing.
Step 1: Get a Coupon Organizer
Before you begin clipping your coupons, you need to have somewhere to sort and store them in an organized manner. A coupon organizer does just that. You can find various types of coupon organizers online.
Here are a few reasonably priced coupon organizers you can order on Amazon.com:
Woeau 13-Pocket Accordion File Organizer, Mini: $7.99

HannahDirect Coupon Organizer, Expandable, Blue: $10.97

Ultra Pro 3-Ring Coupon Organizer Binder: $16.99
Step 2: Only Purchase What You Need
Some novice couponers and extreme couponers make common mistakes in their strategies that can result in fewer savings on items they don't need.
Here are some do's and don'ts to remember when extreme couponing:
Do:
Only buy products that are on sale. You save less money using coupons on full-price items.
Read labels and expiration dates. Most products eventually expire. You waste money on things you don't use before they're no good.
Don't:
Show loyalty to a particular brand. Take advantage of the brand that can save you the most money, even if it's the store brand.
Use every coupon you have in one single shopping trip. Watch prices. You may find a better deal at a later time.
Clip coupons individually if you can help it. Learn to stack the pages and cut them simultaneously to save time.
Print digital coupons that you don't need (at least right now). This is a waste of paper and printer cartridge ink. Print coupons as you need them, and again, only when items are on sale.
Step 3: Clip Your Coupons
You can manually clip your coupons, or you can digitally clip them online and have them sent directly to your store loyalty card. A popular website to find and clip digital coupons is Coupons.com.
It's easy to use. You simply click on the coupons that you want, add them to your Savings Card and print.
Here's how to clip coupons from Coupons.com directly to your store account card:
Create a Coupons.com account by clicking "Sign Up" at the top.

Connect your store loyalty card to your Coupons.com account.

Click "Loyalty Coupons."

Click "Add My Loyalty Card."

Choose your store.

Enter your store loyalty card number.

Click "Add."
It's that simple! Now you're ready to categorize your coupons and extreme coupon for the best deals at your favorite store.
Step 4: Categorize Your Coupons
Organize your coupons into categories using the pockets in the coupon organizer that you bought or made yourself. You can sort them in many ways, but one of the most popular and logical ways is to group them according to the aisles in the grocery store.
Here is a list of common items you can easily find coupons for and helpful categories to get you started:
Bread

Cereal

Coffee and tea

Dairy

Deli

Frozen dinners

Paper goods

Pet food

Soups
Step 5: Shop Till You Drop
Now that you've gotten organized, decided what to buy and clipped your coupons, it's time to put everything you've learned to work. Hopefully, you will find huge savings as you hone your extreme shopping skills.
Is Extreme Couponing for You?
Although extreme couponers rack up on savings, you might find it a bit daunting for your taste. It's not for everyone. Check out some reasons why you might decide not to extreme coupon after all:
Extreme couponing can be extremely time-consuming. Be sure to schedule your adventures when you know you'll have time.

Money-off coupons can be tricky to use. All coupons are not equal. Read the fine print for words such as:

Do not double

Cannot be combined with any other coupon

Limit one coupon per purchase and per transaction

Some products might not be good for your health. Think about whether you need or want to eat two large pizzas for $10 if you live alone.

Some of the same items repeatedly go on sale. Variety is not always an option with some brands.

You could become a hoarder or stockpiler. Forty-five packages of hot dog rolls for the Fourth of July may not make much sense when it's only January.
Takeaway

The television show "Extreme Couponing" spawned a new wave of how people shop for savings. But don't be fooled by everything you see on TLC's popular shopping reality show.

It can be fun to shop with others to see who ends up with the most loot for the least amount of money. But if you are a budget-conscious shopper who subscribes to the "less is more" philosophy, be cautious if you choose to try your hand at extreme couponing. You could lose more than you win in the long run.
Our in-house research team and on-site financial experts work together to create content that's accurate, impartial, and up to date. We fact-check every single statistic, quote and fact using trusted primary resources to make sure the information we provide is correct. You can learn more about GOBankingRates' processes and standards in our editorial policy.