How To Cash In a Savings Bond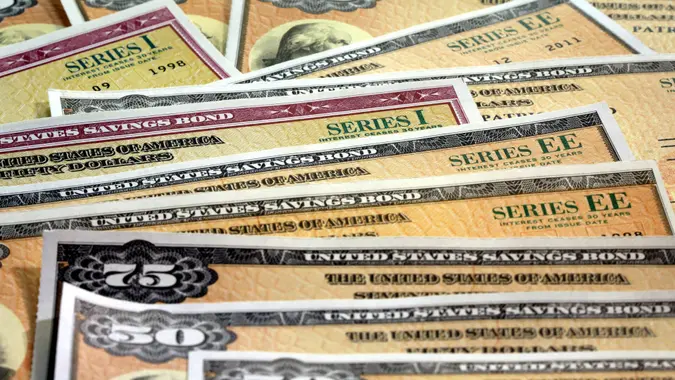 larry1235 / Shutterstock.com
If you are wondering where to put cash away for a rainy day, a traditional savings account may be underwhelming. Interest rates can fluctuate — and they've been historically low since the pandemic. U.S. savings bonds may be one of the safest ways to set money aside. After all, they are issued and backed by the federal government.
You may have received a bond as a gift and not be sure what to do with it, or you might be wondering if you should purchase some. Learn more about how they work and how to cash in savings bonds.
What Are US Savings Bonds?
U.S. savings bonds are issued by the government and are a safe and long-term form of saving money. Bonds can be purchased for $25 to $10,000. When you buy a bond, it is guaranteed to earn interest for 20 to 30 years, until it matures. Once it matures, it no longer earns interest, but in most cases, is worth double what you paid for it.
Types of US Savings Bonds
There are three types of savings bonds. Series E and I are still available for purchase, although H bonds are still in circulation. Here's a look at each type:
Series E/EE: The most common type, it matures after 20 years but earns a fixed interest rate for up to 30 years. It is guaranteed to be worth double at maturity.
Series H/HH: Issued until 2004, H and HH bonds have a 20-year maturity date and were sold at face value in denominations between $500 and $10,000.
Series I: I bonds mature after 30 years, and they earn a variable interest rate due to the inflation rate that is factored in with the bond's interest rate. They are not guaranteed to double in value by maturity.
Who Are US Savings Bonds Best For?
U.S. savings bonds are a good option for individuals looking for an alternative to a traditional savings account or certificate of deposit. Bonds can earn more than a CD or savings account, with current rates ranging between 0.10% and 3.54%.
They're best for long-term savings of 20 years or longer since they are worth the most after they mature. Savings bonds can be gifted, used for education or purchased as part of a long-term savings goal, such as for retirement or to set money aside for a child's college fund.
What Is My Savings Bond Worth?
H bonds are the easiest to determine because they are paper bonds that have been purchased at face value. The amount is printed on the bond. E or I bonds are typically digital or electronic. To find out their worth, you can log in to TreasuryDirect and click on "Current Holdings."
How To Cash In Savings Bonds
If you are holding some bonds you would like to cash in, it's important to know when they were purchased before you cash them. Otherwise, you could lose some of the interest you earned if you redeem them too soon. In paper bonds, the issue date is printed in the upper right corner below the series type.
Good To Know

Bonds can be cashed in after 12 months. However, doing so before they are 5 years old will cost you three months' interest as a penalty. To fully maximize earning power, wait until the bond matures, when it's worth double what it was purchased for.
Here are four simple steps on how to cash in electronic savings bonds:
Log in to your TreasuryDirect account.
Follow the directions to redeem the bond.
Enter your checking or savings account and routing number.
You'll receive the funds in two business days.
Redeeming paper bonds is even easier. You can visit a financial institution with the bond and your photo ID to redeem it for cash.
How To Cash In Savings Bonds After Death
If you would like to cash a savings bond after the owner died, it depends on whether they left a paper or electronic bond. For electronic savings bonds, you can contact the Bureau of the Fiscal Service by email or by calling 844-284-2676 for help. You can also contact the Treasury by mail:
Type of Bond
Mailing Address
Electronic savings bonds
Treasury Retail Securities Services
P.O. Box 7015
Minneapolis, MN 55480-7015
Paper EE and I bonds

Treasury Retail Securities Services
P.O. Box 214
Minneapolis, MN 55480-0214
Paper HH and H bonds
Treasury Retail Securities Services
P.O. Box 2186
Minneapolis, MN 55480-2186
Pros and Cons of US Savings Bonds
If you're wondering if a savings bond is right for you, consider the following benefits and drawbacks:
Pros
Safe and guaranteed by the U.S. government
Can double in value at maturity
Earns a competitive interest rate
No fees
Can be gifted
Available for as little as $25
Cons
Subject to penalties if cashed before five years since purchase
No tax benefits
Slower than other forms of investments to appreciate in value
Limited to purchases of $10,000 per year
Takeaways on US Savings Bonds
Interest rates can fluctuate, making it difficult for individuals who want to earn the most from their savings to earn a predictable amount of money. A certificate of deposit is a good way to guarantee a certain amount of interest for a term, but rates may be too low. A U.S. savings bond typically pays a more competitive interest rate. If held for 20 or 30 years until maturity, the money would have doubled compared to what you paid for it.
U.S. savings bonds can be purchased for as little as $25. They are a good option to put some money aside for retirement or to gift someone after the birth of a baby as a way to set some money aside for college. Savings bonds can be cashed penalty-free after five years and will double in value in 20 or 30 years, making them a safe, long-term alternative to a savings account.
Our in-house research team and on-site financial experts work together to create content that's accurate, impartial, and up to date. We fact-check every single statistic, quote and fact using trusted primary resources to make sure the information we provide is correct. You can learn more about GOBankingRates' processes and standards in our editorial policy.