Crypto Blunders: $7.2 Million Error Is the Latest Digital Disaster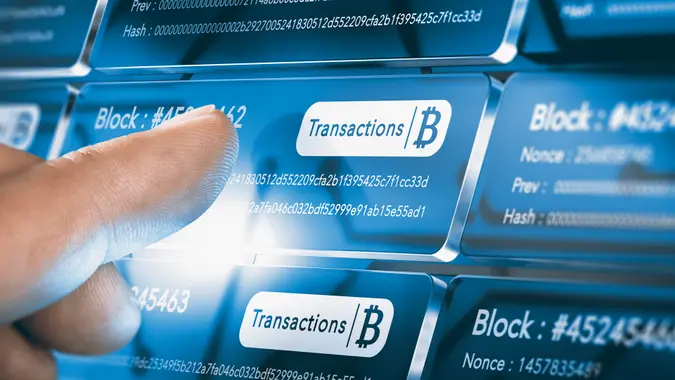 ©Shutterstock.com
In a very costly blunder, Matt Damon-endorsed Crypto.com sent $7.2 million to an Australian woman, instead of the $68 she was due. The company did not realize this "significant error" until seven months later, in late December 2021, according to court documents, and now it is seeking a reimbursement as well as a 10% interest on the sum.
Explore: Your Biggest Money Etiquette Questions Answered
Looking To Diversify in a Bear Market? Consider These 6 Alternative Investments
As for the woman, let's say that she followed Crypto.com's advice — "Fortune favors the brave" — enjoying the blunder and buying a large home, which The Washington Post describes as a "four-bedroom, four-bath mansion about 20 miles north of Melbourne" that "sits on more than 5,800 square feet of land and features a private cinema, a gym and two-car parking." She also transferred the rest of the money to a joint account with another defendant.
On Aug. 26, a judge ruled in favor of Crypto.com, according to the documents, and the case will come back before the court in October to determine next steps, CNBC reports.
'Long History' of Misplaced Crypto
Jagdeep Sidhu, lead developer and president of Syscoin, told GOBankingRates this case "is an unfortunate error, and there's a long history in the digital asset space of things of this nature happening."
Similar errors happen in traditional finance, too, but things can be a bit more complicated in the crypto space for a variety of reasons, Sidhu added.
"If crypto is sent to someone's non-custodial wallet," Sidhu said, "then such transactions usually are not reversible, as they would be if a bank accidentally deposited too much cash into your custodial account."
Indeed, there is a history of crypto blunders, notably cases of old-school Bitcoin users accidentally tossing out computers containing large amounts of Bitcoin that eventually appreciated tremendously in value, Sidhu noted.
For example, in 2013, James Howells threw away the computer he had been using to mine Bitcoin and later realized that he had lost his private keys to the 8,000 Bitcoins stored on that computer.
"Poor Howells!" Sidhu said. "He's still looking in trash dumps for that old computer containing all that Bitcoin, which obviously, if ever found, would make him tremendously rich."
Sidhu added that there are other recent cases such as crypto lender BlockFi, which last year accidentally sent out hundreds of extra Bitcoin in yield to customers.
"It's unclear what actually happened with that extra Bitcoin sent out," Sidhu said. "While some appears to have been retrieved by BlockFi, some also appears to have been lost forever to users who put the extra Bitcoin on hard wallets."
There is also the case of DeFi platform Compound, which accidentally sent 280,000 COMP tokens — $89 million at the time, according to several reports — to users in September 2021.
This prompted Compound Labs founder Robert Leshner to plead with users to return the funds.
"If you received a large, incorrect amount of COMP from the Compound protocol error: Please return it to the Compound Timelock (0x6d903f6003cca6255D85CcA4D3B5E5146dC33925)," Leshner tweeted on Sept. 30, 2021. "Keep 10% as a white-hat. Otherwise, it's being reported as income to the IRS, and most of you are doxed."
Errors Are 'a Wake-Up Call'
"When you have such a new technology like digital assets, the room for error is high, partly because of user interfaces that are still somewhat rudimentary," Steve Bassi, co-founder and CEO of PolySwarm, told GOBankingRates.
"The founder of Compound tried to recover the tokens by offering an award and even warning that he could get law enforcement involved if users didn't return the money. Again, I think that as digital asset technology matures, there will be more measures in place to prevent these sorts of incidents from happening.
"If anything," Bassi added, "these incidents serve as a wake-up call for crypto platforms and protocols to increase the level of scrutiny of their systems so as to ensure smooth operations. A big risk in crypto is that once digital assets are sent to a non-custodial wallet, it's hard, if not impossible, to get them back without the recipient agreeing to do so."
'Messed Up Big Time'
Of course, there are users' blunders, such as the case of a man who mistakenly sent 800 Bitcoins to the wrong address in 2014.
The man, who goes by the Reddit handle TheDJFC, turned to the Reddit crypto community for help, acknowledging he "messed up big time" by sending the 800 Bitcoins to an address where he had previously sent 300 Bitcoins.
"And for the life of me I cannot remember what that was!" TheDJFC said in a Reddit post. "Any and all help appreciated. Edit: Definitely a Mt Gox account so I'm trying to get a hold of them. As this was clearly an accident and not a deposit I would appreciate my errantly sent Bitcoins back."
AltLayer CEO Yaoqi Jia told GOBankingRates, "The address was operated by the now defunct Mt. Gox exchange. And he apparently got it back.
"He was lucky, of course," Jia said, "because such transactions are final and, if the recipient doesn't comply in sending the BTC back, well, then you're out of luck. Again, a lot of this boils down to user interface and fail-safe measures that will improve as our industry grows."
More From GOBankingRates