Crypto.com vs. Coinbase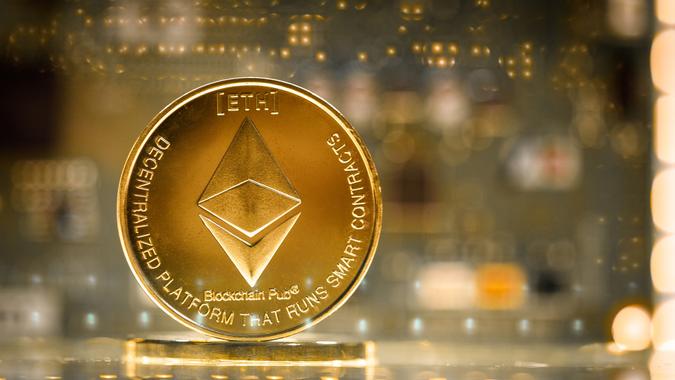 Capuski / Getty Images
Most people are familiar with Bitcoin, Ethereum and even meme coins such as Dogecoin. Although cryptocurrency has gone mainstream, not many brokerages allow for crypto trading yet. If you're interested in investing in the volatile currency, you'll need a special brokerage to buy, sell and hold your assets. Coinbase and Crypto.com are two of the most popular.
The following Crypto.com vs. Coinbase guide will detail everything you need to know about the platforms to get started on your crypto trading.
Crypto.com vs. Coinbase Overview
If you're asking yourself, "is Crypto.com the same as Coinbase?" the answer is no, they're different crypto-trading platforms. Here is a quick overview of the two, head-to-head.
Crypto.com
Coinbase
Established
2016 
2012
Founded
Singapore
San Francisco
Users
50 million
98 million
App Store rating
4.2/5
4.7/5
GooglePlay rating
3.8/5
4.1/5
Available assets
260+
180+
Minimum purchase
$1
$2
Commission/Fees
0.07%
Up to 0.60%
Transfer fees
Free ACHs and wires
-Free ACHs in/out
-Wire deposits: $10
-Wire withdrawals: $25
Digital wallet
Yes
Yes
Customer service
Email
Phone or email
Linked spending card
Yes
Yes
How Coinbase Works
To get started with Coinbase, you'll need to be 18 years old to open an account. Here's what you'll need: 
A government-issued photo ID
A computer or smartphone
A phone number to receive SMS verification
A payment method to fund the account
You'll need to validate your account. To start trading, you can login to the web platform or download the mobile app. Once you're set up and logged in, check out the long list of assets to choose what you'd like to purchase. You can purchase as little as $2 at a time by clicking on the Buy/Sell button, entering the amount and selecting whether it's a one-time purchase or recurring. 
Trading fees will depend on the asset and amount you're purchasing. For transactions up to $10,000, you'll pay a markup of 0.60% of your trade value plus a flat fee of $0.99 to $2.99.
Selling is just as simple. Enter the coin, amount you'd like to sell and select how you'd like to be paid. Keep in mind that fees will absorb the bulk of smaller transactions of $10 or less since you're paying 0.60% plus $0.99. Besides the basics, you can margin trade, mine or stake coins. Staking is similar to mining and earns you a bit of passive income during the staking period.
Coins will be held in a virtual wallet. You could use a Coinbase wallet or add your own by linking it to your Coinbase account. 
How Crypto.com Works
Crypto.com works in a similar way. However, the app is your best option for trading. Download the app to set up an account: 
Register for a new account using an email and phone number to verify the account. You'll need to submit a government-issued photo ID and a selfie to confirm your identity. Once you're registered you can start trading.
Crypto.com vs. Coinbase: Withdrawals
There are times you may want to cash in your crypto, transfer it to someone or use your balance to make purchases or payments. Coinbase may be the more user-friendly of the two platforms when it comes to spending, especially if you opt for the debit card which doesn't require a credit check.
With Crypto.com, you can withdraw or transfer crypto, or select the Crypto Pay option to send instant payments to merchants or friends or buy gift cards. You can also apply for a Crypto credit card linked to your account to make purchases but as with all credit cards, a hard pull of your credit is required before you're approved. 
Coinbase spending is also possible in a few ways. You can cash out to a bank account. The Coinbase Visa debit card can link to your trading account for purchases. There are no fees for spending in U.S. dollars. Plus, you can earn 4% cash back on purchases. Lastly, you can pay with coins at participating merchants using your Wallet, a Bitcoin address or scanning the available QR code. 
Crypto.com vs. Coinbase: Security
When evaluating Crypto.com vs. Coinbase, both platforms have security protocols that ensure your investments are safe, such as crime insurance and FDIC insurance for cash up to $250K. However, losses that occur because you didn't safeguard your credentials don't apply. 
Crypto.com uses two-Factor Authentication for logins. Enabling anti-phishing codes is recommended to identify whether emails are legitimately coming from the Crypto.com app. However, Crypto.com insurance only covers assets that are held in cold storage.
Coinbase provides two-Factor Authentication or security keys to protect your accounts. Coinbase also offers Vaults when you plan on holding your assets long term. They require multi-email approval to initiate withdrawals, which automatically have a 48-hour time delay.
Is Crypto.com Better Than Coinbase?
If you had to choose between Crypto.com vs. Coinbase, it all depends on your level of knowledge and the tools you need. Crypto.com offers more assets for trading, lower fees and more ways to stake than Coinbase. 
However, Coinbase can't be beat for its user-friendliness, tutorials and ease for beginner and intermediate traders. Add the simplicity of a linked debit card and a growing number of merchants willing to accept tokens as payments and you have a robust platform that may meet your needs as you gain more experience. 
Takeaway 
Choosing the right platform for trading tokens is essential to avoid high fees or lost funds. Both Crypto.com and Coinbase are well-known crypto platforms. However, each platform has its strengths and weaknesses. Do your research, choose one and get started buying and selling assets to learn more on how crypto works. You can start with as little as $1 with Crypto.com or $2 with Coinbase. 
Information is accurate as of May 25, 2022.