How Failure of Silvergate Will Affect Crypto Industry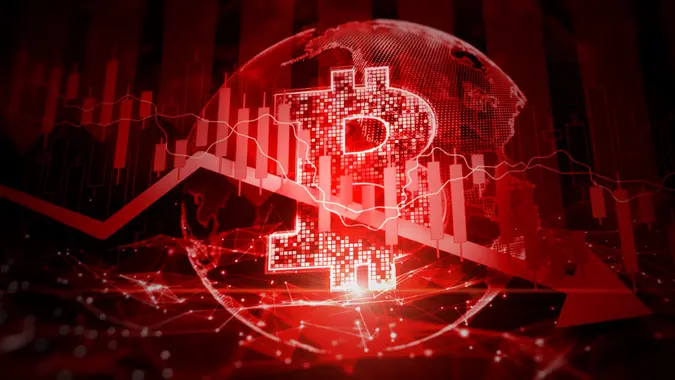 Industry heavyweight and crypto-friendly bank Silvergate announced March 8 that it was winding down operations and liquidating, as it believes it is "the best path forward." 
The Future of Finances: Gen Z & How They Relate to Money
Investing: 3 Things You Must Do When Your Savings Reach $50,000
This is the latest blow for the crytpo industry, which has been battered by a slew of collapses, bankruptcies and severe financial and confidence losses. It also underscores the wide reach and the seemingly unending ramifications of the infamous FTX debacle, from which some players are still reeling.
Silvergate Began Failing in Q4 2022
Following FTX's bankruptcy filing in November, Silvergate CEO Alan Lane tried to reassure customers and investors, issuing an update on Silvergate's exposure to FTX.
"As of September 30, 2022, Silvergate's total deposits from all digital asset customers totaled $11.9 billion, of which FTX represented less than 10%," Lane said in a statement then. "Silvergate has no outstanding loans to nor investments in FTX, and FTX is not a custodian for Silvergate's bitcoin-collateralized SEN Leverage loans. To be clear, our relationship with FTX is limited to deposits."
Live Richer Podcast: How To Leverage Your Investments
The company reported a $1 billion loss for the fourth quarter, and in January it laid off 40% of its workforce "in order to account for the economic realities facing the digital asset industry today," according to another filing.
In a Securities and Exchange Commission filing, Silvergate said its results might "materially" differ from those indicated in previous statements, including "the viability of the company's digital asset focused business following the substantial volatility in the digital asset industry during the fourth quarter of 2022 and continuing into 2023, including several high-profile bankruptcies, which has disrupted investor confidence in cryptocurrencies and led to a rapid escalation of oversight of the digital asset industry."
Several companies, including Galaxy and Coinbase, then severed their ties with Silvergate.  
"At Coinbase all client funds continue to be safe, accessible and available," Coinbase tweeted March 2. "In light of recent developments and out of an abundance of caution, Coinbase is no longer accepting or initiating payments to or from Silvergate. Coinbase will be facilitating institutional client cash transactions with our other banking partners and have taken proactive action to help ensure that clients experience no impact from this change."
Silvergate's statement on March 8 said, "In light of recent industry and regulatory developments, Silvergate believes that an orderly wind-down of bank operations and a voluntary liquidation of the bank is the best path forward. The bank's wind-down and liquidation plan includes full repayment of all deposits. The company is also considering how best to resolve claims and preserve the residual value of its assets, including its proprietary technology and tax assets."
The bank, which had a relationship with FTX, has been running into a slew of issues in recent weeks. Delaying its annual report triggered a sharp drop in the company's stock.
How This Impacts Crypto Industry
According to Sid Powell, CEO and co-founder of Maple, the impact of the Silvergate situation on the broader digital asset ecosystem is likely to be minimal given that we already are in a period of reduced trading and volatility.
"The major U.S.-based exchanges, moreover, had already been preparing for what eventually happened at Silvergate, and in turn they have been making arrangements with other banking partners such as Signature," said Powell, adding that serving as a hub for crypto exchanges is now an increasingly useful position to be in.
"I expect other banks to step in and quickly try to fill the void," Powell said. "That said, new banks stepping into this space will have to move cautiously because of the regulatory pressure of late."
Regulators have been circling around Silvergate, too, adding to the problems for the bank, which cited investigations by banking regulators, congressional inquiries and investigations from the U.S. Department of Justice as a reason for the filing delay.  
In December, Sen. Roger Marshall (R-Kan.), Sen. Elizabeth Warren (D-Mass.) and Sen. John Kennedy (R-La.) sent a letter to Silvergate, asking whether the bank was aware that FTX customer funds were being improperly wired to Alameda's Silvergate account and whether the bank was prepared to withstand the stress of the current crypto market.
Then, in February, the senators released a statement noting that the bank's response about its role in the loss of billions of dollars in FTX customer funds "was largely evasive."
On March 8, Warren tweeted: "As the bank of choice for crypto, Silvergate Bank's failure is disappointing, but predictable. I warned of Silvergate's risky, if not illegal, activity — and identified severe due diligence failures. Now, customers must be made whole and regulators should step up against crypto risk."
"While Silvergate ceasing operations is unfortunate, I think there is an important lesson about the stability of the industry," said Christopher Alexander, chief communications officer, Liberty Blockchain. "One, clearly regulations currently in place work despite claims to the contrary, as depositors will get back all of their money. Two, a negative event like this occurs and the industry moves on to find new solutions."
More Scrutiny Expected
Other industry experts are noting that Silvergate's shutdown is going to be a major setback for crypto and put a lot more regulatory scrutiny on the industry.
"I think the main debate that is going to come from this is whether crypto banking should be separated from standard banking," said Jake Boyle, director of Caleb & Brown.
From Boyle's perspective, there shouldn't be a separation; crypto should be integrated into the existing financial system.
"I think for banks that service the crypto industry, there will need to be more focus on risk management," he said. "After all, digital assets are incredibly volatile and unlike traditional assets in that sense."
He believes Signature will most likely take over as the go-to bank for the digital asset industry.
"But, nevertheless, this situation will put a damper on the growth of our industry for some time," Boyle added. "But we will recover and continue growing, and I'm optimistic about that."
More From GOBankingRates