Should You Invest In the Global X US Infrastructure Development ETF?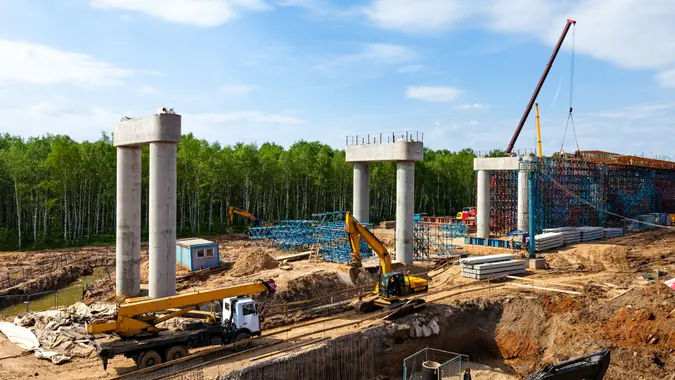 wastesoul / Getty Images/iStockphoto
American presidents have long had infrastructure on their agenda, but the current administration, led by President Joe Biden, has a detailed action plan. Unveiled in the first 90 days of the current term, the plan has its sights set on improving the country's roads and putting millions of Americans back to work.
The American Jobs Plan aims to invest in several sectors: transportation, caregiving support, manufacturing, affordable housing, research and development, water, schools, digital infrastructure, workforce development, and veterans' hospitals and federal buildings.
For investors, the question is this: With infrastructure looming large on Biden's agenda, is now a good time to invest in infrastructure? If so, what is the best way to do so?
Exchange-Traded Funds: A Diversified Point of Entry
Although it is possible for investors looking to bet on infrastructure to buy individual company stocks in the sector, a more diversified approach is to invest in an exchange-traded fund. This establishes an automatically diverse way to pursue sector growth, rather than trying to determine which companies in which infrastructure sectors are most likely to experience growth. One example of such an investment is a Global X ETF called PAVE.
What Is Global X?
Founded in 2008 and headquartered in New York, Global X is a provider of exchange-traded funds. The company's ETF offerings span "disruptive tech, equity income, commodities, and hard-to-access emerging markets."
What Is PAVE?
PAVE is an ETF from Global X that is focused on infrastructure. The fund's concept is to invest in companies that potentially stand to gain from increases in infrastructure development in the U.S. These could be companies dealing in raw materials, heavy equipment, engineering and construction.
This Global X ETF was launched on March 6, 2017. It has an expense ratio of 0.47% and a 30-day SEC yield of 0.59%, which is distributed semiannually. PAVE aims to match the performance of the Indxx U.S. Infrastructure Development Index before fees and expenses.
As of April 30, 2021, the fund most heavily weights two sectors: industrials (64.5%) and materials (22.4%). Other included sectors are information technology (5.3%), utilities (3.7%), financials (3.3%) and consumer discretionary (0.8%).
The fund's focus on U.S. infrastructure is sound. The American Society of Civil Engineers — the country's oldest engineering organization — gave the country a grade of C- for its current infrastructure and made recommendations about how the U.S. could improve its infrastructure in 17 categories. Those categories are:
Aviation
Bridges
Dams
Drinking water
Energy
Hazardous waste
Inland waterways
Levees
Parks and recreation
Ports
Rail
Roads
Schools
Solid waste
Stormwater
Transit
Wastewater
What Are PAVE's Competitors?
Investors have a number of ETF options in the infrastructure space — including primary player iShares Global Infrastructure ETF, or IGF, which has historically been the largest in the category. Here's a glance at a handful of competitors in the infrastructure ETF space:
Keep in Mind

While each of these funds has notable assets and somewhat comparable expense ratios, it's important to look at their holdings. In PAVE's case, for example, it's the United States' focus on industrials that some analysts think could pay off given the priorities of the Biden presidency.
PAVE's Strengths: US-Centric and Focused on Industrials
PAVE focuses on infrastructure development, with a heavy emphasis on industrials and materials, which places it among the best-positioned ETFs if the American Jobs Plan passes.
Deere & Co. (DE), one of PAVE's top holdings, appears to be poised for growth due to forward momentum in several aspects of its business. It has long used technology to bring new capabilities to its products and services, and to that end has been rolling out smart farming solutions. From self-driving tractors to real-time data points that guide farmers about when to prepare soil, plant and nourish seeds, and harvest plants, Deere is investing in the kinds of technology that will increase sales and profitability.
Green Light, Red or Yellow?
Is PAVE a buy, sell or hold? According to Zacks, this Global X ETF is a hold — in other words, a yellow light. Investors may be best suited to watching this ETF and its key holdings for growth as U.S. policy around infrastructure unfolds.
Data is accurate as of May 18, 2021, and subject to change.
Our in-house research team and on-site financial experts work together to create content that's accurate, impartial, and up to date. We fact-check every single statistic, quote and fact using trusted primary resources to make sure the information we provide is correct. You can learn more about GOBankingRates' processes and standards in our editorial policy.