What Makes These 7 States the Best for Property Investment?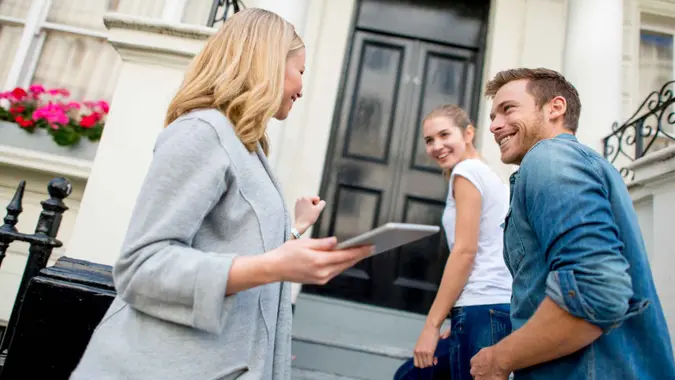 andresr / Getty Images
One of the biggest decisions you'll make as a real estate investor is where to purchase a property. But with digital tools available to investors, not to mention a $115.4 billion property management industry to help you manage your property from a distance, there's no reason to confine your search to the state where you live. By removing geographic restrictions, you can focus on other factors that make for a good investment location, such as rent growth, vacancy rates and overall economic conditions.
Read: 3 Things You Must Do When Your Savings Reach $50,000
Why These Are the Best States for Property Investment?
These rankings are based on data gathered by Fit Small Business, including property and rent appreciation, inventory, affordability and economic, job and population growth.
1. Georgia
Georgia offers the perfect combination of relatively low home prices and high rents. The median value of a home here is $190,200 after rising 22.1% from 2021 to 2022. Rents are up 2.27% since 2022, to an average $1,042. While the vacancy rate was on the high side at the end of 2022, Georgia has a high percentage of renters — 34.1% of residents rent vs. own — and so a large potential market for rental properties.
The state ranks eighth in terms of gross domestic product, which means Georgia's economy is growing at a nice clip. What's more, jobs grew 4.66%, putting Georgia in third place by that measure and helping to maintain the high degree of affordability Georgia tenants enjoy. In fact, Georgians spend just 17% of their total personal consumption expenditures on housing and utilities, according to U.S. Bureau of Economic Analysis data.
Georgia is also relatively friendly state for investors. It has no rent control, no limits on security deposits, a simple eviction process and low property-tax rates, according to DoorLoop.
2. Utah
The Beehive State has the fastest-growing population and one of the highest market appreciations. Job growth is also strong.
Utah's median home price is high at $305,400, which could account for the low vacancy rate for rental properties — tenants may simply be priced out of homeownership. Strong demand resulted in 6.19% rent growth, to $1,090, between 2022 and 2023 — a figure that could continue to grow with the population.
The state falls dead center in terms of cost of living, but a high median income pushes Utah to No. 6 for overall resident affordability. Utah residents spend just 17% of their total personal consumption on housing and utilities, according to the BEA.
3. Texas
Not only does Texas rank No. 1 for economic, job and population growth, but it's also among the most affordable states in the U.S., in part because of low taxes relative to other states.
Over 36% of Texans rent vs. own, and the state is friendly to property owners. With no rent control, no security deposit limits and no rules for entering units in non-emergencies, it's relatively easy for an investor to protect their financial investment in a Texas rental property.
4. North Carolina
North Carolina has a high percentage of renters — 36% — plus solid job growth and a moderate cost of living that's proportionate to the state's relatively low median income. Residents spend just 16.7% of their total personal expenditures on housing and utilities, and rents are a low $932 per month. However, home prices are also low, at $182,100, which gives investors a solid 6.14% gross rental yield.
Low property taxes, no rent control and zero-day eviction notice required for lease violations makes North Carolina an investor-friendly state. North Carolina also happens to be home to one of the nation's best rental markets, according to a FortuneBuilders ranking — Raleigh, which has seen a 32.9% increase in rent since the pandemic began, with no signs of residents looking outside the city for cheaper housing. Along with Wilmington, Charlotte and Ashville, it is one of the top 20 cities for move-ins, according to Pods analysis.
5. New Jersey
New Jersey is famous for having one of the highest costs of living in the country, but those costs are proportionate to residents' median income of $85,245, which is the second-highest in the U.S. That makes New Jersey surprisingly affordable — it ranks 10th in overall affordability, and the percentage of total personal expenditures spent on housing and utilities is consistent with those in states where the cost of living is much lower.
The Garden State has high rents to go with high home prices — $1,368 and $343,500, respectively. The population is stable despite the fact that New Jersey has the second-highest number of move-outs — tying New York. New Jersey also has one of the highest rates of job growth.
New Jersey has the seventh-highest rent growth rates, and 36.7% of residents rent. The vacancy rate is just 4.2%, which suggests there's room for additional rent growth and nice profits for investors who find a good deal.
6. Tennessee
Tennessee is among the least expensive states to live in despite a 12.75% appreciation in property values and 15.8% appreciation in rents. Homes are still reasonable, with a median value of $177,600. Rents are also modest at $897, with expenditures for housing and utilities proportionate to total personal expenditures.
While not the strongest state in terms of its economy, Tennessee still ranks in the top 20 with 1.7% growth in GDP and 3.52% job growth. Population growth is modest at 0.80%, which is the country's 17th-highest rate, but that could be changing. Knoxville and Nashville are two of the country's 20 cities with the highest number of people moving in.
7. Washington
Washington has a relatively high cost of living, but it's proportionate to the median income. Plus, Washington has a booming economy, with the nation's 10th-highest GDP and ninth-highest rate of job growth. The population is also growing quickly — faster than all but seven other states, in fact.
Despite having one of the highest median home values, at $366,800, Washington has a decent amount of inventory and a strong 21.8% home-value appreciation. Rents have fallen slightly, which means you'll want to buy at the lower end of the market, but nearly 34% of residents rent vs. own, and the vacancy rate is just 4.3%.
Selecting the Best State for Your Investment
A macro view of the factors that make a state a good choice for your investment property — things like economic, job and population growth and favorable landlord-tenant laws — are a good place to start if you're thinking about purchasing an investment property. But in the end, real estate, and sound real estate investing, are local, so even after you select a state, successful investing requires significant due diligence into that state's local markets and their suitability for your investment dollars.
Our in-house research team and on-site financial experts work together to create content that's accurate, impartial, and up to date. We fact-check every single statistic, quote and fact using trusted primary resources to make sure the information we provide is correct. You can learn more about GOBankingRates' processes and standards in our editorial policy.