Dave Ramsey's 6 Tips for Finding a House You Can Actually Afford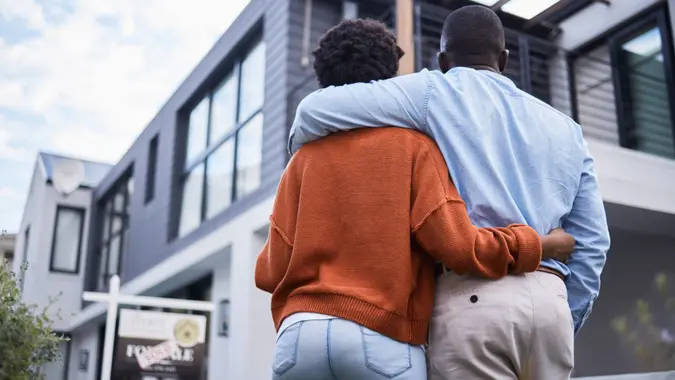 PeopleImages / Getty Images/iStockphoto
Being able to afford a home in today's housing market can be a challenge. According to Zillow data, the median home value is $348,853, a 1.2% increase from last year. Not only that, but mortgage interest rates are still hovering around 7% on a 30-year fixed-rate mortgage loan.
All of this combined with the rising cost of living can make it hard to find affordable real estate for you and your family. It can also make it difficult to save up enough for a decent down payment, closing costs and possible maintenance or renovation expenses.
But don't count yourself out of the housing market yet. If you're looking to purchase a home but aren't sure how to afford it, here are some financial tips from financial guru Dave Ramsey that can help.
Know Your Financial Limits
One of the most important things you can do right now is determine how much you can reasonably afford to spend on real estate. Start by calculating your monthly mortgage payment amount.
Figuring out this number can be tricky since there are many different methods of doing so, but you can use an online mortgage calculator to make it easier. To get as precise a number as possible, factor in things like HOA fees, homeowners insurance, property taxes, APR, repayment term and down payment amount.
Once you have this calculation, consider your income. Dave Ramsey suggests spending no more than 25% of your take-home pay on your monthly mortgage payment. Say, for example, your take-home pay is $4,000 a month. Your estimated monthly mortgage payment should be no more than $1,000.
Cross-reference the number you got using a mortgage calculator with your take-home pay. If the two numbers are similar, you may have found your sweet spot. If the calculator gave you a higher number, adjust your calculations until you find something that works with your budget.
Besides this, Ramsey also suggests getting a 15-year fixed-rate conventional mortgage instead of a 30-year loan. His reasoning is that the shorter term won't take as long to pay off. Plus, it could cost less money in interest over time.
Save Smart
Ramsey advises first-time buyers to save at least 5% to 10% for a down payment. But for those who've already owned a home, he recommends saving up 20% so you can avoid private mortgage insurance (PMI). Since PMI often gets tacked onto your monthly payment amount, having it can cause more financial stress.
Another notable tip from Ramsey is to only buy a home when you're ready to do so. Purchasing a home you can barely afford is a major risk. But taking some time to save the money you need while renting a place is a safer financial decision. This strategy is applicable regardless of where you want to live and how expensive homes are in that area.
Before saving up for a down payment, Ramsey suggests building up a fully maxed-out emergency fund that can cover between three and six months' worth of living expenses. This might delay your homebuying journey, but it will also prepare you for any unforeseen financial emergencies. Along with this, it's a good idea to pay off any outstanding debts.
Last but not least, Ramsey recommends using a high-yield savings account or a money market account. These accounts are easily accessible, meaning you can withdraw funds if an emergency arises. But they also tend to earn more in interest than standard savings accounts, meaning your money will go further.
Consider Other Areas To Live
As a general rule, houses cost more in big cities than they do in suburban or rural areas. The further you go from a major metropolis, the cheaper the homes tend to be.
Ramsey advises prospective homebuyers to research housing markets beyond their original area. If you're willing to relocate, you may be able to get a home sooner than if you were to wait until you can afford something in your area.
That said, it's important to scope out any areas you're interested in moving to. Do some research into things like overall livability, crime rate, pollution, recreational activities and other costs. Check out different neighborhoods in person before settling on one, too, so that you have a better idea of what you're getting.
And don't forget to consider the commute. If you work in one city and move an hour away, you might not be saving as much money as you'd hoped if you're spending it on gas and car maintenance.
Improve Your Financial Situation
Even after paying off debt, saving up money and finding a cheaper location, Ramsey advises people to focus on improving their finances.
Consider your overall financial situation, tighten your budget, and improve your income to make the dream of homeownership a reality. This could mean asking for a raise or promotion at work. Or it could mean taking on a second source of income. Any little bit helps.
Reevaluate Your Must-Have List
As you start house hunting, you may find that some of those items on your list of requirements aren't quite as feasible as you'd like them to be. For example, you may want a larger lot or more bedrooms or bathrooms. But if these features aren't affordable, consider some adjustments. Even making a couple of minor changes to your list could help you buy a home sooner.
And, as Ramsey notes, there's a good chance that you'll buy another home in the future. Even if your first place doesn't have everything you wanted, you could still find it on the next go-round.
Use a Real Estate Agent
Last but not least, Ramsey advises prospective buyers to use a real estate agent. Not only can an agent help you find what you're looking for at your price point, but they can also make suggestions about the area you're interested in. Plus, a real estate agent should know the current tax laws and be able to help with any complicated paperwork along the way.
More From GOBankingRates