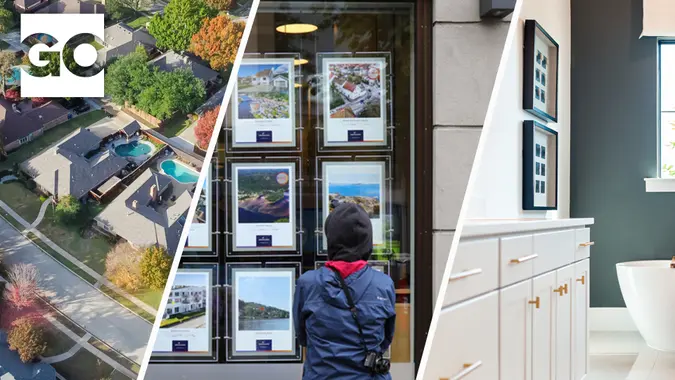 ©GOBankingRates
The real estate market is a deep reflection of who we are fundamentally: what we value, what brings us comfort, how we work and how we want to spend our time not working. The places we live become part of our identities. Underpinning it all are the inescapable realities, for better or worse, of what we can afford. 
Meanwhile, our individual choices and preferences are often driven by broad collective shifts, from socio-economic to geopolitical and environmental forces. 
The future of real estate, for buyers, sellers and everyone in between, is being shaped by demographics and other changes today that will influence where and how we live years from now. American families are getting smaller. Our population is aging. We're working from anywhere and moving to small towns and rural areas. Cities are being rezoned for more density.
Such factors could lead to a significant shift away from what has long been an encapsulation of the American dream: a single-family home with a nicely mowed lawn enclosed by a white picket fence. "The single-family model will change greatly as we start running out of space," said Orphe Divounguy, senior macroeconomist with Zillow Home Loans. 
Our real estate experiences and our spaces themselves are undergoing technology-driven shifts, catering to the largest current generation of homebuyers: tech-savvy millennials.
For all the projections and predictions, perhaps the only truly certain thing is uncertainty. "If somebody tries to tell you they can see the future, be very skeptical," Divounguy said. "The housing market is very dynamic and it's moving constantly. You've got to pay close attention to what's happening." 
Mortgage Rates
Just about everything in real estate is driven by prices and affordability — and that, in large part, means mortgage rates. After buyers got a taste of historically low mortgage rates of around 3% during the pandemic, the thought of venturing into a market where rates are doubled or higher can be cringe-inducing. Buyers and sellers alike have been sitting on the sidelines waiting for conditions to improve. According to a recent survey by U.S. News & World Report, two-thirds of buyers in 2023 are waiting for rates to drop before they begin shopping.
But that stagnating effect isn't expected to last. Divounguy said that in thinking about the future, it's important to remember that 7% is more the norm, rather than the exception. "Mortgage rates aren't likely to return to where they used to be," he said. 
While the 30-year fixed rate mortgage has eased down slightly from a peak last fall, Divounguy said that mortgage rates will ultimately follow inflation — and that's very difficult to predict. "If the market expects inflation to continue to increase, then mortgage rates will tick up. If expectations are for inflation to come down and the US economy is cooling, then mortgage rates will also follow suit." 
The bottom line, Divounguy said, is that affordability will continue to be a challenge. He believes the solutions to that lie in signs of increased builder activity that will increase inventory, coupled with zoning reforms to support greater density, which Zillow and others in the industry are lobbying for.
"We have a near record number of homes under construction today," Divounguy said. With the cost of materials and inflation easing, that has given builders more confidence and a bigger share of the market. "That is good news for buyers. If we can see builders continue to ramp up construction, these homes will come on the market to alleviate some of the price pressure," he said.  
Locations of the Future 
The more expensive the mortgage, the less space people can afford, and that's the biggest factor in determining where people shop for houses as they seek out more bang for their buck. "With mortgage rates where they're at and not expected to come down a lot, space is very costly," Divounguy said. "When space is costly people either downsize or relocate. They go where space is more affordable."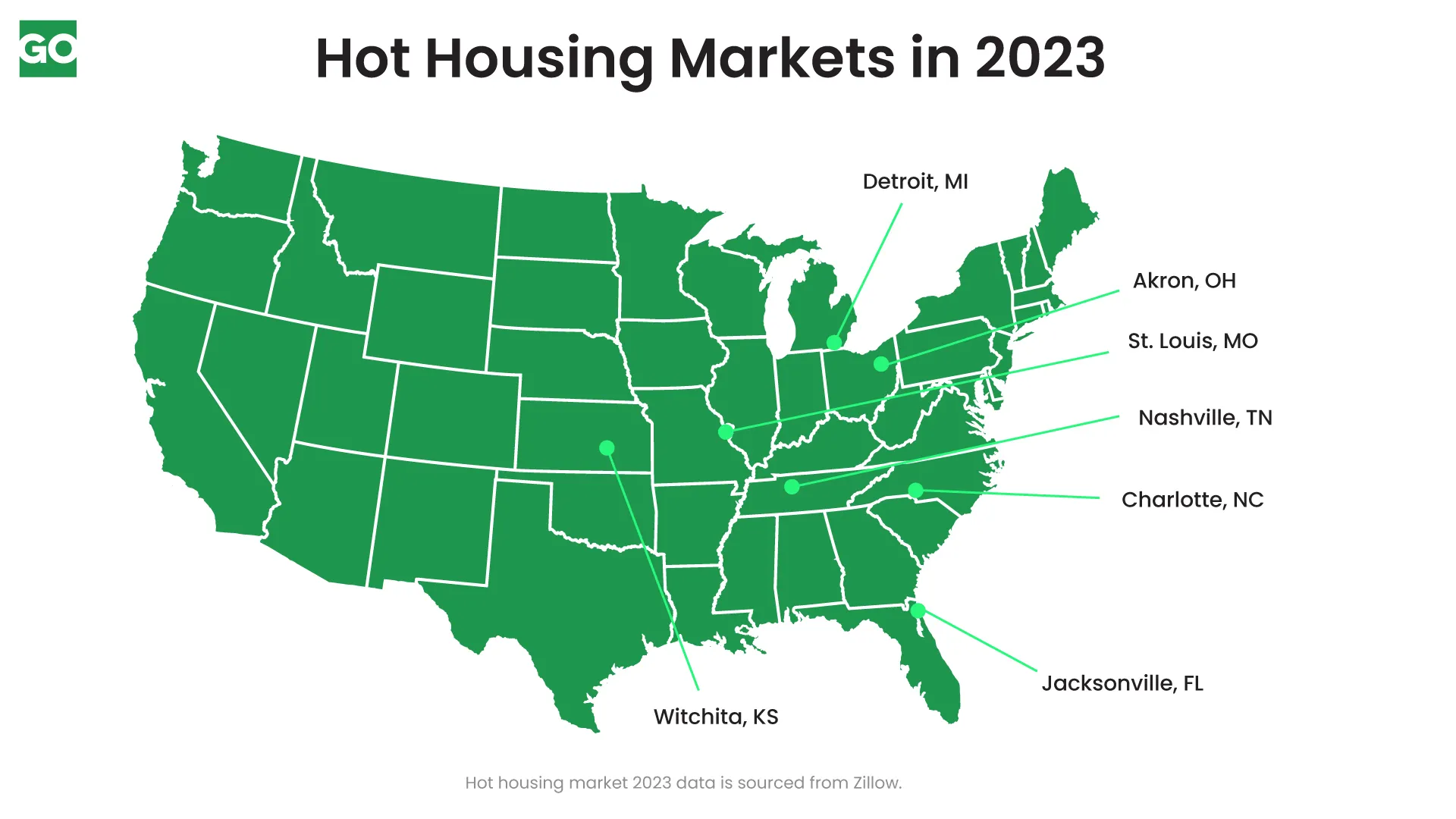 Recent trends in hybrid or remote work have fueled migrations to sunnier climates, including southern metros like Charlotte, North Carolina; Nashville, Tennessee, and Jacksonville, Florida. But those same trends have also put many midwestern metros on the map as hot spots for first-time buyers, and Zillow expects that to continue into the future. 
Wichita, Kansas, was rated the top spot for homebuyers for 2023 because of its combination of available homes and affordable prices. Six other metros across the midwest, including places like Akron, Ohio; Detroit and St. Louis, were also among the top ten.
"I think that's likely to continue to be the case across the country, especially when the unemployment rates remain so low and workers have a ton of bargaining power," Divounguy said. "So those factors are going to cause work to move away from these expensive urban job centers and toward areas that are more affordable and still offer a great quality of life."
Some other locations, meanwhile, are becoming less liveable due to a changing climate. In areas like Florida, which is prone to hurricanes and flooding, or wildfire-plagued California, private insurers are drastically raising rates or outright refusing to insure homes in such vulnerable areas.
Design Trends 
While fleeting trends in home design come and go, many of the recent shifts in how we live and use our spaces have been foundational enough to keep propelling the next wave of design. 
"These are things that are already happening right now," said Amanda Pendleton, home trends expert for Zillow. "The shift to remote work, a desire for flexible functionality, energy efficiency and sustainability will all continue to influence the design trends of the future," she said. 
"Outdoor spaces in particular, which became so important during the pandemic, I think will increasingly become an extension of our indoor space, effectively adding square footage to our living area," Pendleton said. "Our homes have to serve so many more purposes now." And that need will become even more amplified as spaces get smaller, warranting highly intentional design that enables flexibility, like the ability to open up or close off a space and integrate creative storage solutions. 
Smarter, more technologically-connected homes are on the leading edge of design and will play a large role in greater energy efficiency that improves sustainability and lowers home energy costs. Innovations in smart IoT ("internet of things") devices now allow them to more seamlessly communicate with each other. That means everything from our heating and cooling systems to security and entertainment will be more connected to each other and optimized for our daily lives and habits. 
Some newer home technologies are even designed to support our wellness. Pendleton points to air filtration systems that pump oxygenated air throughout the home, and integrated lighting systems that automatically adjust their color and intensity to sync up with our bodies' natural circadian rhythms to support better sleep at night and energy during the day. 
"It's kind of amazing to think that the home of the future could be actively working to improve your health," Pendleton said. 
How We Buy and Sell
Technology is also powering much of what's in the pipeline to change the process of selling and buying homes.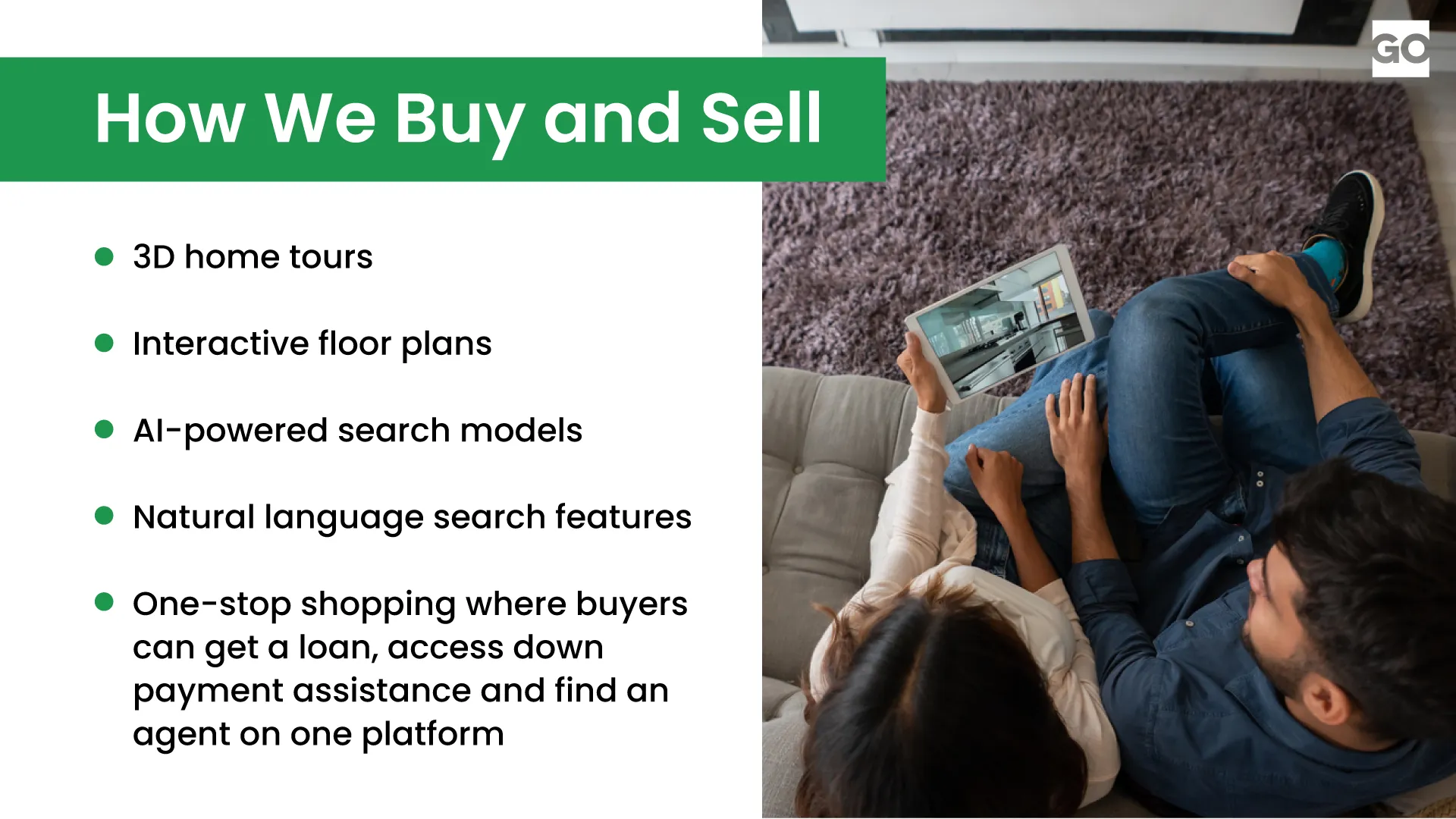 3D home tours, sometimes with interactive floor plans that help the viewer virtually navigate a space, have already become more commonplace, and are increasingly considered an essential feature of a good listing. "Long gone are the days when you have to search for housing by actually going to look at a house," Divounguy said. "A lot of people are moving across the country without ever having set foot in the house because they take advantage of the technology." 
AI-powered search models are finding applications in real estate as well. Zillow recently launched a natural language search feature that lets buyers skip all the search filters and settings, and instead enter phrases like "four-bedroom homes in Charlotte with a steam oven" directly into the search bar.
Other new startups and applications aim to streamline the entire process of buying and selling by unifying what has traditionally been a fractured, confusing and slow process. Opendoor, for example, acts as the buyer, renovator, agent and seller of properties. New tools and software platforms like Qualia simplify the closing process by creating a single system of record across the various stakeholders, while others like Flyhomes have reimagined traditional financing models, enabling more buyers to compete with cash offers, even if they don't have cash on hand.  
Zillow is working toward becoming a one-stop shop where buyers can get a loan, access down payment assistance and find an agent all on its platform. "We already have a lot of people looking at houses on the website every month, so allowing them to get their mortgage all the way down to getting the keys is really the way of the future," Divounguy said. 
Waiting for the Future? 
With new technologies, nail-biting mortgage rates in flux, shifting heat maps and changing norms around how we define our "ideal" home, what's a buyer or seller to do? 
Divounguy's advice: "You can't time the market." 
For buyers, he said the first and most important step is still to secure your financing. "Go talk to a mortgage professional first. They can give you some tips like how to improve your credit score or other ways to save you thousands over the life of your loan," he said. Once you're pre-approved, connect with an agent to target homes within your budget. 
For potential sellers staying on the sidelines out of reluctance to also become buyers, Divounguy said that those who really want to move still can. "A lot of sellers are sitting very comfortably with a ton of appreciation over the last couple of years," he said. While there may not be a line out the door and bidding wars propelling prices beyond your dreams, he said, "because there's so little competition today, sellers can still command a pretty high price and high return in today's housing market." 
So while much of what's to come offers visions of untapped markets, new homes built for functionality and sustainability and easier ways to close the deal, that future has already begun. 
More From GOBankingRates