Here's Why It Costs $1,204 a Month to Maintain the Average Home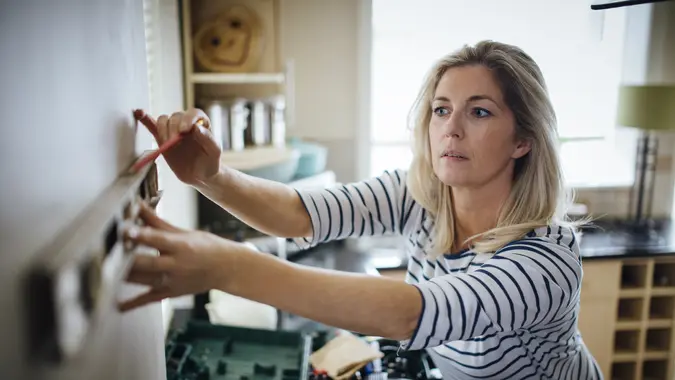 DGLimages / Shutterstock.com
Buying a home is expensive — in fact, the average American home costs more than $360,000, according to the U.S. Census Bureau. The cost of owning a home doesn't end with your mortgage loan, however; you must add maintenance into your budget, which might cost you an additional $1,204 a month, or $14,448 annually. See how the following seven monthly costs can add up quickly — it might help you decide if buying a home is the right financial move.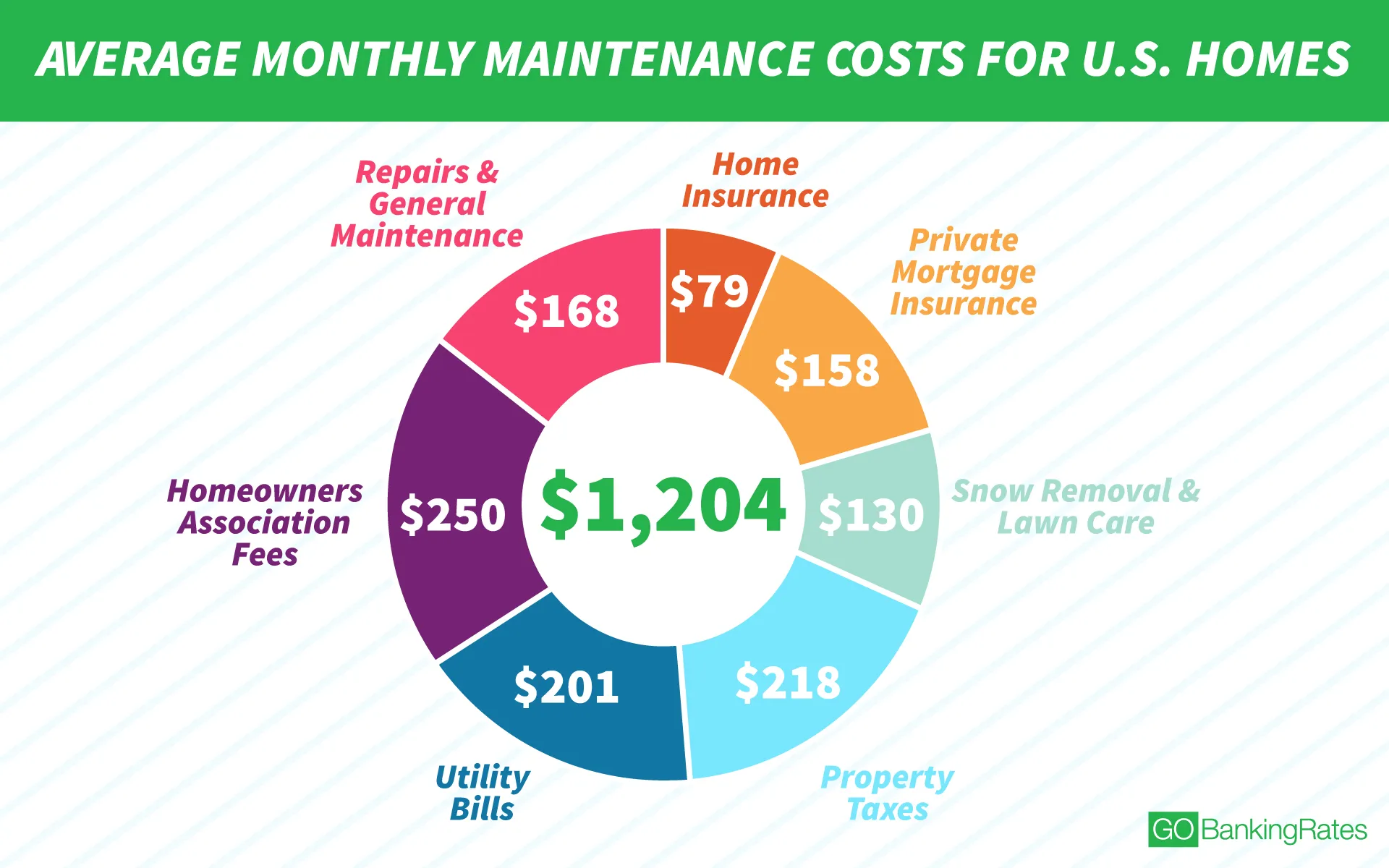 1. Home Insurance: $79
The average homeowners insurance premium costs $952 per year, according to online data source ValuePenguin, which means you will likely be paying somewhere in the neighborhood of $79 a month for your policy. Homeowners insurance has gone up nearly 50 percent in the past decade and there's no end in sight.
Although costs vary by state, an easy way to determine if you're overspending on homeowners insurance is to divide the value of your house — excluding land — by 1,000 and multiply that amount by $3.50. One of the best ways to save money on homeowners insurance is to shop around every year for a better-priced policy. Bundling home and car insurance and making improvements like adding a security system can also help you save.
Related: Average Cost of Home Insurance in Every State
2. Private Mortgage Insurance: $158
If you don't put at least 20 percent down on your house, you'll likely have to pay for private mortgage insurance, which can be a costly addition to homeownership costs. Although annual costs vary, the typical price for PMI is between 0.50 percent and 1.2 percent of your loan amount. For example, at 1 percent on a $190,000 mortgage, it would add $158 to your monthly home costs.
Learn: How to Get Rid of PMI
3. Snow Removal and Lawn Care: $130
Lawn care can cost you an average of $158 per month, according to HomeAdvisor, an online home improvement marketplace — and the price varies based on the size of your lawn and how much landscaping you want. Snow removal is a little cheaper at $115 per month, according to HomeAdvisor, and this price depends on the size of your driveway and how steep it is. Many homeowners associations require residents to maintain lawns and remove snow, so you should probably add in this cost to your budget if you answer to an HOA.
4. Property Taxes: $218
Property tax rates vary among states and counties and, in some instances, represent one of the biggest home expenses you'll have after your mortgage. The average property tax in the U.S. is approximately 1.31 percent of the property's value, according to CoreLogic, which provides consumer, financial and property information. If your home is worth $200,000, that means you'll pay $2,620 per year in property taxes.
Find Out: 6 Things Every Homeowner Should Know About Property Taxes
5. Utility Bills: $201
Water, trash and electricity bills are unavoidable for most households. Trash collection costs an average of $247 every year, according to HomeAdvisor, which comes to slightly less than $21 per month.
Electricity costs vary by location, too, but average $114 per month for the typical U.S. household, according to the U.S. Energy Information Administration. Consider cutting your electricity costs by installing CFL bulbs and limiting your use of heat and air conditioning.
Water bills can be steep. An average household of four spends an average of $65.54 per month on water, according to Circle of Blue.
6. Homeowners Association Fees: $250
HOA fees cover a variety of services from maintaining community areas to conducting regular bug inspections. The fees vary based on the type of property, community and property size but typically run between $200 and $300. Before you buy a condo instead of a house, make sure you understand all of the property's HOA fees.
7. Repairs and General Maintenance: $168
Experts agree that a homeowner should expect to spend at least 1 percent of his home's value each year on repairs and general maintenance. If you paid $200,000 for your home, that comes to about $168 per month.
That doesn't mean you should expect to spend $168 a month on a fixed home maintenance schedule. Instead, consider putting aside that money when you don't need to make any repairs so you have it in case you need to pay the full replacement cost for something major, like roof repairs or replacing a water heater.
Cut Your House Maintenance Costs
These typical home maintenance costs add up to $1,204 per month, but depending on your home — and the size of your family — they could be much higher. You can reduce your maintenance costs, however; if you're handy, you can handle some of the repairs yourself. If you aren't into DIY projects, the cost of hiring a professional might be worth it to boost your home's resale value and give you peace of mind that the repair is done correctly the first time.
Check Out: 4 Tips to Cut Your Monthly Housing Costs