How To Flip a House: Your Step-By-Step Guide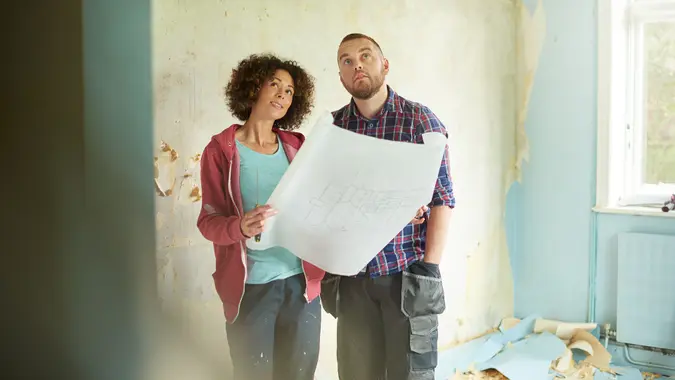 sturti / Getty Images/iStockphoto
TV has a way of making things look exciting and easy to accomplish. This is probably seen most often when it comes to house flipping. The house flippers go in and turn the place into a dream in what seems no time at all.
Check Out: 30 Ways To Upgrade Your Home Without Blowing Your Budget
Discover: 26 Home Makeover Ideas That Each Cost Less Than $500
Unfortunately, the reality of flipping houses isn't quite as charming. It can be exciting and fulfilling, but it takes more time and work than you see in an hour-long TV show.
If your urge to flip houses has been sparked and you're ready to commit to the process, you can have a fulfilling career. However, you shouldn't dive into investing in and flipping real estate without adequate information.
To prepare for your first flip, you'll need to review each step of the process. Learn how to get started flipping houses and start investing in real estate.
How House Flipping Works
House flipping is simply buying a property to resell quickly for a profit. It's a great way to make an income and to grow your investment portfolio.
Before you invest in real estate, learn what's involved in the process. Here are the steps you'll need to follow to flip a house:
How To Start Flipping A House In 6 Steps

Do your homework. Learn everything you can about the real estate market, tax laws, rehab costs and title transfer fees. Being prepared will help you avoid costly surprises.
Partner with trustworthy professionals. Partner with professionals who can give you sound advice and lend their expertise. You'll need a real estate agent who can help you find a great property, a contractor to complete the rehab work and possibly an investor if you don't have the funds to start your first flip.
Write a business plan. Your business plan should include a mission statement, an analysis of the market in your area, a budget that features backup plans if the property doesn't sell in the designated timeline and details on what you want your profit margin to be.
Purchase a house to flip. Once you find a house to flip, get the home inspected and determine if it has enough potential to earn you money. If it does, talk to your real estate agent about purchasing it and begin the homebuying process.
Rehab the investment property. Let your contractor know your timeline for completing the property restorations or renovations, and then get busy restoring or renovating the home. Make style choices that will appeal to the largest number of buyers, like sticking with more neutral tones and up-to-date designs.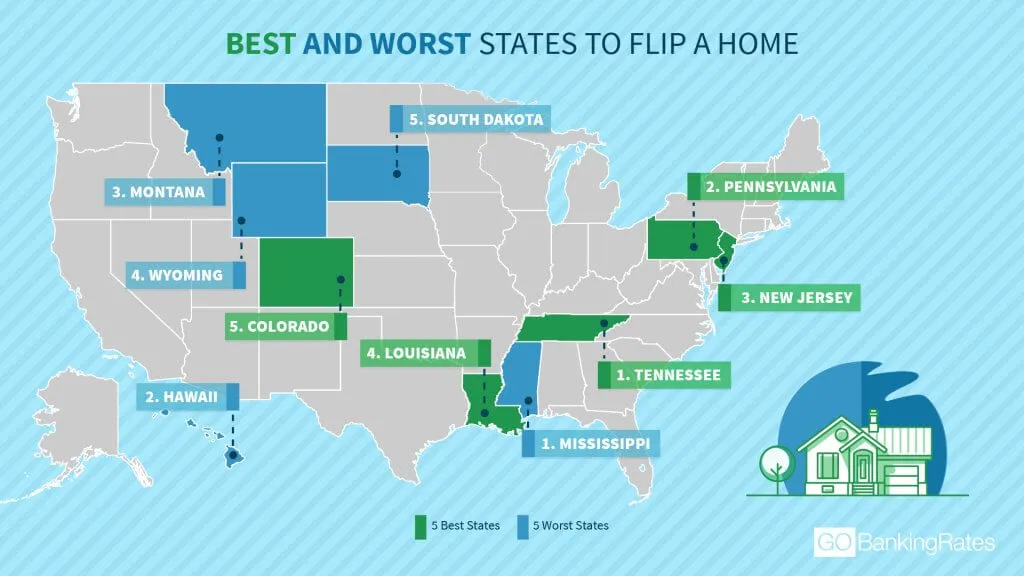 Cost of Flipping A House
Each home will have a different set of renovation costs. Your general contractor can do a walk-through of the home and create a budget repair sheet that will give you a better idea of how much renovations will cost.
It's also important to let the contractor know your timeline and what you want to focus on as a first priority: drafting bathroom design ideas, installing kitchen upgrades, re-tiling the floors, and so on.
Should You Buy?
You want to make sure you will actually make a profit before purchasing a property. The following steps can give you a good idea if a purchase is worth it or not.
What To Consider Before Buying

Estimate the repair cost. You likely won't know the full extent of repairs until you dig in, because there are often issues hidden below the surface. Put together an estimate of the cost of all repairs you are aware of. Then, give yourself some wiggle room for those surprises. For this example, the cost of repairs is $50,000.
Estimate the ARV or after-repair value. Figure out how much you can potentially sell the place for after you make the repairs you plan to make. Let's say you estimated the ARV to be $300,000.
Subtract the cost of repairs from 70% of the ARV. If you have estimated your ARV to be $300,000, multiply that by 70% to get $210,000. Next, subtract your repair estimate of $50,000. You are left with $160,000.
Keep In Mind

The steps listed here are specifically for determining whether flipping a specific property has good potential for profit. Remember, flipping a house means selling it quickly. If you plan to use the home for ongoing rental income, the same principles will not apply.
Financing for Flipping Houses
It's usually best to save up the cash necessary to purchase your investment property, since it prevents any additional interest. However, paying cash isn't always possible. Fortunately, there are some financing options available.
1. HELOC
If you own any equity in your home, you can use it as collateral to get a HELOC, or home equity line of credit. With this option, you will have a second loan: your original mortgage and your HELOC. You can repay the HELOC once you sell your flipped house.
2. Cash-out Refinance
A cash-out refinance is another way to use the equity in your home. The difference is that you are basically refinancing your entire mortgage.
The amount you still owe on your home goes to the mortgage, and you get what's leftover. You will then pay the one mortgage loan instead of having two separate loans.
3. Hard Money Loans
This is a short-term loan separate from anything relating to your mortgage. The repayment terms are typically from six months to a year, and they can have high interest rates.
It can be a solution if you're sure your flipped house will sell almost immediately. However, if you need the loan for several months, you could end up paying out a large amount just in interest.
Is Flipping Houses Right For You?
Flipping houses can require a significant commitment of time and money. Before making your first flip, weigh the pros and cons of house flipping to determine if this is the right investment strategy for you.
Pros of House Flipping
As an investment strategy, house flipping can provide useful benefits. Here are a few of the major advantages to flipping homes:
They're an opportunity to make a large profit in a short amount of time
You can improve your problem-solving skills
Satisfaction from restoring a home for a new family to enjoy
Get Started Now: 10 Home Renovations To Make Before You Retire
Cons of House Flipping
House flipping also features some negative aspects. Understand the risks before you commit. Some to think about include:
The house might not sell as quickly as you expect
Possible unexpected problems, such as faulty wiring or plumbing issues
Stressful process, including dealing with contractors and real estate agents
GOBankingRates' Homebuying Guides
More From GOBankingRates
Alicia Bodine contributed to the reporting for this article. 
Last updated: July 6, 2021
Our in-house research team and on-site financial experts work together to create content that's accurate, impartial, and up to date. We fact-check every single statistic, quote and fact using trusted primary resources to make sure the information we provide is correct. You can learn more about GOBankingRates' processes and standards in our editorial policy.