How To Make Your Offer Stand Out in the White-Hot Housing Market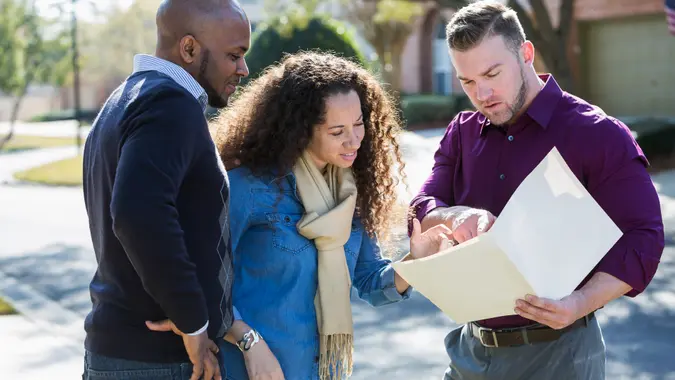 kali9 / Getty Images
Buying a home amid the COVID-19 pandemic has likely proven more challenging than you expected. Considering that, according to Redfin, 50% of homes sold for more than their list price during the four-week period ending May 16, money alone won't necessarily get your offer accepted.
2021 Small Business Spotlight: Check Out Our Small Business Stories, Plus the Nominated Businesses Near You
Check Out: 40 Cities That Could Be Poised For a Housing Crisis
Things have been slowing down a bit in some markets, but year-to-date sales — for January to April — were still up 20%, according to the National Association of Realtors. Furthermore, the median existing-home sales price surged 19.1% year-over-year to $341,600 — both record highs.
Since the market is white-hot right now, you need to get creative with your offer. It's almost inevitable that you'll be competing against multiple offers, so yours needs to stand out.
Jason Gelios, a realtor in Southeast Michigan, said homebuyers with the greatest advantage right now are those who can offer conventional financing, an offer that's above the seller's asking price and additional terms.
See: Homeowner Stimulus Checks Are Coming – How to Get Your Money From This $10B Fund
Explore: Houses in These 29 Cities Are Suddenly Major Bargains
"These terms could be paying a part of the sellers closing costs and occupancy after closing," he said. "In my area of Southeast Michigan, I have actually seen some offers where homebuyers were offering to cover the seller's moving costs."
He also emphasized the importance of having a solid preapproval in place before submitting your offer, as this makes the seller feel confident your deal will close.
Malinda Koncar, a real estate agent with Berkshire Hathaway HomeServices, who is licensed in both Pennsylvania and Ohio, agreed that conventional loans are best, as FHA loans aren't as attractive to sellers.
Learn: How to Build Wealth Without Buying a Home
Find Out: Home Values Are Rising in Your Area — Is Now a Good Time To Buy?
"First-time homebuyers gravitate to FHA loans due to the low down payment," she said. "This loan type is near the bottom of the list of acceptance with sellers due to the high restrictions in appraisal and inspections."
If you were planning to use an FHA loan for the low down payment requirement, she recommended shopping around, as some lenders are offering conventional loans with as little as a 3%-5% down payment.
Koncar also said sellers in this market are also reluctant to offer seller's assist. Instead, she advised seeing if you can get a family member to gift you the extra funds for closing costs or putting your search on hold for a few months to save up the extra cash.
Read: States With the Highest Property Taxes
See: The Best Place to Buy a Home in Every State
"If you absolutely must ask for seller's assist, make your offer more enticing by increasing the purchase price by the amount you are asking in seller assist," she said.
When it comes to contingencies, she recommended wrapping up as many loose ends as possible prior to starting your search.
"If you can avoid making the purchase contingent on the sale of your home then do so," she said. "Avoid doubling up on additional contingencies."
Koncar also advised limiting inspections, but not going as far as omitting them entirely.
Check Out: 10 Things To Always Ask the Home Inspector
More: 17 Dumb Home-Buying Mistakes That Hurt Your Wallet
"Buyers often wear rose colored glasses the first time they walk through a home and miss major observations. While we don't recommend waiving inspections, be selective about which inspections you choose."
She said items that can be inspected and remedied within your budget after closing shouldn't be made contingent on your purchase contract.
When it comes to closing dates and actually taking possession of the house, she said your real estate agent should call the listing agent to find out about the seller's needs. Your offer should then be structured around this.
"A seller that is building a new home may prefer a longer time period to prepare versus a newly divorced couple or estate that needs to close quickly," she said. "Being flexible on closing and possession can win offers."
Discover: Most and Least Expensive States to Build a Home
Learn: 8 Insider Tips to Get Rich in Real Estate
She also said it's important to consider how long the home has been on the market and strategize your approach.
For example, if the home has been listed one day and has already garnered multiple showings and offers, you'll need to be more aggressive with both the financial aspect of your offer and additional terms.
"If you know you are in a multiple offer situation, consider adding an escalation clause to avoid being outbid," she said. "It's heartbreaking to lose the home of your dreams over $1,000."
Know: This Is the Salary You Need To Afford the Average Home in Your State
See: What Homes Will Be Worth in Your State by the End of 2021
Maggie Wells, a real estate agent with Keller Williams Realty, Inc., based in Lexington, Kentucky, recommended including a sincere, personalized letter with your offer — along with a picture — telling the seller what you love about their house.
"I've had multiple sellers ultimately choose the offer that pulled at their heart strings over an offer that equated to the top-dollar amount," she said. "Sellers are people and they want to know their house will be in good hands or be able to help out someone they can relate [to] or empathize with."
Considering the wild state of the current market, there's a good chance you'll have to put offers in on a few different homes before one is finally accepted. This can feel discouraging, but stay focused and know you will eventually land your dream home.
More From GOBankingRates
Last updated: June 23, 2021