How To Find a New Home That You Can Actually Afford, According to Real Estate Agents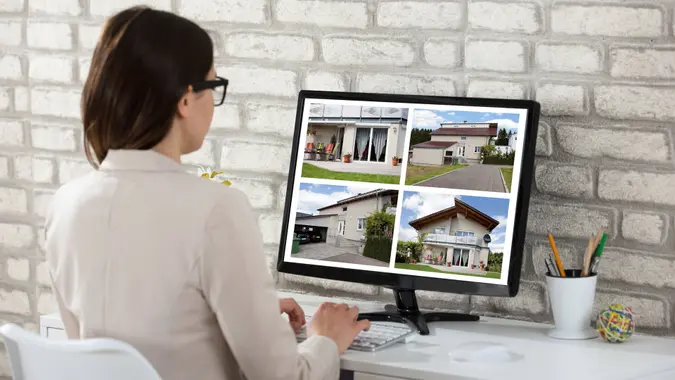 Andrey_Popov / Shutterstock.com
You're ready to buy a new home, but that's often easier said than done in the current real estate market. Like many parts of the country, your local area is in the midst of a wild seller's market that's causing housing prices to surge.
Read: Home Renovations That Will Pay You Back
More: Why Paying for a Storage Unit Is Always a Terrible Idea
In 2021, the average buyer submitted two offers — compared with just one offer during the previous three years — according to the Zillow 2021 Consumer Housing Trends Report. Additionally, 28% of buyers reported purchasing a home priced higher than their original budget.
Overspending isn't something you're willing to do, but thankfully, there are still plenty of ways to get an amazing home in your price range. Use this advice from real estate agents to become a seriously savvy buyer.
Consider a Fixer-Upper
There are plenty of great houses on the market that just need a little updating. If you don't mind taking on a project, this can help you score a cheaper property.
"In this crazy market, many buyers are looking for move-in ready," said Glen Pizzolorusso, a licensed associate real estate broker with Compass in Fairfield County, Connecticut. "If you are willing to take on some updating or minor repairs, then that could open you up to some inventory that is less in demand, giving you a better chance at homeownership."
He suggested using keywords like "as-is condition," " estate sales," "bring your own taste" or "handyman's special" when searching for fixer-uppers.
"Listings described like this are often in less demand in a market where buyers want to make a move fast — as they've wanted during the pandemic — and may sell for a somewhat more affordable price," he said.
Check Out: The Cost To Own a 3-Bedroom Home in Every State
See: 16 Reasons Why You Should (and Shouldn't) Buy a Fixer-Upper

Swap City Living for Locations Near Public Transit
Living in a city center can be chic and fun, but also very expensive. A willingness to move to the suburbs can help you stay within your budget.
"If a buyer needs to live close to a dense urban area, but the prices are high, they should look for homes that have public transportation to the area they need to be in," Khari Washington, broker and owner of 1st United Realty & Mortgage. "Many cities will have trains or subways with very short commutes that can quickly take people into the city and have stations that depart from less expensive housing."
This can be a great compromise if you work in the city or want to visit regularly on weekends, as you get the best of both worlds.
Tips: 17 Dumb Home-Buying Mistakes That Hurt Your Wallet
Don't Exclude Homes Under Contract
Like many buyers, you likely exclude homes under contract from your search. However, Link Moser, a real estate agent with Experience Homes Group in New Hampshire, recommended setting up listing alerts for these properties.
"It is not uncommon for some buyers to back out if they got caught up in the bidding process and to get cold feet," he said. "Savvy buyers can submit backup offers in hopes of being next in line if the primary offer falls through."
In this case, the seller will likely want to get the property under contract again as quickly as possible, so this is a great way to get an "in" on the home.
Home Buying: The 50 Best Places To Buy a Home for Under $250,000
Seek Out Homes That Have Been Sitting on the Market
When a property first hits the market, it often gets a lot of attention, but that can wane as time goes on. Consequently, Nick Deckard, a real estate agent with eXp Realty in Ocean City, New Jersey, said his favorite tactic is starting with homes in his clients' price range — or slightly above — that have been on the market the most days.
"Most buyers write these off immediately, but these are the only properties where buyers can actually have leverage on price while keeping contingencies intact," he said. "If there's nothing there that will work, we get clear on what contingencies they are comfortable removing and set clear maximum limits on price."
Other buyers losing interest in these properties — or being deterred by the amount of time they've been on the market — can allow you to save a ton of cash.
More From GOBankingRates