Why Paying for a Storage Unit Is Always a Terrible Idea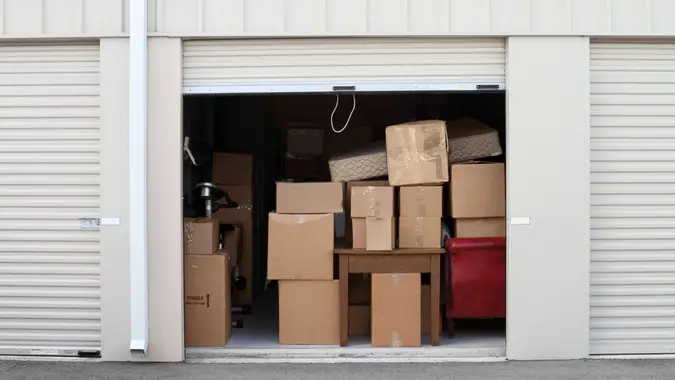 NoDerog / Getty Images
Renting a storage unit short-term can make sense if you need a place to hold items temporarily, but renting a storage unit long-term is rarely worth the expense. So how much is a storage unit, and why is renting one long-term typically a terrible idea?
Here is a look at average storage unit prices and why this service is a waste of money for most people.
How Much Is a Storage Unit?
Most people pay an average price of $190 per month for their storage unit — and the cost adds up significantly over time. Storage unit prices vary depending on availability and where you live, but the following are average storage unit prices:
| Unit Size (in feet) | Average Monthly Cost |
| --- | --- |
| 5×5 to 5×10 | $90 |
| 5×15 to 10×15 | $160 |
| 10×20 to 10×30 | $290 |
Why the Cost of a Storage Unit Isn't Worth It
Here are several reasons why renting a storage unit is a terrible idea. Consider these carefully before paying someone else to hold on to your stuff.
A Storage Unit Has a Steep Cost for Inconvenience
The biggest downside to renting a storage unit is throwing away money on items you can't easily access. Should you want to visit your storage unit to grab things you have tucked away, you have to drive to the location, make sure you're there during the facility's open hours and probably pick your way through boxes or furniture to find what you want.
Make Your Money Work for You
With storage units averaging $1,080 to $3,480 per year — depending on their size, location and other features — that's a lot of cash to pay for things you aren't using. Imagine investing that money rather than spending it on a storage unit. You'd be able to build a significant savings account.
Storage Units Often Have Hidden Costs
Actual storage unit fees often aren't the numbers a storage facility displays on its website. Many storage facilities charge extra for things like climate control and security. Some have mandatory insurance you must purchase through them. Then there is the sales tax. These costs can quickly add up.
Storage Units Enable You To Store Things You Don't Want for Longer Than You Need
When you first put your items in storage, you probably expect they'll be there for a limited time only. However, many people often go on to keep them there much longer.
Once possessions are out of your home and out of sight, especially if you've put your monthly storage fee on autopay, it can be easy to forget what you have stored. Don't be surprised if you find you don't want or care about half the stuff in the unit when you finally get around to cleaning it out.
Make Your Money Work for You
Even if you think about cleaning out the unit every time you pay the monthly bill, it's often easier to pay the bill each month than to clean out the unit. This is a case where procrastination can become costly. Unless you're storing valuables, if you wait too long to clean out your unit, the cost of the storage unit will likely exceed the sale or replacement value of your stuff.
Items in Storage Are Typically Decreasing in Value
If you're storing possessions to sell them at some point, the longer you keep them in storage, the less money you'll likely get for them. The sooner you can get your stuff listed for sale, the more you'll make on it, and the less you'll pay for the storage unit.
Items in Storage Can Get Damaged or Stolen
When you store your valuables or belongings in a storage unit, you're trusting someone else to watch over them for you. You have no control over how secure a facility is or whether there's surveillance or security on duty. The quality of security and safety varies by facility.
Make Your Money Work for You
If you decide you must rent a storage unit, determine if your stored belongings are covered by your homeowners' or renters' insurance policy so you can recoup any potential losses. Be sure to make an accurate list of everything you are storing in the unit for insurance purposes.
A Storage Unit Can Keep You From Getting Organized
People often rent a storage unit to create more space in their current home. Meanwhile, they are paying to store old clutter while bringing additional new clutter into the house.
A storage unit is an expensive, ineffective way to get organized. If disorganization or more space is why you're considering renting a storage unit, you'd be better off paying a professional organizer to come in and help you clear out the clutter.
Takeaway
For most people wondering how much a storage unit is, the answer is too much. Typically, the cost of the storage unit will be greater than the sale value or replacement value of the items being stored. Rather than rent a storage unit, try to sell your stuff for as much as possible. Even if you have to replace things later, you'll still likely come out ahead financially.
FAQ
Here are answers to common questions about renting a storage unit.
Are storage units a waste of money?

Very short-term, a storage unit can be an affordable means of storing belongings. Long-term, it is typically a waste of money, since most people end up paying more for the unit than the stored items are worth.

Is it worth buying a storage unit?

Consider the following questions to help determine if your possessions are worth a monthly cost of $90 to $290: How long do you think you'll need the unit? Are you storing items you hope to sell that will be depreciating in value? How much are your belongings worth, and what is the replacement value of the items? Will you need to buy additional insurance?
Information is accurate as of June 8, 2022.
Our in-house research team and on-site financial experts work together to create content that's accurate, impartial, and up to date. We fact-check every single statistic, quote and fact using trusted primary resources to make sure the information we provide is correct. You can learn more about GOBankingRates' processes and standards in our editorial policy.
Make Your Money Work for You