Is It Ever OK To Overpay on a House?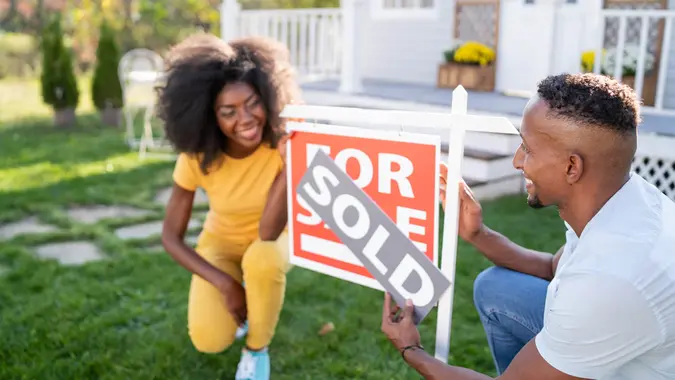 valentinrussanov / iStock.com
If you've been keeping up with what's going on right now in the real estate market, you know it's crazy — and in some areas of the U.S. people are overpaying for homes.
"I am a top-producing agent in Boise, Idaho, where the median home price has gone up 40% year over year due to lack of inventory and mass migration of people from surrounding states," said Erin Madden, realtor for Zen Real Estate Group. "The norm here is to have multiple offers on almost every home that hits the market. When this happens, the price typically gets driven up above the listing price and also above the appraised value. It is common right now for buyers to state in their purchase contract that they will pay the difference between their offer price and the appraised value. That being said, many buyers are overpaying for homes in our area."
Find Out: Are We in a Housing Bubble?Read: 40 Cities That Could Be Poised For a Housing Crisis
If you're wondering if it's ever OK to overpay for a home, here's some advice from industry experts to help you make up your mind.
It's Your Call
Trey Van Tuyl, a licensed realtor and owner of Discover Homes Miami, believes that overpaying is a matter of perspective.
"In any market, if a buyer really loves a home and feels that they aren't going to suffer under the weight of potentially higher-than-expected monthly payments, then whether or not they overpaid is irrelevant," he said. "Although markets change and the buyer may not be able to recoup the original price paid, they are going to be much happier than if they'd walked away and settled for a home they didn't like as much!"
Daren Herzberg, a licensed associate real estate broker and co-founder of The Babst + Herzberg Team at Compass in New York, has a similar opinion to Van Tuyl's.
"Overpaying for a home is subjective, as while there are various data/based metrics used to value a property, like size and condition, every buyer will assign their own value based on what is most important to them," Herzberg said. "So if you find the perfect property that you absolutely love, paying a bit over market value is absolutely worth it. At what price would you be heartbroken to lose it? At what price would you be at peace if someone else bought it? Think about why you love it, and if those criteria are hard to find, then don't be afraid to overpay away!"
Learn: 17 Dumb Home-Buying Mistakes That Hurt Your WalletExplore: 50 Cities With the Most Overpriced Homes
Ask Yourself If You Can Afford Overpaying
Erik Wright, the owner of New Horizon Home Buyers, believes the most important thing to do before deciding to overpay for a home is to determine if you are in a financial position to take the risk:
"Can you make the monthly payments without straining your budget? If you had to sell for a loss in a few years, would you be able to take that hit? If you can think through the worst-case scenario and know that you'd still be OK financially, then you can consider overpaying."
Is This Your Forever Home? (Or at Least for the Next Decade?)
Wright also said it's important to consider how long you plan to live in the home. "If you don't plan on moving for 10 years or more, you'll probably be fine," he said. "Real estate prices always tend to go up in the long term. If you think you might move sooner, be a little more careful."
See: Real Estate Investing Gurus Mindy Jensen & Liz Faircloth: How Women Can Cash In on the Booming Housing MarketCheck Out: 8 Insider Tips To Get Rich in Real Estate
Christian Cruz, J.D., owner and founder of We Offer Cash for Properties, had the same opinion as Wright.
"Overpaying is generally OK for a personal residence that you will hold long term," he said. "If you find a house you love and buy the house to live in long term — say 10 years — then paying an extra 10% will not make much of a difference after a decade. For instance, the average home price in Florida is around $300,000. If you were to pay $330,000 for that house today, that house would likely increase in value to $400,000 at the end of the decade."
Take Current Interest Rates Into Consideration
"In regards to overpaying for a home, home interest rates are at a historic low. So if you are on the market to purchase a home, it's the best time to try to purchase one and not give up hope if you aren't the winning offer," said Yawar Charlie, director of estates division at Aaron Kirman Group and series regular on CNBC's "Listing Impossible."
"Money is never going to be cheaper, and there's no reason to pay substantially more for the same house in the next six months. Most market indicators show a potential slowing in the housing market which doesn't mean prices are going to drop, just means that they're not going to accelerate at a rapid pace. The downside of all this is that a lot of the market indication shows that there may be a rise in interest rates. If you can afford to get in now money will never be cheaper with low interest rates. Though the sticker price seems high, money will never be more affordable."
More From GOBankingRates
Last updated: July 29, 2021