Housing Market 2023: Viral Tweet Says 'Airbnb Collapse Is Real' — Is Now the Time To Buy a Home?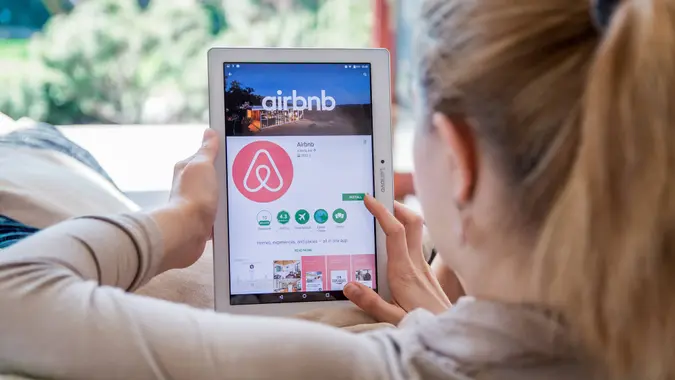 Daniel Krason / Shutterstock.com
A random tweet about Airbnb might not be the most conventional place to dig up insights into the state of the U.S. housing market, but a lot of people seem to be doing just that. According to at least one analyst, Airbnb is in a state of "collapse" due to declining revenues. This in turn could filter down into the broader housing market by pushing prices lower — or maybe not.
That analyst, Reventure Consulting CEO Nick Gerli, recently put up a post on Twitter showing a big decline in revenue-per-listing for Airbnb properties in 15 U.S. cities.
"The Airbnb collapse is real," Gerli tweeted. "Revenues are down nearly 50% in cities like Phoenix and Austin. Watch out for a wave of forced selling from Airbnb owners later this year in the areas hit hardest by the revenue collapse."
The cities mentioned — which also included San Antonio, Nashville, Denver, New Orleans, Seattle and Orlando — all saw revenues drop at least 34.8% from May 2022 to May 2023, according to Gerli's calculations. The city with the biggest decline was Sevierville, Tennessee, which suffered a drop of 47.6%. To come up with his numbers, Gerli pulled data from short-term rental tracking site AllTheRooms, according to his tweet.
The implication in the tweet — "forced selling from Airbnb owners" — is that these cities could soon see a lot more homes come on the market, which should lead to lower prices. After all, one of the biggest drivers of record-high home prices in recent years is a lack of inventory.
Based on the data Gerli shared, the nation's supply of short-term Airbnb and Vrbo rentals "exceeds the number of available homes for sale by approximately 380,000," Architectural Digest reported.
The tweet soon went viral, partly because it brought hope to potential buyers in search of affordable homes. There's one problem, though: Not everyone agrees with Gerli's theory.
For one thing, there's debate about the accuracy of his numbers. Airbnb itself pushed back against the numbers and said demand for short-term rentals has remained strong, Proactive Investors reported.
"The data is not consistent with our own data," Airbnb spokesperson Sam Randall said. "As we said during our first-quarter earnings, more guests are traveling on Airbnb than ever before, with nights and experiences booked growing 19% in the first quarter of 2023 compared to a year ago."
Meanwhile, Vox pointed out that short-term rentals such as Airbnbs "only play a small part" in much bigger problems affecting U.S. housing.
The main problem is that average home prices in the U.S. are still out of reach for many Americans, and that might not change anytime soon. As GOBankingRates previously reported, the average home value in the United States stood at $346,270 at the end of May, according to Zillow. That was up 2% from the previous year.
Sales of new homes in May rose 12.2% from the previous month, according to U.S. Commerce Department data — the highest level since February 2022. Home prices in April climbed 0.5% month-over-month, according to the S&P CoreLogic Case-Shiller national home price index — the third straight month of increases.
These trends come amid a rise in mortgage rates, which pushes home costs even higher. The upshot is that only 12% of Americans plan to buy a home this year, according to a recent GOBankingRates survey. Nearly one-third — 30% — said high mortgage rates are holding them back from making a purchase right now.
Regardless of the accuracy of the Airbnb data — and the supposed impact it will have on housing — the current market remains very challenging for homebuyers.
"It's a one-two punch of needing to pay a high purchase price and finance it with this very expensive debt," Zillow senior economist Jeff Tucker told Vox.
More From GOBankingRates