Is Airbnb Worth It for the Host? Here Are 5 Alternatives To Check Out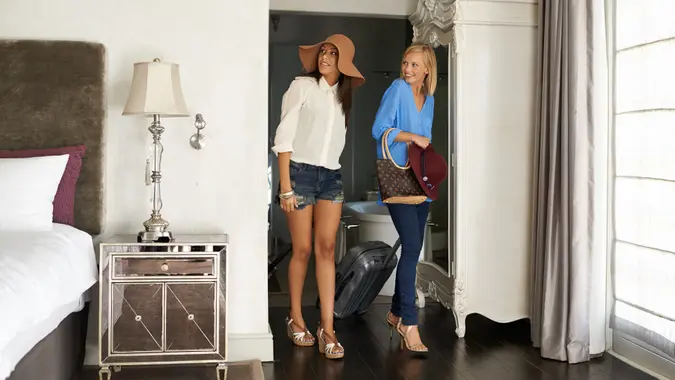 PeopleImages / iStock.com
Since its founding in 2007, Airbnb quickly became a popular hosting service that took the world by storm. But many hosts face disadvantages when listing their properties, costing them time, money and even problems with guests and reviews. Luckily, many platforms offer similar or better alternatives for hosts that might be worth the time and effort.
Is Airbnb Worth It as a Host?
Airbnb can be worth it as a host if you have an exceptional property with plenty of guests. However, due to the significant fees that the platform charges, more hosts are seeking alternatives to increase their income and profit.
5 Alternatives to Airbnb
When looking to rent your space out for extra money, it is important to know there are more options than just Airbnb. Here is a look at 5 other platforms.
1. Casamundo
Pros: Eclectic and non-traditional vacation rental properties are welcome
Cons: Not as popular in North America as other platforms
Casamundo, a German company specializing in the accommodation rental market, is quickly gaining traction in the U.S. Established in 2003, it's been around longer than Airbnb and operates in 10 international markets with over 700,000 rentals available.
Casamundo promises a strong market position for property visibility, with eye-catching presentations of your property and personalized support if something goes wrong. As a host, you don't have to have an apartment or home to advertise through the platform. Casamundo accommodations include camper vans, farms, windmills, houseboats and treehouses.
2. Vrbo
Pros: Great for hosts seeking guests that are not price-focused, popular with large groups and families
Cons: Confusing terms and navigation for new hosts, no shared space properties
Make Your Money Work Better for You
Vrbo, short for Vacation Rentals by Owner, is a vacation rental platform established in 1995. To date, the brand lists over 2 million homes and is a member of the Expedia Group marketplace of travel brands. The platform differs from Airbnb in that you can only list a standalone house, with no shared space options.
Once you become a Premier Host, you qualify for multiple perks that help your listing stand out. These include a badge on your listing, boosts for more clients to view your listing, inclusion in the premier host filter that helps you stand out and 24/7 priority support.
3. Onefinestay
Pros: Most clients seek high-end accommodations and properties
Cons: Your property needs to meet their strict criteria and be in a popular neighborhood  
If you own a luxury property, Onefinestay, an Accor partner, helps you reach clients who seek high-caliber accommodations. The company is entirely hands-on and professionally manages your listing. As a host, you don't have to worry about taking professional pictures, housekeeping and other in-stay maintenance services because Onefinestay manages it all.
Moreover, Onefinestay welcomes your guests in person to your property and takes care of their needs during their stay. Their concierge service also offers guests private chefs, childcare and wellness options. If you seek a more hands-on, curated service and your property fits the bill, Onefinestay can be one of the more excellent alternatives to Airbnb.  
4. Tripping
Pros: Tripping indexes your property at no extra cost
Cons: More of a search engine for vacation rentals than a platform
Make Your Money Work Better for You
Tripping is the world's largest search engine for people seeking vacation properties. The site lists over 12 million properties across 190 countries. Since the site is more of a search engine than a standalone platform, you can list multiple accommodations, such as castles, condos, lofts, houses and apartments.
Keep in mind that to have your listing indexed by Tripping, you should also list your property on other platforms, including Vrbo, Expedia and TripAdvisor. But since millions of people use the service to find the perfect accommodations, you may have plenty of luck securing clients when your property appears in the search.
5. FlipKey
Pros: Managed professionally by TripAdvisor
Cons: Incurs extra fees and has smaller inventory than Airbnb
FlipKey is part of TripAdvisor Rentals, a marketplace to host your vacation rental property. The company launched in 2007 and became part of the TripAdvisor Rental umbrella in 2008. One of the ways it stands out is that it has a low booking fee, at 3%. And with TripAdvisor's excellent reputation, many guests prefer using FlipKey for seeking out their next vacation rental, giving you an edge over listing on Airbnb.
As a host, you have plenty of flexibility to ensure peace of mind and protect your property. For example, you can collect split payments from guests as they stay or the total amount upfront. You can also choose the cancellation policy that feels best for you, ranging from relaxed to super strict. You can also go by the site's standard agreement or draft a contract and add your booking terms.
Make Your Money Work Better for You
Final Take
Owning a vacation rental property is a solid investment for hosts looking to make additional income. Although Airbnb is one of the more popular platforms to list your rental, alternatives that offer other perks for hosts can be a better deal for you in the long run.
These top five alternatives to Airbnb have millions of customers, allowing you to choose the best platform for your property and lifestyle. As long as you have the right property type, you can make good money listing one or multiple accommodations on different sites.
FAQ
Here are the answers to some of the most frequently asked questions about alternatives to Airbnb.
Who is Airbnb's biggest competitor?

Airbnb's biggest competitor is Vrbo. However, one significant difference between the two platforms is that Vrbo only allows full home rentals. With Airbnb, you can rent a shared space.

Is there a rival to Airbnb?

Yes, Airbnb has many rivals in the market, including Vrbo, Booking.com and TripAdvisor. However, each platform has different accommodation criteria, so one platform may work better for hosts than another.

How can you do short-term rentals without Airbnb?

You can list your property on platforms that offer short-term vacation rentals. However, your property must meet the criteria established by the platform for maximum exposure. The more effort you put into making your property desirable, the more interest you generate.
Information is accurate as of April 14, 2023.