Weighing the Real Estate Pros and Cons: To Sell or Not To Sell?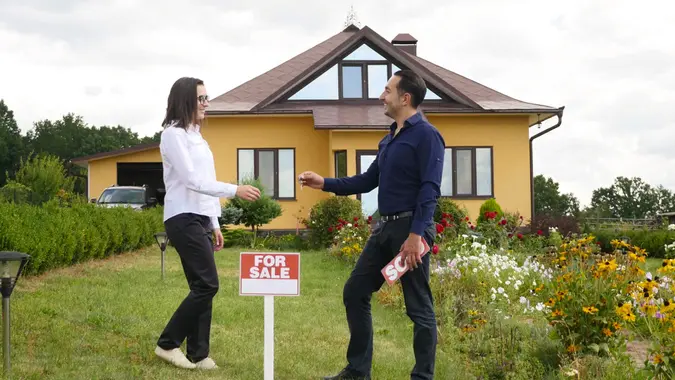 ©Shutterstock.com
If you're considering selling your home, that means you have a home to sell, which means you don't live under a rock, which means you must have heard that it's a red-hot seller's market out there right now.
2021 Small Business Spotlight: Don't Miss Out on Nominating Your Favorite Small Business To Be Featured on GOBankingRates — Ends May 31
In the current climate, whoever has the keys and the title holds all the leverage at the negotiating table. But is it really true that there are armies of eager shoppers competing for a dwindling number of available properties, and that sellers have their pick of motivated cash buyers willing to meet all their demands? 
GOBankingRates asked the experts how sellers should approach one of the most remarkable real estate markets in recent history. 
It Truly is a Historically Lopsided Seller's Market, So, Yes — Sell
GOBankingRates talked to experts from all over the country and every corner of the industry. Not a single one indicated that it's a bad time to list a property. 
Read More: 8 Insider Tips to Get Rich in Real Estate
"As for selling, this has been the most fantastic real estate market that I have ever seen, and I've been doing this for a long time," said Tomas Satas, a real estate investor, landlord, professional flipper, and founder and CEO of Windy City HomeBuyer. "This is a stellar seller's market. I'm receiving offers on homes before the listing even goes public. My advice to anybody who wants to sell their home is: do not wait. If you've been thinking about selling your home, or you weren't sure, I honestly do not think you'll have a better time than now. Every single home I have listed has received multiple offers and have ended in bidding wars. Many buyers are even buying homes with all cash and are waiving home inspections." 
But Keep in Mind, You'll Have To Find Somewhere To Live
Presuming the house you're selling is the only one you own, you'll soon find that the tables have turned — eventually, you'll be the buyer in a seller's market. 
"The flip side to receiving over asking price for your home is that you will need to expect to pay more if you are planning on buying a home right now," Satas said. "So your profit may be wiped out if you overpay for a new home." 
Discover: Common Real Estate Myths That You Need To Know
Those who fare the best will be those who earn enough cash from their sale to put off buying until the market chills.
"I would highly suggest selling right now and renting until there is a market correction or crash," Satas said. "After this crazy spring/summer selling season, the market will cool off and there will be deals out there. If you can wait, why get into a bidding war now and spend up to 50% over the asking price? It just doesn't make sense. When this market crashes, and it will, cash will be king."
Sellers Who Are Downsizing Might Have a Tactical Advantage
Nathaniel Hovsepian, owner of the real estate investment firm The Expert Home Buyers, agrees philosophically — but he sees a few specific groups of seller/buyers who might be in a class by themselves.
"Prices are very high and still rising," he said. "Now is a great time to sell a house if it is your second home, if you're moving to a less expensive area, or if you are planning on downsizing."
Find Out: 40 Cities That Could Be Poised For a Housing Crisis
Satas backs up Hovsepian's thesis.
"I believe the ideal seller in the market today is someone downsizing," Satas said. "The market for condos and townhomes is lagging behind the single-family market. It's not a bad time to buy in the downsizing market, so it's a sell high, buy in the middle market."
Suburb-to-City Transplants Might Be Sitting Even Prettier
The pandemic cooled pricey urban markets while turning suburban neighborhoods into intense bidding war zones. Sellers with just one home might be able to cash in by swimming against the current. That is, by selling their houses in the sizzling suburbs before buying at a discount in the still-chilly cities.
"As the market heats up, this becomes an even better prospect — buying first, and then selling into an even better market," said Scott Harris, who has done $750 million worth of deals in New York City with luxury real estate firm Brown Harris Stevens. "This is also true if someone is selling a home in the red-hot suburbs across the U.S., and buying into the New York City market, which, despite recent gains is still more than 10% below the market peak of 2016-2017. The suburbs haven't been this active in, well, nearly forever."
See: What the Housing Market Looks Like So Far in 2021 — And What That Means for the Rest of the Year
It's not just New York. Philip Michael, CEO of NYCE, a real estate fintech with over $500 million in projects, is watching the same dynamic play out in cities across the country.
"We've seen lots of metro flight from New York City and the Bay to Texas and Florida," Michael said. "If you're looking to lock in a good lease in an expensive market, now is the time before things open back up."
More From GOBankingRates
Last updated: May 27, 2021