What Is the Highest 3M Stock Has Ever Been?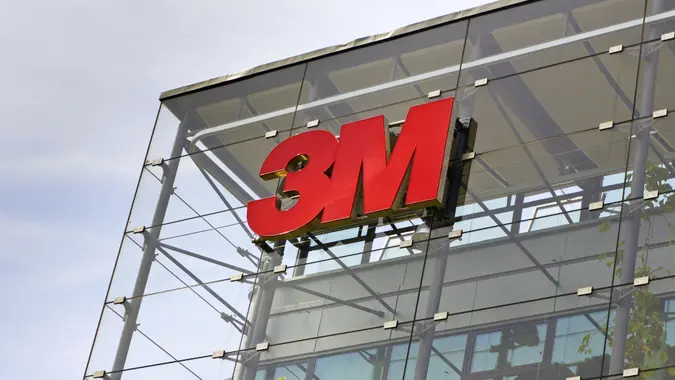 josefkubes / Shutterstock.com
3M is a major American corporation with over 60,000 products in its portfolio. The company sits at 102 on the 2022 Fortune 500 list, making it a subject of considerable interest among investors of all sizes. 3M stock first went public in 1946 and has seen a long and varied history of price action ever since.
Read: 3 Things You Must Do When Your Savings Reach $50,000
What Is the Highest 3M Stock Has Ever Been?
The highest closing price that 3M stock ever reached was $215.38 on Jan. 26, 2018. That price represented a nearly 50% growth from the same period in 2017 when the price was just $145.
The 2010s, in general, were a major period of growth for 3M stock The company first reached $30 billion in global sales in 2013, highlighting its rapid growth. 3M created a variety of innovations during this period, reaching its 100,000th patent in 2014.
After its peak in early 2018, and before the onset of the COVID-19 pandemic, the stock price had fallen. As the pandemic began to take hold, the price fell to $105 in March 2020. The price did recover somewhat to $189 in June 2021 but has been falling ever since.
Why Is 3M Falling Now?
A variety of factors have been said to contribute to the 3M stock price tanking across the latter half of 2021 and 2022. An ongoing case alleges that earplugs made by 3M caused hearing damage in over 230,000 veterans. Difficulties in restructuring have also created a poor outlook for the company, souring investors.
How Low Will 3M Go?
Forecasts for the 12-month outlook of the 3M stock price point to a potential low of $105 according to CNN. However, the median forecast points to $118, an increase of 4.4%. With current U.S. inflation at 6.4% annually, this price target still represents a real loss for any investors.
The worst-case scenario for long-term outlooks for the company could be dire. While 3M has established a $1 billion fund to settle claims in ongoing lawsuits, costs could reach tens of billions. There are also serious concerns over the long-term liabilities of many chemical products that are now being looked at with greater scrutiny.
Who Owns the Most Shares of 3M?
3M investors include a wide range of different funds and organizations but of all the shareholders, the largest is the Vanguard Group with a stake of 8.07%. The Vanguard Total Stock Market Index Fund owns an additional 3.11% stake.
Other major shareholders include SSGA Funds Management, BlackRock Fund Advisors and Charles Schwab Investment Management. Further mutual funds include Vanguard 500 Index Fund, Schwab US Dividend Equity ETF and SPDR S&P 500 ETF Trust.
Is 3M a Stock To Buy Today?
As of 2023, 3M stock is down, and the company faces a variety of challenges on the horizon. Revenue loss and layoffs also point to downturns for the company. However, buying low and selling high is a core tenet of investing, so there could still be a reason to buy 3M stock today.
3M is still among the largest companies in the world, manufacturing an extensive range of essential goods. A great dividend yield further sweetens the pot for investors.
The company has also shown a commitment to a sustainable future with its plan to exit PFAS manufacturing. Despite current troubles, 3M still shows signs of a promising future for investors.
FAQ
Here are the answers to some of the most frequently asked questions regarding 3M stock.
How many times has 3M stock split?

Over the course of its history, 3M has undergone four stock splits. These splits took place in 1972, 1987, 1994 and 2003. This leaves the original 3M stock with a cumulative multiple of 16. One share owned prior to 1972 would now equal 16 shares today.

Will 3M split in 2023?

3M has announced no plans to carry out a stock split in 2023. However, shareholders could see an opportunity to exchange shares in the planned healthcare split-off. Although no date has been set, 3M has announced plans to move forward with a split of the company's healthcare division into a standalone business.

How much does 3M pay in dividends?

Today, the annual 3M stock dividend payout is $6.00. Shareholders receive quarterly dividend payouts in February, May, August and November.

Does 3M have a future?

Recent news of revenue loss and layoffs point to shrinkage, rather than growth, for 3M. This has left many investors concerned about the future of the company.
Data is accurate as of Feb. 23, 2023, and is subject to change.
Editorial Note: This content is not provided by any entity covered in this article. Any opinions, analyses, reviews, ratings or recommendations expressed in this article are those of the author alone and have not been reviewed, approved or otherwise endorsed by any entity named in this article.
Our in-house research team and on-site financial experts work together to create content that's accurate, impartial, and up to date. We fact-check every single statistic, quote and fact using trusted primary resources to make sure the information we provide is correct. You can learn more about GOBankingRates' processes and standards in our editorial policy.