I'm an Accredited Investor: Here Are 6 Stocks I'm Buying This Fall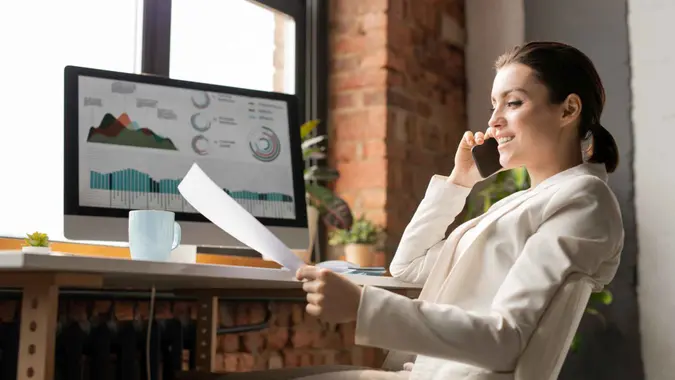 shironosov / Getty Images/iStockphoto
The seasons are changing, and so is your investment profile. With the arrival of fall, you're planning to buy a few new stocks, but you're not sure which ones to focus on.
If you're looking for some stocks potentially offering healthy dividends and that you can hold onto for at least a while, keep reading. Here are six stocks you may want to invest in right now.
Cisco Systems, Inc. (CSCO)
"Cisco is the dominant force in enterprise networking, and holds leading market shares across its primary business units," said Daniel Dusina, CFA, director of investments at Blue Chip Partners. "The company has increased its dividend each year since initiation in 2011, and has done so at nearly a 6% clip over the last 5 years."
Furthermore, he said Cisco has solid financials.
"The company currently offers [an approximately] 3.0% dividend yield, more cash than debt on its balance sheet and has displayed a consistent ability to convert operating profit to free cash flow at rates ahead of peers," he said. "Which is important, as high levels of free cash flow can point to a sustainable and growing dividend."
AbbVie Inc. (ABBV)
"AbbVie researches and develops pharmaceutical products for specialty therapeutic areas such as immunology, oncology, aesthetics, neuroscience and eyecare," Dusina said. "Since its spinoff from Abbott Laboratories in early 2013, the company has rewarded shareholders with an average annual dividend increase of an eye-popping 14%."
This is likely a stock you won't regret adding to your portfolio.
"Very rarely do investors receive an opportunity to invest in a $240 billion firm with meaningful growth potential at a 4.4% dividend yield, which is indicated by shares of ABBV today," he said. "There are concerns regarding a loss of exclusivity with one of AbbVie's key drugs, but we believe management has adequately prepared the business through both inorganic growth and pipeline development."
Oil (USO)
"Oil stocks will have the potential to go up exponentially going into the fall," said Glenn Tompkins, senior instructor at VectorVest, a stock analysis and portfolio management system. "The need for heat will help to drive oil prices higher."
He said OPEC — Organization of the Petroleum Exporting Countries — and Russia are reducing exports on this commodity as demand rises. "Oil is a leading indicator for inflation and yes, inflation is raring its ugly head right now and that will affect the economy in a negative way, via Inflation," he said.
He said his main stock pick is the United States Oil Fund, LP (USO). "There are a couple of honorable mentions in this space as well such as, Tidewater (TDW), Weatherford (WFRD) and Helix (HLX)," he said. "Since January of 2023, these three stocks are up almost 80% — WFRD: 96%, TDW: 91% and HLX: 50%."
He believes oil and energy still have room to grow even higher.
Cemex (CX)
"There has been a lot of investment in bringing jobs and materials back to the United States, so we don't have to depend on others to provide things we need," Tompkins said. "Chip companies, car manufacturers and just general companies are moving goods back to the United States and are building big megaplexes to do business in."
He said these companies need cement to build their businesses. "I believe the whole building industry is going to be explosive, but cement is definitely needed," he said. "My pick for this industry is Cemex (CX)."
He described this choice as an aggressive play. "They do grow their earnings at a clip of 7% a year with positive earnings," he said. "Since January, this stock is up over 72% for the year and I think it has a lot of continued upsides to make money."
Natural Gas (EQT)
"Natural gas has been on a tear for a while now," Tompkins said. "The EU — [European Union] — once cut off from Russian oil, needed to find an alternative and that has become natural gas."
He said the U.S. made a deal with the EU to become their primary natural gas supplier.
"Now there are fears of having a warmer winter that may affect this deal but so far this year, natural gas is up 28%," he said. "The EU is not the only ones feeling the effect of the decrease in oil exports. [They] are being felt globally and should continue to push natural gas prices higher."
AI Stocks (AI)
"AI hit the scene this year and went through the roof," Tompkins said. "The funny thing is that AI has been around for quite some time and all it took was an 11-million-dollar investment from Microsoft into a private company called OpenAI that set fire to this industry and now everyone wants a piece of this lucrative pie."
While C3.ai, Inc. — i.e., stock ticker AI is his top choice, he said there are other good companies to choose from. These include Palantir Technologies Inc (PLTR), Snowflake Inc. (SNOW) and Nvidia Corporation (NVDA). "These stocks are up over 125% for the year."
He noted that Nvidia has seen 204% growth this year, followed by 145% at C3.ai, Inc., 137% at Palantir and 17% at Snowflake.
"Three of the four companies grow their earnings double digits and AI grows their earnings at 8% a year," he said. "The continued buzz in this space should provide a lot more headroom for these stocks to grow."
Now that you know what stocks to focus on for fall, it's time to consider buying. Don't hesitate to change up your portfolio so you can start collecting dividends as soon as possible. As always, though, we recommend consulting with an investing professional before you pull the trigger.
More From GOBankingRates