Apple, Amazon and Starbucks Stock: Why You Should Consider Investing Right Now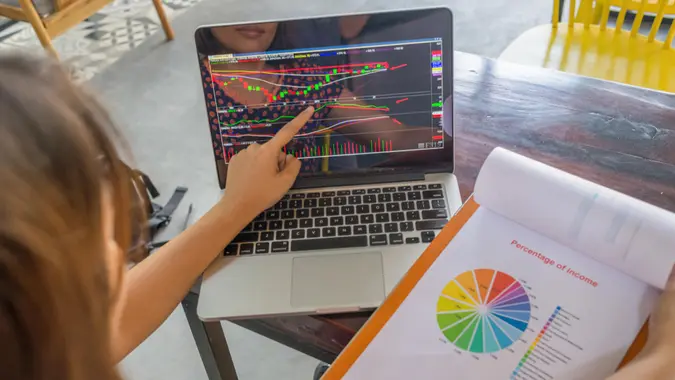 SamuelBrownNG / Getty Images/iStockphoto
Stocks that have consistently performed well can be a double-edged sword for new investors. Concerns abound: Did you miss the run up? Is the stock at its peak? Is there nowhere to go but down at this point?
Three stocks that made a lot of early investors rich may give pause to new entrants for this reason. But here's why you may consider adding Apple, Amazon and Starbucks to your portfolio, even if you haven't already.
Read: 3 Things You Must Do When Your Savings Reach $50,000
Should You Buy Apple Stock Now?
Apple (AAPL) has had its ups and downs over the years, but the last few years have been nothing but up. Here's why this upward trajectory may have more room to run.
Apple's Earnings
On August 3, 2023, Apple reported earnings for its fiscal third quarter of 2023, ended July 1, 2023. The company's revenue was down 1% year over year to $81.8 billion, but earnings per share were up 5% year over year, to $1.26. The company declared a cash dividend of $0.24 per share, which it paid on Aug. 17, 2023, to shareholders of record on Aug. 14, 2024.
Apple's Dividend
One good reason to invest in Apple stock is the quarterly dividend, which the company has paid since 2012. While the dividend has not increased each year as some companies' dividends have, Apple's dividend has been accompanied by a soaring stock price, especially in the last few years.
Are Subscription Services the Future?
One particularly encouraging metric for Apple is the increase in subscription services. The company reported it highest-ever subscription revenue, with over 1 billion paid subscriptions. Subscription revenue is recurring, so it provides, theoretically, an infinite stream of revenue, reducing the company's dependence on device sales. Granted, device sales continue to increase, and the company's practice of releasing new models on a regular basis indicates this will likely continue, yet the subscription business is a nice addition to the product mix.
Should You Buy Amazon Stock Now?
It seems as though e-commerce juggernaut Amazon (AMZN) can do no wrong. From its beginnings as "the earth's biggest bookstore," this company now has a presence in almost every area of consumer and business commerce. Here's why it may not be too late to get on the Amazon bandwagon.
Amazon's Results
Amazon also released its results on Aug. 3, 2023, for its second fiscal quarter, which ended June 30, 2023. The company announced that net sales increased 11% over the same quarter last year, to $134.4 billion. Net income was $6.7 billion, representing $0.65 per diluted share. In the same period last year, the company lost $2.0 billion.
Amazon's Latest Successes
Like Apple, Amazon has recognized the value in subscription services, including Amazon Web Services and Prime Video, which now shows Thursday Night Football. It has increased its presence in the advertising space, with Amazon Ads and Fire TV. And the company continues to widen its lead with respect to delivery, increasing the availability of same-day and next-day delivery for Amazon Prime Customers.
In addition to providing streaming video on Prime Video, Amazon is now well entrenched in the entertainment sector. The company has several Emmy-nominated series, including "The Marvelous Mrs. Maisel," "Jury Duty," and "Daisy Jones & The Six." On the big screen, the company released "AIR" in theaters, followed by a streaming release that placed the film at No. 3 on Nielsen's Streaming Top 10 list in the first three days of its release.
Should You Buy Starbucks Stock Now?
Coffee retailer Starbucks Corporation (SBUX) seems to have cornered the market on upscale coffee. With inflation high and a recession looming, it may appear that Starbucks could be in for a decline in revenue. Here's why that may not be the case.
Starbucks' Earnings
Starbucks reported is results for its fiscal third quarter of 2023 on Aug. 1, 2023. The company announced that consolidated net revenues were up 12% from the same period a year ago to $9.2 billion — a record. GAAP earnings per share was $0.99, higher than expectations. Comparable store sales were up 10% worldwide, including a 7 % increase in North America and 24% internationally, compared to the same period last year. The company opened 588 net new stores during the quarter.
Is Starbucks Inflation-Proof?
While there may be some debate as to whether that morning coffee is a necessary or a discretionary purchase, the fact is that rising prices are a risk for companies like Starbucks. It's possible to make coffee at home, and consumers who are feeling the pinch may choose that option. But it appears many are not and are opting to pay a bit more for their morning joe.
In the fiscal third quarter of 2023, the average ticket at Starbucks increased 6% at U.S. comparable stores. This means that the average customer was paying 6% more for their purchase at their local Starbucks, while there was an increase of 1% in transactions. Inflationary times can make it harder for a company like Starbucks to bring in new customers, so the fact that existing customers are willing to pay more to remain caffeinated is encouraging.
Where Is Starbucks Headed?
Just under a year ago, in September 2022, Starbucks announced its Reinvention Plan, with a goal of comparable store sales growth of 7 to 9% annually, and global annual revenue growth of 10 to 12%. The third quarter results indicate the company is on track with this plan.
The one thing that potential Starbucks investors may want to keep an eye on is unionization efforts. So far, over 350 Starbucks stores have succeeded in unionizing their employees, and others are making attempts. Starbucks has long been known for generous employee benefits compared to its peers, so unionization may not have a significantly detrimental effect on the bottom line, but the reputational consequences of a union fight could be an issue.
As with all prospecting investing decisions, it's important to look at new positions in the context of your portfolio as a whole, ensuring that new investments keep you within your risk tolerance and asset allocation preferences.
FAQ
Here's more answers about the price forecast for these three stocks: Apple, Amazon and Starbucks.
How much will Amazon be worth in 2025?

According to CoinPrice Forecast, Amazon's stock is projected to be worth around $200 in 2025.

How much will Apple be worth in 2025?

According to CoinPrice Forecast, Apple stock could be worth $250 in 2025.

How much will Starbucks be worth in 2025?

According to CoinPrice Forecast, the prediction is that Starbucks stock will be around $100 in mid-2024 and reach $110 halfway through 2025.