Costco Membership Is Edging Out Target, Walmart and More Competitors — Why Experts Overwhelmingly Support Stock Over Next Year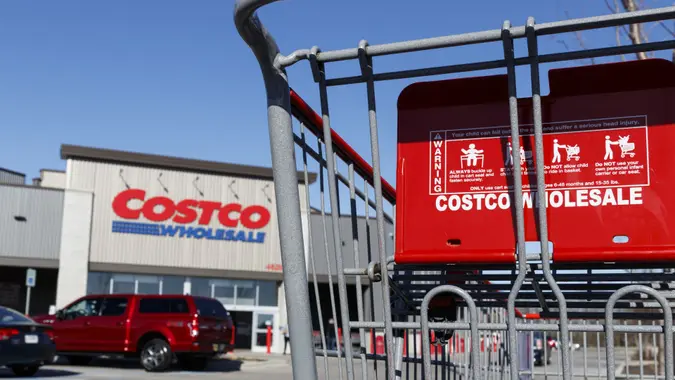 jetcityimage / Getty Images
It's no secret Costco has amazing deals for members both online and in stores, as well as a passionate membership base that would seemingly prefer to shop at Costco over anywhere else. At the end of Q3, 2023, Costco had an all-time high membership renewal rate of 92.6% in the U.S. and Canada, TheStreet.com recently reported.
Costco also seems to be succeeding in areas where competitors like Target, Walmart and Kroger are failing; the wholesale club hasn't seen increasing theft in its stores, which these retailers have struggled with.
SecurityInfoWatch.com recently reported that shrinkage could cost Target $500 million in profits in 2023. Target chairman and CEO Brian Cornell told the website that theft and retail crimes are "increasingly urgent issues."  
Meanwhile, shrink costs Walmart roughly $3 billion annually, based on Gitnux statistics.
All four organizations have self-checkout systems in place. Only Costco seems to be managing theft better with its members-only policy, checking receipts carefully at the door, and associates available to oversee self-checkout lines. Although Costco members have chastised the club for its self-checkout policies, the level of oversight may be helping prevent theft.
With a fanatical member base, low prices, a 5.5% increase in net sales in the first 36 weeks of the year, and a net income of $1.3 billion in the third quarter, Costco is a favorite of not just shoppers, but investors, as well.
After peaking in July, Costco experienced a dip in August. But investors are predicting 7% gains for the next year, according to Finbold.com. The site reported that 17 out of 20 investors are calling the stock a "buy." Some analysts see the stock exceeding $600 a share within the next 12 months, although the average target price is $588.
Bottom line: Investing $60 or $120 in a Costco membership can give you access to low prices and high-quality products. But investment experts are also touting Costco stock as a smart buy right now.
More From GOBankingRates