Invest Like Trump: What Does the Former President's Stock Portfolio Look Like?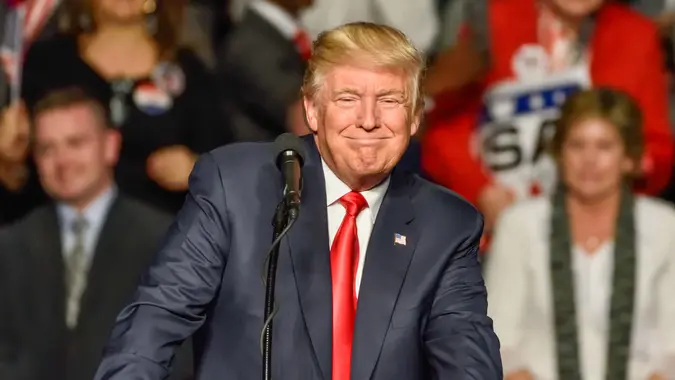 Evan El-Amin / Shutterstock.com
As of August 2023, media reports indicate that former President Donald Trump's net worth is about $2.5 billion. 
While it's true that Trump is a wealthy man, his total net worth is declining. In terms of Forbes' billionaire rankings, Trump has slipped several positions, now holding the 1,222nd spot in the world as of Aug. 16, 2023, a significant drop from his previous ranking of 892nd.
Trump's foray into the social media industry, which includes the platform Truth Social, was initially valued at around $730 million. However, it has suffered a substantial decrease in value, with Fox News reporting a decline of $550 million. Trump announced the creation of this platform in October 2021, and it was launched in February 2022. According to a July 2023 report from Search Logistics, Truth Social boasts approximately 2 million active users.
As reported by Forbes, a financial disclosure report filed in April revealed that the majority of Donald Trump's cash holdings are invested in safe-haven assets. The report highlighted that the former president made strategic financial moves, including selling his Washington D.C. hotel and refinancing a San Francisco office tower — actions that resulted in Trump currently holding a substantial cash reserve of $425 million.
But where does Trump stand in terms of his stock portfolio?
Donald Trump's Stock Portfolio
The majority of Trump's investments primarily include bonds, Treasuries and money-market funds, according to Forbes. These latter two categories are widely recognized as safe havens due to their backing by the U.S. government. A detailed breakdown reveals holdings of $135 million to $445 million in bonds and $45 million to $225 million in Treasuries and money-market investments.
Furthermore, Trump's investment portfolio also encompasses stocks, with an estimated value ranging from approximately $20 million to $60 million. Among the notable blue-chip stocks in his portfolio are Procter & Gamble, JPMorgan Chase & Co., Pfizer, Inc. and Johnson & Johnson. His most substantial equity position is in Owl Rock Capital Corp, a non-bank lender founded by finance veterans from Blackstone, KKR and Goldman Sachs, with estimated investments ranging from $5 million to $25 million.
Reportedly, Trump also holds $5 million to $10 million in mutual funds and exchange-traded funds, along with $1 million to $5 million in cash reserves and an allocation of $100,000 to $300,000 in gold holdings.
Jennifer Taylor contributed to the reporting for this article.
More From GOBankingRates