Experts Predict How the Stock Market Will Perform for the Rest of 2023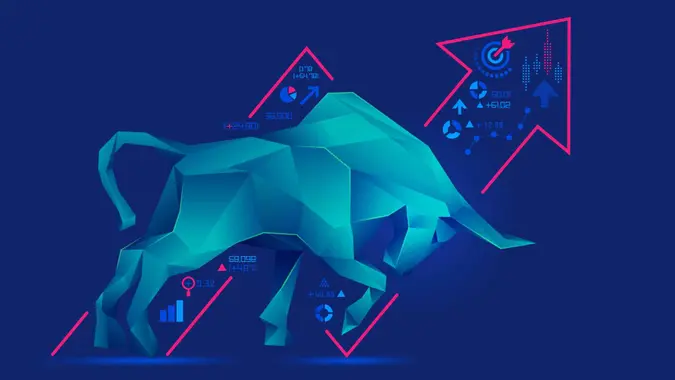 Jackie Niam / Getty Images/iStockphoto
The stock market performance during the first half of 2023 has been rosier than expected, with the S&P 500 surging more than 18% so far this year. While most investors are thrilled by this growth, some of us can't help but wonder: Will this upward trend continue? Or are we due for a market correction? 
While there's no crystal ball to perfectly predict the stock market's future, here's what experts think it might look like for the remainder of 2023. 
Also see how the market has performed under each president.
Stock Market Performance Prediction for the Rest of 2023
Alice A. Gabriele, senior portfolio manager at Pinnacle Associates, is cautiously optimistic about the stock market performance for the remainder of 2023.
"The breadth of the upside this year has been concentrated in tech and artificial intelligence stocks," she said, "and it is likely that momentum for these sectors will remain positive, but the trajectory will be moderate." 
While some investors may follow the booming tech and AI trend and invest in related stocks, Gabriele predicts that some conservative investors may pour their cash into stocks with lower valuations and potentially better risk/reward instead, thereby broadening the depth of the stock market rally. 
"It makes sense that the worst-performing sectors thus far this year — energy, utilities, healthcare, financials and consumer staples — could be recipients of some of this cash," Gabriele said.
When these "less trendy" sectors start to perform better and the market breadth broadens, this is generally positive for the overall stock market.
Plus, with the pace of inflation moderating and investors starting to embrace the mantra that inflation is under control, Gabriele predicts they'll feel more confident about buying stocks, fueling some upside.
"Regardless of if the Fed hikes another 25 or 50 [basis points] over the next few months," she said, "it appears that the economy and employment … have been and are likely to be resilient."
In other words, there could be increased buying activity in the stock market for the remainder of 2023. 
What Should Investors Worry About?
"There are always things that could negatively affect the world and the markets," Gabriele said. "If I were to worry about a few things, they would be an implosion in the value of the commercial real estate market, an invasion of Taiwan by China and another pandemic."
While the possibility of a Chinese invasion of Taiwan and another pandemic is undoubtedly worrisome, it seems that the collapse of the commercial real estate market may be a more pressing concern at the moment.
According to the U.S. Real Estate Market Outlook 2023 report by CBRE, a leading commercial real estate investment firm, "High interest rates and the likelihood of a recession could make 2023 a challenging year for commercial real estate."
In the first quarter of 2023, CBRE reported that the U.S. commercial real estate investment volume fell by a whopping 57% to $78 billion. And as of Feb. 15, 2023, the S&P U.S. REIT (Real Estate Investment Trusts) index was down more than 11% over the prior 12 months. Overall, with higher capital costs and a recessionary climate, it seems that the commercial real estate market may be facing tough times ahead.
But, rather than worry, Gabriele suggests spending time researching companies that have a proven track record and have often foreseen trends and capitalized on them. Instead of letting fear control your decisions, take a proactive approach and find investment strategies to help you weather the storm.
Experts' Advice for Navigating the Stock Market
With the uncertainty surrounding the financial landscape and the U.S. economy, many investors are seeking expert guidance on navigating the stock market for the remainder of 2023 and the years to come. If you're also feeling unsure about your investment strategy, don't worry. We've gathered advice from top experts to help you confidently protect and grow your investment portfolio. 
Use the Dollar-Cost Averaging Technique: Robert R. Johnson, professor of finance at Heider College of Business of Creighton University, said, "Investors should stop worrying about the immediate future of the stock market and instead focus on the long term." So rather than panicking about your short-term portfolio performance, Johnson recommends investing in a low-fee, diversified equity index fund and continuing to invest consistently whether the market is up, down or sideways. "Dollar-cost averaging into an index mutual fund or ETF is a terrific lifelong strategy to manage risks," he said. 
Buy Quality: Gabriele said, "While it might be fun to speculate on the next big trend, it is also prudent to buy companies with positive earnings and cash flow." Instead of impulsively following the crowd and pouring your hard-earned money into trendy investments, perform your due diligence before jumping on board. Blindly investing without the proper information can quickly become speculation, which is not a solid investment strategy. However, if you want to take a risk and speculate on something, Gabriele advises only setting aside an amount you can afford to lose. 
Avoid Falling Prey to Your Emotions: As humans, we're prone to letting our emotions get the best of us, especially when our money is on the line. Raymond Micaletti, Ph.D. and chief investment officer at Allio Finance, said, "When the market was at its bottom in October, no one wanted to buy stocks, except institutions who were backing up the truck. Now that the market is up daily, everyone wants to buy stocks, but guess what? The institutions who were buying the S&P 500 at 3,500 are now selling it to retail traders." 
Micaletti explains that this is an age-old game that institutions use to scare investors into selling their stocks at market lows and then coax them back into the market at highs —  leaving the average retail trader on the losing end. By recognizing these tactics and controlling your emotions, you can make smarter investment choices and better protect your portfolios no matter how the market performs.
More From GOBankingRates