Fact Check: Will Donald Trump Make You Rich in Retirement?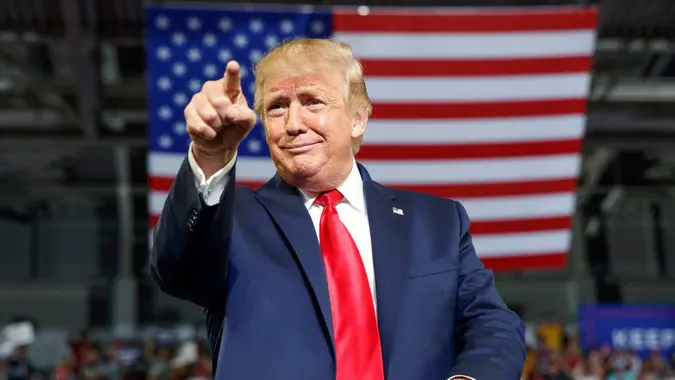 Carolyn Kaster/AP / Shutterstock.com
In an opinion piece published this week in The Wall Street Journal, Grover Norquist, president of Americans for Tax Reform, argued that your life savings might be at risk under a Biden presidency. In essence, Norquist believes that a Trump presidency would be better for Americans' retirement accounts.
"Today, more than 100 million Americans save in 401(k)s, up from 19 million in 1990, along with many others using individual retirement accounts, 403(b)s and 529 college savings plans," he wrote. "And this growing 'investor class' is increasingly aware. They receive frequent reports and can check their statements online anytime to see how their savings have grown, fallen or rebounded. They watched the Trump presidency drive up the value of their life savings."
Norquist also disputes the argument that a strong stock market really only benefits those who are already wealthy investors with large stakes.
Biden: "Trump says everyone's in the stock market … What the hell's he talking about? People I grew up with in Scranton, Claymont, don't have money in stocks."

pic.twitter.com/9k4RcWlFtB

— The Recount (@therecount)

September 18, 2020
"That argument gets things backward," he wrote. "Younger Americans, just beginning to save in an IRA or 401(k), have an even greater interest in pro-growth economic policies. They have more years to reap the benefits."
While it's true that strong stock performance will benefit 401(k) plan holders, this ignores the fact that only about half of American households are able to participate in a work-based retirement plan, a 2018 study by the Stanford Center on Longevity found. It's also important to note that those with an employer-sponsored retirement plan are already typically more financially privileged than those who are without.
"This survey shows that roughly half of households have access to a work-based plan — and so that half is more likely to be 'the haves' and the people who don't have a work-based plan are more likely to be 'the have nots,'" Steve Vernon, a consulting research scholar at the Center, told CNBC.
Norquist's argument also assumes that the market will perform better under a Trump presidency than under a Biden one. Although conventional wisdom says that Democratic presidents are generally bad for the market because of their big-government tendencies while fiscally conservative Republicans are beneficial, this belief doesn't hold up to the data. From 1952 through June 2020, annualized real stock market returns under Democrats have been 10.6% compared with 4.8% for Republicans, Forbes reported.
"Stock markets do perform better under Democrats than under Republicans," Jeremy Siegel, a finance professor at the Wharton School of the University of Pennsylvania, told Forbes. "That's a well-known fact, but it does not imply cause and effect." The bottom line? While we can't say with any certainty that a Biden presidency would be better for the market, we also can't say with certainty that a Trump presidency would be better for Americans' retirement savings accounts.
More From GOBankingRates