JPMorgan: S&P 500 Will See a 10% Rally Next Year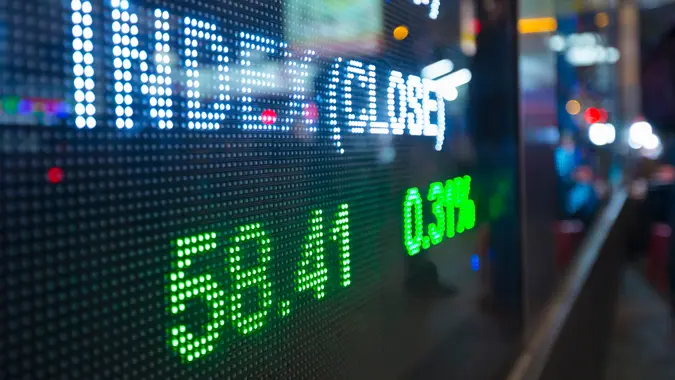 Henglein and Steets / Getty Images
Now could be a prime time to buy stocks you've been holding off on. As CNBC reports, JPMorgan Private Bank anticipates that the S&P 500 will rise up to 3,600 points before the year is out — climbing to 3,750 by next September. With points hovering at 3,352 after the market's most recent close, that's a staggering 10% increase.
"We think certainly that the U.S. markets can make new highs over the next [year]," JPMorgan's head of equities strategy Grace Peters told CNBC's Squawk Box Europe.  "We can see around a 10% upside over a 12-month view."
If you follow the markets, this kind of optimism might seem like a shock. It was just one week ago when the stock markets experienced a uniquely terrible day: The S&P 500 dropped by more than 2.4% to close at 3,236.92 last Wednesday — its lowest level since late July. The Nasdaq also slid by 3%, settling at 10,632.99, its lowest level in nearly two months. The Dow dropped 525.05 points, or 1.9%, down to 26,763.13, despite shares of component stock Nike (NKE) reaching a record high in the wake of outstanding quarterly earnings.
Investors might be wary to dive in for fear of loss, but from a big picture perspective, this rocky September's dips have been negligible. As Dumb Wealth wrote on Seeking Alpha, Microsoft, Amazon and Apple were all up to 20% off last Wednesday, thanks to temporary slumps in tech. 
Ultimately, if you can afford to take advantage of discounted shares — and you believe in the company at hand — it can be shrewd to buy in during a rough patch ahead of a future price surge. Peters recommended a different approach to CNBC: Stick with stocks whose prices follow economic cycles, rather than the whims of a volatile market. (Think healthcare innovation or construction materials.) But either way, market drops are never the end of the world. Keep calm.
More from GOBankingRates
Katie Wudel contributed to the reporting of this article.