Billionaire David Einhorn Is Betting On These 3 Stocks As Fed Continues to Raise Rates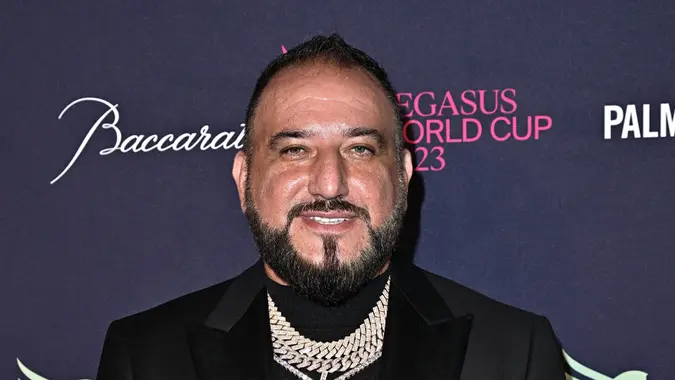 Gustavo Caballero/South Beach Photo/Shutterstock / Gustavo Caballero/South Beach Photo/Shutterstock
While 2022 was an abnormally miserable year for investors, some made out like bandits despite sly-high inflation and Fed-administered interest rate hikes. David Einhorn, billionaire co-founder and president of Greenlight Capital, saw his hedge fund surge 36.6% last year, net of fees and expenses, compared to an 18.1% loss for the S&P 500 index, according to a fourth-quarter letter to investors.
$2,000 Quarter? Check Your Pockets Before You Use This 2004 Coin
Discover: 3 Things You Must Do When Your Savings Reach $50,000
In an exclusive interview on CNBC's "Halftime Report" Wednesday, Einhorn gave his two cents on the state of the market, the nonlinear relationship between rates and the economic activity and how his hedge fund outperformed during a year in which many others struggled.  
"I think we should be bearish on stocks and bullish on inflation," Einhorn told host Scott Wapner. "I think we're in a policy now, which is probably pretty good for Main Street, but it's going to be difficult and increasingly difficult for financial assets."
As Business Insider reports, Einhorn believes the Federal Reserve will continue to fight persistent high inflation and price burdens with more rate increases and perhaps more aggressively than the consensus is expecting.  
"I think that both long- and short-term rates are headed higher and probably higher than what people are expecting," Einhorn said. "The Fed does want stock prices lower. They've made that clear. I think it would be better if they cared less about the stock market in either direction."
The market drubbing of 2022 didn't diminish Einhorn's and Greenlight's accomplishments and this bear market might be the catalyst investors need to diversify their portfolios purchasing stock at a discount and "buying the dip" when everyone else is selling.
Greenlight's "exceptionally good year" was the result in investing in significant long winners, including Atlas Air Worldwide, Siltstone Capital and Twitter. Greenlight had less success with Danimer Scientific and Green Brick Partners, its only two losing positions, per CNBC.
"I have a pretty conservative view towards which way the overall market would go, but I'm very excited about a number of the positions in my long portfolio because they're just ridiculously inexpensive and returning tons of capital," Einhorn said.
When it comes to finding the best investment opportunities during a tough economic spell, it pays to follow the leader. Here are three stocks that Einhorn is betting on.
Tenet Healthcare Corp. (THC)
Tenet Healthcare Corp., a diversified healthcare services company that operates hospitals and other healthcare facilities, struggled with declining shares amid inflation and a lowered COVID-influenced guidance in 2022, but Einhorn felt it was a good time to take a chance on the company last quarter.
According to the American Association of Individual Investors (AAII), Tenet Healthcare Corp had a $6.1 billion market capitalization as of Mar. 2, compared to the Healthcare Facilities & Services median of $225.1 million. Tenet's value increased 1.2% after the CNBC interview.
"You have a company that is now beginning to really return capital to shareholders," Einhorn said, alluding to its recent buyback. "And so, when you see that kind of opportunity, we took a medium sized position."
Take Our Poll: Do You Have a Second Job or Backup Plan in Case You Are Laid Off?
CONSOL Energy Inc. (CEIX)
CONSOL Energy was another of Einhorn's favorite outperforming long stocks in 2022. Greenlight owned 1.8 million shares of Consol Energy (CEIX) as of the end of Q4, according to Seeking Alpha, and the Pennsylvania-based coal company's stock rose 5% after Einhorn's persuasive remarks.
"So pretty much the free cash flow is going to equal the whole value of the company between this year and next year and they have no debt," he said. "So we expect they are going to be buying back and returning that capital. Within a couple years we expect to get pretty much all of our money and they still have 30 years of reserve coal in the ground."
Teck Resources Ltd. (TECK)
Lastly, Einhorn is holding onto Teck Resources, which will be allocating more cash toward its metals segment at a time when copper will be a hot commodity, given the shift toward electrification in many industries. Teck gained 5.3% after Einhorn's comments.
"After Teck Resources brings a new mine online, literally this quarter, there's really not going to be much supply for several years," Einhorn said. "And so if we are going to have all these electric vehicles and stuff like that we are going to need a lot more copper. I'm very bullish on copper prices over the intermediate term and I think that Teck Resources will be a good beneficiary of that."
More From GOBankingRates