Jim Cramer Says Now Is the Time to Buy Stocks Even Though Government Bond Yields Are High — Here's Why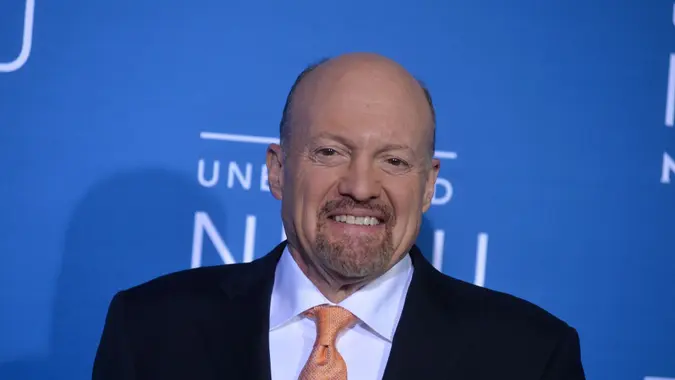 Erik Pendzich/Shutterstock / Erik Pendzich/Shutterstock
Despite some recent stock market stumbles and rising Treasury yields, now could still be a good time to buy stocks, according to CNBC's Jim Cramer.
During a recent segment of his show, the "Mad Money" host said that eventually, interest rates will stop rising, "which means you need to buy some stocks here, not sell them."
However, he noted, "don't do it all at once. Do it on a scale," in terms of buying some now while maintaining the flexibility to buy more later.
The Relationship Between Stocks and Government Bonds
U.S. Treasury securities have hit some high notes lately. For example, the 10-year Treasury hit a 16-year high this week, reaching 4.64%, reported Insider.
When bond yields are high — particularly U.S. government bonds, which are typically considered to be relatively safe assets — that tends to give investors an incentive to put money into these assets. If you can get a good return without taking on too much risk, that can be appealing.
So, higher bond yields can reduce demand for stocks, which then puts downward pressure on stock prices. 
"If interest rates move higher, stock investors become more reluctant to bid up stock prices because the value of future earnings looks less attractive versus bonds that pay more competitive yields today," said Rob Haworth, senior investment strategy director at U.S. Bank Wealth Management, in a company article.
Despite this relationship, now might not be the time for stock market investors to retreat. Eventually, interest rates will peak, noted Cramer. By continuing to invest in stocks, you can potentially position yourself to take advantage of the next stock market upswing when conditions change.
But you don't necessarily have to choose to go all in on stocks vs. shifting fully into bonds.
"I think a mix of both is fine, but if you go all bonds now, I think now you're liable to miss something real good in stocks," said Cramer.
Don't Get Overly Caught Up in Timing
While Kramer thinks that now could be a good opportunity to buy stocks, it's important to remember that trying to perfectly time the market tends to not work well. His message seems to be more around avoiding fear-based decisions. 
"Capitulation breeds buying opportunities," said Cramer.
In other words, the stock market's recent struggles might prompt some investors to sell, but if you can focus on the long-term picture of stocks trending upward, then that could be a better approach.
As a Charles Schwab report notes, "because timing the market perfectly is nearly impossible, the best strategy for most of us is not to try to market-time at all. Instead, make a plan and invest as soon as possible."
More From GOBankingRates