Kellogg's CEO Says Food Industry is a Good Investment Despite Inflation & Decreased Food Stamps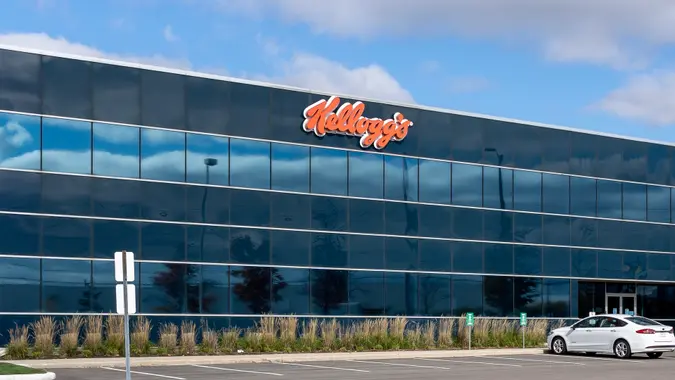 JHVEPhoto / Getty Images
Fighting against a potent mix of unrelenting inflation, exhausting supply chain disruptions and consumer backlash to high prices, many food companies struggled throughout the pandemic and beyond. When you add in outliers like labor strikes and warehouse fires, you could forgive even industry leaders for being discouraged about the future of their business.
However, that's not the case with Kellogg's chairman and CEO Steven Cahillane. Talking with David S. Palmer at Evercore's Consumer and Retail Conference on June 15, Cahillane spoke optimistically about investing in the food industry and the challenges Kellogg's faces moving forward after setbacks common to its peers and unique to itself.
"To be honest, the investor community has been pessimistic about our sector, I think overly pessimistic," said Cahillane.
"There's been this pervasive half empty no matter what happens and the industry performs well against these externalities," he added. "I, for one, don't think that is overly justified. And so, we see a good opportunity for margin expansion and for hanging on to the consumers that we've gained even as we come out of this very brutal inflationary cycle." 
Kellogg's — maker of such iconic food brands like Pringles, Cheez-It, Special K, Frosted Flakes, Pop-Tarts, Corn Flakes, Rice Krispies, Eggo, Mini-Wheats and Kashi — has rebounded nicely over the past few quarters after a period of company strife and underperformance.
According to its 2023 first quarter results released May 4, net sales increased 10% year-over-year and every region, prompting Kellogg's to update its full-year 2023 financial guidance. Net sales for the Kellogg Company in 2022 were over $15.3 billion.
However, the company, and its cereal operation in particular, has had to overcome several setbacks in the last two years, including a three-month-long labor strike at its North American production facilities during the last quarter of 2021 and a devastating fire at its Memphis, Tennesee cereal plant in July 2021.
And then there are consumer marketplace realities. Competing for market share while consumers have been shifting toward other breakfast options than cereal has hit the company hard. "There are a lot of variables in the mix right now, and there's a lot of noise as you try and really come to grips with exactly where the US consumer is," Cahillane stated.  
At the Evercore conference, Cahillane spoke to the decline in households receiving extra Supplemental Nutrition Assistance Program (SNAP) benefits, or food stamps, in particular. As the Census Bureau reported, the end of additional pandemic-related SNAP benefits in a large number of states has resulted in smaller monthly SNAP payments for around 32 million Americans.  
"Obviously, that's a real thing," he said. "SNAP benefits have declined. So, there's less money in the pockets of those consumers. You see that in their spending habits. You saw a slowdown a little bit in the last couple of weeks. And then really, I think, about a week or two ago, a little bit of a bounce back. And, so, I think it's too early to really call one way or the other, exactly what the state of the US consumer is because I think it's mixed.
"I think it's overall resilient, but I think we have to be ever mindful of just the absolute money available in household budgets and understand that that is under pressure."
Take Our Poll: Are You Expecting an Inheritance?

Last year, the U.S. food giant announced a major restructuring plan that will see the company split into three independent public companies by the end of 2023 and spin off its North American cereal operations in an attempt to further enhance company performance and value and build on Kellogg's current momentum.
More From GOBankingRates