Inside the 'Magnificent 7': What To Know About These Leading Tech Stocks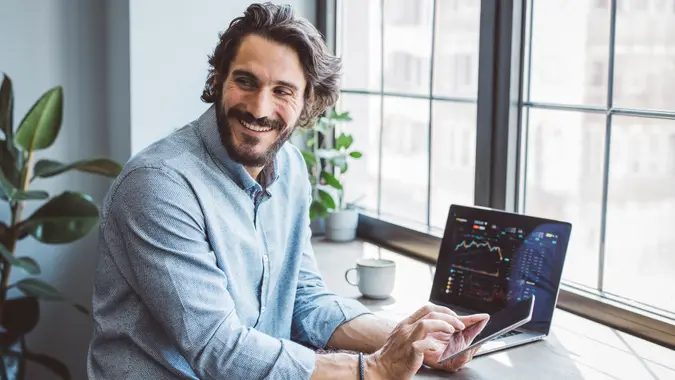 svetikd / iStock.com
Wall Street loves its acronyms. In 2017, one of the most famous in recent existence, "FAANG," was coined by commentator Jim Cramer, and it referred to five of the most popular and market-moving stocks of the time: Facebook, Amazon, Apple, Netflix and Google. While two of those stocks have undergone name changes — Facebook to Meta Platforms, and Google to Alphabet — they are still among the market leaders when it comes to tech stocks. 
See: 3 Things You Must Do When Your Savings Reach $50,000
To update the list of tech stock leaders for 2023, analyst Michael Hartnett of Bank of America coined a new term, the "Magnificent 7," referring to the best-performing tech stocks of the year. This list is almost identical, using the FAANG stocks but dropping Netflix and replacing it with Nvidia, Microsoft and Tesla.
What Are the Magnificent 7 Stocks?
In addition to being leading tech stocks, the Magnificent 7 also represent the seven largest stocks in the S&P 500, collectively making up more than 25% of the entire index:
Meta Platforms (META)
Nvidia (NVDA)
Amazon (AMZN)
Apple (AAPL)
Alphabet (GOOGL)
Microsoft (MSFT)
Tesla (TSLA)
Here's a look at the Magnificent 7 stocks, including their prices, year-to-date performance and other important features.
1. Meta Platforms
Share price as of July 26: $298.88
YTD performance: 148.36%
Meta Platforms, formerly known as Facebook, has absolutely skyrocketed in 2023, up nearly 150% YTD. Part of the reason is the fact that CEO Mark Zuckerberg announced that he'd get costs under control in 2023 — a long-standing bugaboo for the company with analysts and investors — and he's already successfully moving ahead on that promise. Another level of support for the stock comes from the 2023 mania for anything related to artificial intelligence, which is becoming even more of a focus for this revolutionary tech company.
Of course, it's worth noting that even with the stock's big run-up thus far in 2023, it has yet to reach the highs it hit in 2021, after a precipitous stock decline of 64.22% in 2022.  
2. Nvidia
Share price as of July 26: $454.54
YTD performance: 211.03%
Nvidia has been all over the news in 2023, first because of its market-leading position in semiconductors and chips that power artificial intelligence applications but then due to the actual performance of the stock itself. Having already more than tripled in 2023, buy-and-hold investors have more than made up for the shellacking the stock took in 2022, when it fell by a whopping 50.31%. But even with that large decline included, Nvidia has returned 328.22% to investors over the past three years alone and remains one of the leading AI stocks.
3. Amazon
Share price as of July 26: $128.15
YTD performance: 52.58%
Amazon is yet another big-cap tech stock that got pummeled in 2022 but has come roaring back in 2023. Only in a year like 2023, where big-cap tech leaders like Meta Platforms and Nvidia are up triple digits, could Amazon's 50%-plus gain be seen as "small." Unlike some of the other names on this list, however, it seems as if Amazon has much more runway ahead of it. The biggest name in online retailing has actually lost 19% over the past three years, even after 2023's big gain, leaving it well behind many of its big-tech brethren.
Of 43 analysts tracking the stock, 43 have it as a "buy" or "strong buy."
4. Apple
Share price as of July 26: $194.52
YTD performance: 49.71%
There's a saying that "as goes Apple, so goes the market," and to a large degree, that is true. As the single largest company in the world by market capitalization, Apple alone comprises an incredible 7.5% of the S&P 500 index all by itself. The stock has long been associated with technological innovation, from the Mac to the iPod to the iPhone and beyond. Customers have an almost cult-like addiction to the company's products, with even billionaire investor Warren Buffett commenting that most consumers would rather give up a second car than give up their iPhone. Shares have returned 83.06% over the past three years and an incredible 300% over the past five.
5. Alphabet
Share price as of July 26: $129.33
YTD performance: 46.58%
Alphabet, still commonly referred to as Google, has had a great 2023 YTD but still hasn't reached its highs of 2021, like many of its other big-tech brethren. But the huge company has seen some massive momentum as of late as investors are latching on to how artificial intelligence can propel further growth at Alphabet — and future gains in AI shareholder portfolios. In May, the company unveiled more than $100 billion in new AI tech tools, such as a conversational search engine, and its advancements have rekindled interest in the stock.
Thirty-eight of the 43 analysts following the stock have "strong buy" or "buy" ratings on it.
6. Microsoft
Share price as of July 26: $337.93
YTD performance: 40.91%
Microsoft flies a bit under the radar of some aggressive tech investors who may still think of the company as "old tech" rather than as cutting-edge. But the company, which still remains synonymous with computer operating systems, is now making advancements in the world of artificial intelligence, and that has helped prop up its stock price in 2023. Rather than some "old tech" stocks that have faded away in prominence, Microsoft is actually the second-biggest stock in the S&P 500 index, just behind Apple with a 6.83% index weighting.
Of the 34 analysts tracking the company, 27 have a "buy" or "strong buy" rating on it.
7. Tesla
Share price as of July 26: $264.29
YTD performance: 114.56%
Tesla has always generated headlines, from its ground-breaking electric vehicles, superchargers and battery storage technology to its multifaceted, outspoken CEO, Elon Musk. The stock has done most of the talking in 2023, however, rocketing far into the triple digits and helping make Musk the richest person on Earth as of July 26. The stock is notoriously volatile, but that comes with the territory for any company that can return 1,200% to shareholders over just five years.
Up next for Tesla? Profiting from its supercharger deals with other electric vehicle manufacturers and making its cars more affordable, thereby pumping sales.
What Is the Nasdaq-100 Rebalance?
As of July 24, the weighting of the Magnificent 7 in the Nasdaq-100 index was an outsized 54%. The rebalance imposed on that date enforced rules limiting the size of companies in the index, such as cutting the weighting of the top five stocks to 38% and limiting individual components outside the top five to just 4.4%. While still heavily concentrated, you can now invest in that index without a small group of components completely dominating it.
Data is accurate as of July 26, 2023, and is subject to change. Information on analyst ratings was sourced from Yahoo Finance.
Our in-house research team and on-site financial experts work together to create content that's accurate, impartial, and up to date. We fact-check every single statistic, quote and fact using trusted primary resources to make sure the information we provide is correct. You can learn more about GOBankingRates' processes and standards in our editorial policy.