Best Mining Stocks: 7 Picks To Buy in 2022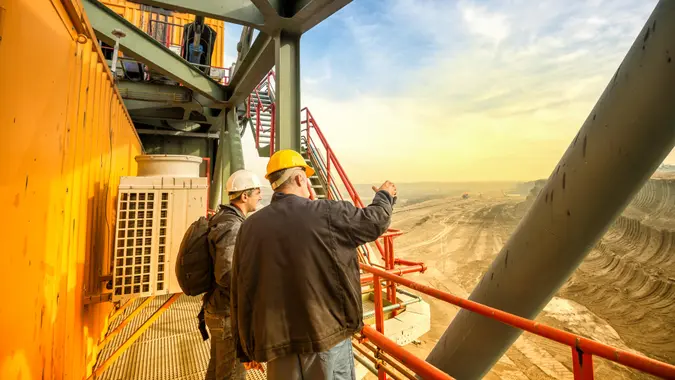 DuxX / Getty Images/iStockphoto
Mining stocks have long been attractive to investors for a couple of reasons. First, the demand for raw ore is only increasing as more and more companies use them in manufacturing. As more natural materials are mined, there is less left to mine, which should, theoretically at least, drive up prices. Plus, mining stocks often pay a dividend, which is attractive to many buy-and-hold investors.
Here's what you need to know about mining stocks for your portfolio.
What Is a Mining Stock?
A mining stock is the stock of a company whose principal business is mining minerals such as silver, gold, uranium, feldspar, coal, tin, zinc or nickel. Mining companies extract minerals from the ground and process them so they can be used in industrial or commercial applications. Mining companies explore areas where they think these minerals exist and then drill to extract the minerals.
Since there is a significant amount of work that needs to be done before mineral deposits are extracted or even identified, mining is a risky endeavor. It can also be lucrative since demand — and therefore prices — for these minerals can be high.
What Are the Best Mining Stocks?
Without a crystal ball, it's hard to say which mining stocks will perform best in the future. But here are some to watch.
Alpha Metallurgical Resources Inc.
Alpha Metallurgical Resources Inc. (AMR) provides metallurgical products to the steel industry. It has mines, both underground and surface, across Virginia and West Virginia.
Alpha's stock is up over 100% year to date, from $62.99 at the beginning of the year to $130.62 on Sept. 16. The company's forward dividend is $1.57, and its yield is 1.20%. As of Aug. 31, Alpha had bought back over $326 million in stock as part of an announced $600 million repurchase program.
Ramaco Resources Inc.
Ramaco Resources Inc. (METC) is one of the few North American mining companies that exclusively produce metallurgical coal. Metallurgical coal is used to produce coke, which is used in making iron and steel. The company has mines in Virginia, West Virginia and Pennsylvania. It recently announced an agreement to acquire Maben Coal LLC to expand its future production.
Ramaco Resources is trading right near its 52-week low of $8.68, closing at $8.85 on Sept. 16. Within the last year, it's been as high as $21.73. Its forward dividend is $0.44 with a 4.83% yield, which is a nice dividend. According to Yahoo Finance, five out of six analysts rate it a buy, with the other rating it a strong buy. It has a 12-month average price target of $17.50.
Barrick Gold Corp.
Barrick Gold Corp. (GOLD) has had a rough time in the past year and is trading at $15.30 as of Sept. 16, which is very close to its 52-week low of $14.53. Gold typically doesn't do well when interest rates rise, so it's not surprising to see this stock looking a little weak at the moment. But interest rate hikes will moderate eventually, which could push gold back up.
Just four analysts have weighed in on Barrick Gold in September. Two of them rated it a strong buy, one rated it a buy and one suggested holding the stock. Barrick Gold pays a dividend with a yield of 5.23%. The one-year target price estimate is $28.41.
Arch Resources Inc.
Arch Resources Inc. (ARCH) operates four metallurgical coal mines and provides metallurgical products to the steel industry, as well as thermal coal for the power generation market. Its metallurgical mines are located in West Virginia, and it has thermal mines in the Powder River Basin area of Wyoming, and in Colorado.
Arch Resources' stock is up 34% year to date, from $91.68 at the start of the year to $122.76 on Sept. 16. The stock pays a modest dividend with a yield of 0.81%. The nine analysts who follow Arch give it a recommendation rating of 1.7 on a scale from 1 (strong buy) to 5 (sell). Two of the analysts rate it a strong buy, six rate it a buy and one recommends holding it.
BHP Group Ltd.
BHP Group Ltd. (BHP) produces copper for electrical applications and household products; nickel, used in stainless steel and lithium-ion batteries; iron ore, for making steel; potash, which is a group of potassium compounds; and metallurgical coal, used in making steel.
BHP stock is down slightly this year, from $53.83 at the start of the year to $50.95 on Sept. 16. But a nice dividend yield of 12.76% ($6.50 forward dividend) can make up for a lot, and its 12-month target price estimate averages $68.67. Three analysts rate it a strong buy and two recommend that investors hold the stock.
Royal Gold Inc.
Royal Gold Inc. (RGLD) is not a traditional mining company, per se, but acquires royalty interests in real property. In exchange, the company receives a percentage of the revenue, or the metals, produced from that property, after specific costs are deducted. RGLD also invests in stream interests, which are contracts to purchase metal production at a predetermined price from a specific mining project.
The company recently announced it has completed the acquisition of Great Bear Royalties Corp. The acquisition includes all metals produced from the Great Bear Project in the Red Lake district of Ontario, Canada.
RGLD is down just under 10% for the year, having traded at $103.57 at the beginning of the year and closed at $93.26 on Sept. 16. It has a forward dividend of $1.40 and a yield of 1.50%. Analysts give it a 2.5 recommendation rating, with six of 12 recommending investors hold the stock, four recommending it as a buy, and two calling it a strong buy. The 12-month average price target is $138.33.
SPDR S&P Metals & Mining ETF
If you can't decide which mining stock to buy, or if you want to invest in the sector as a whole, take a look at the SPDR S&P Metals & Mining ETF (XME). This exchange-traded fund tracks the S&P Metals & Mining Select Industry Index. As such, it gives investors access to mining stocks and metals stocks, which may provide less volatility.
The fund invests in companies in the S&P 500 metals and mining sectors, including Alcoa Corp., Royal Gold Inc., Commercial Metals Co., Steel Dynamics Inc., Freeport-McMoRan Inc. and Nucor Corp.
XME is flat for the year, having started the year at $45.54 and closing on Sept. 16 at $45.36. In the past year, it has traded as high as $66.63.
Keep in mind that as an exchange-traded fund, this investment is not actively managed, so it will never beat the sector. It will only produce returns that are approximately equal to the sector since that is what it mirrors.
Takeaway

The mining sector can be volatile, but, as with most sectors, it has historically increased over time. By choosing the right stocks and holding them for the appropriate period, mining stocks can be a profitable addition to your portfolio.
Top Stocks To Invest In

Best Energy Stocks:

Best Tech Stocks
Data was compiled on Sept. 19, 2022, and is subject to change. Information on analyst ratings was sourced from Yahoo Finance.
Our in-house research team and on-site financial experts work together to create content that's accurate, impartial, and up to date. We fact-check every single statistic, quote and fact using trusted primary resources to make sure the information we provide is correct. You can learn more about GOBankingRates' processes and standards in our editorial policy.