Best Semiconductor Stocks: 7 Picks To Buy for 2023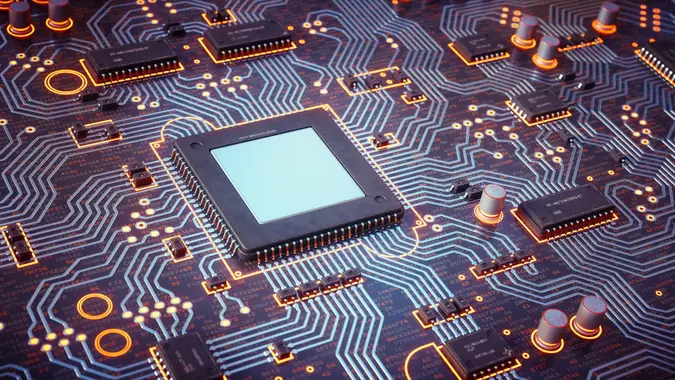 matejmo / Getty Images/iStockphoto
Semiconductor stocks are in an interesting place right now. After the semiconductor index fell by about 30% in 2022, it has bounced strongly in 2023, up about 37% year-to-date.
Here's a look at seven semiconductor stocks to consider for your portfolio.
See: 3 Things You Must Do When Your Savings Reach $50,000
What Are the Best Semiconductor Stocks To Buy?
The CHIPS and Science Act, passed in 2022, was intended to stimulate semiconductor research, development and production in the U.S. The country currently produces only about 10% of the world's semiconductors, but this law aims to increase that number and reduce reliance on chips imported from Asia.
This bill, along with the insatiable global demand for chips, could represent a significant opportunity for semiconductor stocks. If you're looking for the best semiconductor stocks, here are some to watch:
Micron Technology Inc. (MU)
GlobalFoundries Inc. (GFS)
Broadcom Inc. (AVGO)
Texas Instruments Inc. (TXN)
Advanced Micro Devices Inc. (AMD)
Intel Corp. (INTC)
Qualcomm Inc. (QCOM)
1. Micron Technology Inc. (MU)
Micron Technology Inc. has been producing memory and storage solutions for over 40 years. The company recently broke ground on a $15 billion manufacturing fabrication plant in Idaho, positioning it well to take advantage of the benefits provided by the CHIPS Act.
Micron is hovering close to its 52-week high at $65.32 as of June 8. This is up about 34% from the beginning of the year, when it was trading at just over $50. According to Yahoo Finance, 31 analysts following Micron in June give it an average recommendation rating of 2.3. Eight rate it a strong buy, 20 rate it a buy and three recommend holding. The average 12-month price target is $71.06.
2. GlobalFoundries Inc. (GFS)
GlobalFoundries Inc. provides semiconductors for smart mobile devices, personal computers, automotive applications, communications and data infrastructure, and home and industrial IoT, or Internet of Things. At the end of 2021, GlobalFoundries reached an agreement with AMD to provide AMD with about $2.1 billion of silicon wafers through 2025, Reuters reported.
GlobalFoundries has grown 9.85% year to date, from $51.70 at the beginning of the year to $59.40 on June 8. The analysts are pretty bullish on this stock; out of 16 who followed it in May, five rated it a strong buy and eight rated it a buy. Two suggested holding and the other said it was underperforming. It's expected to reach a price of $72.29 in 12 months, per average analyst estimates. That's a projected gain of about 22% over current levels.
3. Broadcom Inc. (AVGO)
Broadcom designs and supplies semiconductor and infrastructure software solutions to data centers, software, wireless, broadband, networking and industrial markets. Last May, Broadcom announced it would acquire enterprise software company VMware (VMW) for $61 billion in cash and stock. U.S. and European regulators must sign off on the deal, according to The National Law Review, which expressed doubt that the deal would close. However, Broadcom expects the deal to close in fiscal year 2023.
Broadcom stock closed on June 8 at $804.20, up from $553.48 at the beginning of the year. But the stock has a one-year target estimate of $791.94. Its forward dividend is $18.40, yielding 2.33%. Analysts are behind it, with 10 out of 29 rating it a strong buy, 17 rating it a buy and just two calling it a hold.
4. Texas Instruments Inc. (TXN)
Texas Instruments is a longtime tech titan, having been founded in 1930. The company designs and manufactures analog and embedded semiconductors. Its customers include companies in the personal electronics, automotive, industrial and communications sectors.
TXN's forward dividend is $4.96, yielding 2.91%. While most analysts — 17 out of 32 — recommend holding Texas Instruments, six rate it a strong buy and eight rate it a buy. One considers the stock to be underperforming. The average 12-month price target is $180.82. The stock closed at $172.23 on June 8.
5. Advanced Micro Devices Inc. (AMD)
Advanced Micro Devices develops technology for computing, graphics and visualization for individuals, businesses and scientific research institutions worldwide. AMD provides high-end processors for gaming computers, graphics-intensive applications and technical computing.
AMD is up over 81% this year, starting the year at $64.02 and trading at $121.05 when the market closed on June 8. Most analysts recommend holding AMD. Four rate it as underperforming and one recommends selling. But five rate it a strong buy and six rate it a buy.
6. Intel Corp. (INTC)
For 50 years, Intel has been widely considered the leading U.S. semiconductor manufacturer. The company is now moving from a PC-centric business to a data-centric business in the hope of staying at the top of the heap.
Like other big semiconductor companies, Intel took a hit last year — so much so that CEO Patrick Gelsinger is taking a pay cut. The results of that belt-tightening seem to have impressed analysts. Whereas just four of the analysts who watched the stock in April and May recommended it as a buy or strong buy, 23 of 41 gave it those ratings in June. The 12-month average price target is $28.73.
7. Qualcomm Inc. (QCOM)
Qualcomm Inc. bills itself as "the world's leading wireless tech innovator," and it has capitalized on the move toward mobile, the Internet of Things and artificial intelligence.
Qualcomm weathered last year's storm and is up 4.77% so far this year. Analysts like it, and of the 23 following it in June, 10 rate it a buy or strong buy and 13 rate it a hold. The 12-month average price target is $125.08.
What Is the Best Semiconductor ETF?
If you can't decide which semiconductor stock to buy, consider an exchange-traded fund that tracks the returns of the semiconductor sector. Among the largest ones is the iShares Semiconductor ETF (SOXX) with $7.76 billion in net assets. It seeks to match the performance of the ICE Semiconductor Index, before fees and expenses. Because it's passively managed, it may provide some protection from volatility compared to buying a single stock. The fund was up nearly 40% year to date on June 8.
Is It Good To Invest In Semiconductor Stocks?
The semiconductor industry, like most of the technology sector, was hit hard during the chip shortage of 2022, but it has bounced back strongly in 2023. The semiconductor industry is notoriously volatile, and not all investors can stomach the ups and downs in the sector. However, the CHIPS Act should provide a continuing boost to the sector, and the long-term outlook, according to most analysts, is positive, as semiconductors have become integrated into almost everything.
Top Stocks To Invest In
FAQ
Here are the answers to some of the most frequently asked questions regarding semiconductor stocks.
What is going on with semiconductor stocks?

The semiconductor index fell by about 30% in 2022 but it has bounced back in 2023. Year to date it is up about 37%. While the industry is known for being volatile, the long-term outlook is mostly positive.

What are the top semiconductor stocks?

Some of the top semiconductor stocks are:

Micron Technology Inc. (MU)
GlobalFoundries Inc. (GFS)
Broadcom Inc. (AVGO)
Texas Instruments Inc. (TXN)
Advanced Micro Devices Inc. (AMD)
Intel Corp. (INTC)
Qualcomm Inc. (QCOM)
Daria Uhlig and John Csiszar contributed to the reporting for this article.
Data was compiled on June 8, 2023, and is subject to change. Information on analyst ratings was sourced from Yahoo Finance.
Our in-house research team and on-site financial experts work together to create content that's accurate, impartial, and up to date. We fact-check every single statistic, quote and fact using trusted primary resources to make sure the information we provide is correct. You can learn more about GOBankingRates' processes and standards in our editorial policy.