Warren Buffett Is Investing In Gas and Oil: Why Cheap Energy Companies Should Be In Your Investment Portfolio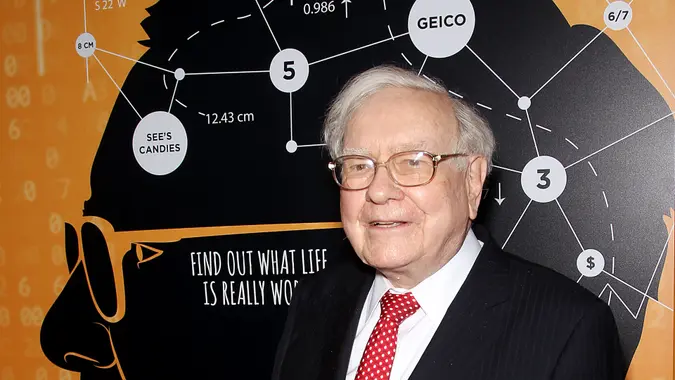 Marion Curtis/Starpix/Shutterstock / Shutterstock
Oil and gas stocks have been a roller coaster ride lately, with prices dropping during the pandemic. Then, it rose when supply was tightened, and people began moving around again. The unrest in the Middle East has driven prices up of late, but the volatility of that situation points to an uncertain future. The sector also faces competition not only from within but from the producers of sustainable energy like hydrogen, wind and solar, including the electric vehicle production.
In keeping with his philosophy of being fearful when others are greedy and greedy when others are fearful, Warren Buffet has been buying up traditional oil and gas stocks. Should you follow suit?
Here's what you need to know.
Oil and Gas Stocks in Berkshire Hathaway's Portfolio
Buffett has significant positions in two major oil and gas companies in the Berkshire Hathaway portfolio. (He also has investments in several Japanese trading firms that often hold energy imports, among other investments.) Berkshire's big oil and gas holdings are Chevron Corp. and Occidental Petroleum Corp.
Chevron Corp.
Berkshire Hathaway owns $20 billion of Chevron Corp. (CVX) stock, making the conglomerate the third largest shareholder of the energy company. That said, Berkshire Hathaway cut its investment in Chevron by over 20% in the first quarter of 2023.
Chevron refines and sells gasoline, diesel, lubricants, fuel oil additives and more. It owns refineries and a network of service stations under the Chevron and Texaco brand names.
Chevron reported disappointing earnings in the third quarter of 2023, with revenue of $52.77B, down 17% year over year. Net income was down 42% over the same period last year at $6.53B. And diluted EPS was $3.48, down 40% from the third quarter of 2022. The stock dropped over 6% when earnings were announced on October 27, 2023.
Occidental Petroleum Corp.
Berkshire Hathaway owns nearly a quarter (24.4%) of stock from Occidental Petroleum Corp. (OXY). Buffett boosted Berkshire's holdings to over 210 million shares earlier this year.
Occidental Petroleum explores, develops, and produces oil, liquid natural gas, natural gas, and condensate. It transports, stores and markets these products, in addition to carbon dioxide and power. It also makes and markets vinyls and basic chemicals.
Occidental Petroleum had not announced its fourth fiscal quarter earnings as of October 30, 2023, but the estimate was for EPS of $0.89 compared to $0.68 in the prior quarter.
Berkshire Hathaway Energy
Berkshire Hathaway has a privately held energy subsidiary that includes producers, transporters, and providers of renewable and traditional energy. Its businesses include:
PacificCorp, the largest grid owner-operator in the West, with two million customers in six states.
MidAmerican Energy Company, a utility that provides wind, coal, natural gas, nuclear, hydro and biomass energy to customers in Illinois, Iowa, Nebraska and South Dakota.
NV Energy, which provides electricity to about 90% of the state of Nevada and natural gas to nearly 200,000 customers in the Reno area.
Northern Power Grid, a distribution network operator in the U.K.
Northern Natural Gas, whose pipelines cross 11 northern U.S. states and provide transportation and storage of natural gas to 83 utility companies.
BHE GT&S, a standalone subsidiary with three interstate pipeline systems and other natural gas transportation and storage infrastructure. This business recently purchased a 50% stake in Cove Point LNG, LP, which owns and operates transportation facilities for liquid natural gas.
Kern River Gas Transmission Company, which operates 1,400 miles of pipeline between the Rocky Mountains and western markets.
BHE Renewables, which develops solar, wind, hydroelectric and geothermal products.
AltaLinkd, which supplies electricity to over 85% of the population of Alberta, Canada.
BHE U.S. Transmission owns and acquires existing electric transmission systems.
The interesting thing about Buffett's energy holdings is that although he's heavily invested in oil and gas, he also has companies within the conglomerate that are in the business of renewable energy production. Buffett's position seems to be that while oil and gas are moving out of favor due to their negative impact on the climate, they will still be around for a while. As the world moves to more renewable energy sources, some of Berkshire Hathaway's subsidiary companies will be positioned to capitalize on increasing demand for so-called "green and clean" energy. Stock positions, which he has in Chevron Corp. and Occidental Petroleum Corp., can be quickly and easily divested, while production and transportation facilities for energy are a longer-term proposition.
More From GOBankingRates