Wells Fargo Stock (WFC): Is It A Good Buy?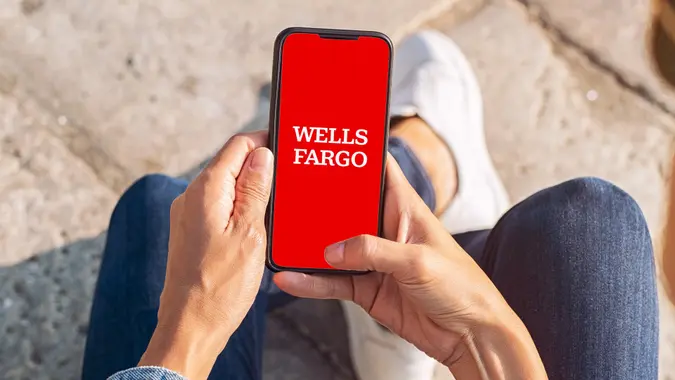 Wells Fargo and Company is a financial services company. It is one of the biggest banks in the world, along with JP Morgan Chase (JPM) and Bank of America (BAC). It provides investment, banking, mortgage services and products through its various banking offices. 
This bank holding company offers services to individuals and business institutions via the internet or other distribution channels.
Wells Fargo and Company also provides savings and checking accounts, credit/debit cards, student loans, home loans, business and commercial loans, home equity and some financial solutions to various businesses — and the company also offers stocks.
Overview of Wells Fargo Stock 
As one of the largest holding banks, Wells Fargo and Company attracts potential investors from all over the world.
The COVID-19 pandemic immensely affected the stock market, leading to sudden dips. However, the most established banks could withstand the crash and make a recovery in 2021. 
Wells Fargo's revenue for the third quarter of 2021 was $19.759 billion, reflecting a 4.77% decrease year-over-year. WFC's yearly revenue from Sept. 30, 2020, to Sept. 30, 2021, was $78.439 billion, a 9.15% decrease compared to the previous year. 
The total net income of Wells Fargo was $3.30 billion in 2020 and $80,303 in net annual revenue, facing a steep decline of 22.72% from 2019.
How Much Is Wells Fargo Stock? 
Currently, Wells Fargo is trading at $56.08, a 0.057% or $0.32 decrease in price since the previous market close. The stock has a market cap of $223.604 billion and an estimated one-year targeted price of $57.21.
Is Wells Fargo Stock a Good Investment?
In October 2021, Wells Fargo and Company had a market capitalization of $202.3 billion. In 2021, the stock is up 65.8%. According to analysts, the adjusted earnings will reach about $4.67 per share. The current dividend yield of Wells Fargo is 1.24%. 
The credit risk and commercial loan activity are improving in 2021, combating the negative impact of COVID-19 on stocks. Investing in Wells Fargo seems like a beneficial investment because it has excellent credit quality and net charge-offs.
In contrast to Wells Fargo, Bank of America's net charge ratio declined 0.20%. Wells Fargo, meanwhile, released $1.7 billion for loan losses into earnings, which boosted their profit. Wells Fargo still has about $14.7 billion reserve capital — a reserve sufficient enough to cover the losses. 
The loan loss reversals will positively affect future earnings. Moreover, Wells Fargo repurchased $5.3 billion worth of shares, equal to 2.7% of the total market cap. The bank also authorized $13 billion worth of shares. Once the plan is complete, Wells Fargo will have repurchased 9% of the total market cap that is likely to boost the bank's earnings. 
Future Outlook
Wells Fargo also expects its full-year expenses to be $53.5 billion. Repurchased stocks paired with excellent credit quality will release reserves worth billions into earnings. 
Banks will see less uncertainty in the coming year as commercial loans are expected to grow. Credit card activity is also a driving factor that rises after lifting the coronavirus travel restriction. In 2021, the return of capital also accelerated, following Fed's (DFAST) results. The Fed's stress capital buffer, or SCB, sets the return of capital guidelines.
Most well-established banks remained above the minimum capital requirements, but banks such as JPMorgan Chase and Wells Fargo stayed well above SCB. This is why Wells Fargo has witnessed an increase in dividends.
Wells Fargo Stock Analysis
Wells Fargo has earned its position on the leaderboard due to its excellent recent performance. 
While most other banks suffered largely during the pandemic due to decreased credit card sales, Wells Fargo managed to stay afloat by ramping up its credit card lending by offering better and new products. 
The bank offers a credit card with 2% cashback on all spending. Plus, there's no annual fee. Wells Fargo also has plans to launch a low-interest rate card with rewards in 2020. Keeping these decisions in mind, one can say that the bank's initiatives will positively affect its stock's performance. 
Risk and Stop-Loss
Wells Fargo has a good trading volume with minimum risk. In the last week of December at the time of this writing, the stock increased by 0.81%. Overall, the Wells Fargo stock is performing well. 
Is Wells Fargo Stock a Buy Now?
Wells Fargo's excellent performance in 2021 makes it a promising investment. Wells Fargo is making noticeable progress considering the increase in earnings after steep declines. 
Investors can wait for a new opportunity to buy the shares to have maximum stock gains. However, they should keep a close check on the stock market.
Wells Fargo has cut costs, repurchased $5.3 billion worth of stocks, and plans to buy more in the coming months. With excellent credit quality, it will release more reserves into its earnings which may be a turnaround situation.
Currently, Wells Fargo is a risky investment. Investors should wait for better opportunities until Wells Fargo becomes a promising stock. Once you have a suitable entry point, you can buy your shares. However, keep Wells Fargo on your watchlist as it is expected to become stable in the coming year.
Good To Know

According to the research director of CFRA, the Wells Fargo stock is a hold. Kenneth Leon stated in a research note, "we think WFC should benefit from favorable industry trends, and management's focus on execution has improved. As a result, we expect 2021's second half to show improved loan activity and higher net interest income than the first half." 
Wells Fargo could have an impressive future performance driven by business loans that are likely to put the bank on the path to success. It could gain customer trust.
Information is accurate as of Jan. 13, 2022.
Our in-house research team and on-site financial experts work together to create content that's accurate, impartial, and up to date. We fact-check every single statistic, quote and fact using trusted primary resources to make sure the information we provide is correct. You can learn more about GOBankingRates' processes and standards in our editorial policy.