7 AI Unicorns and the Creative Ways You Can Invest in Them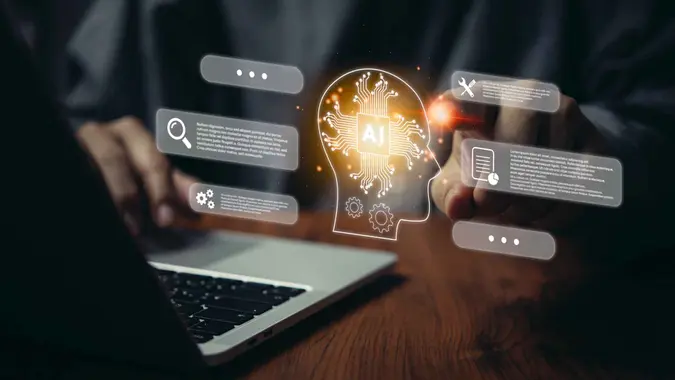 hirun / Getty Images/iStockphoto
When a startup has a valuation that surpasses $1 billion, it becomes considered a unicorn company. Various projects are coming up that utilize the power of artificial intelligence, and many startups are being launched around the basis of unique ways to leverage this technology.
One thing we've learned in the last year or so is that we can't ignore the innovations in AI. Many new startups are popping up in the field, ranging from generative services to coaching users on proper prompting. 
Let's look at AI unicorn companies and how you can invest in this industry.
Jasper
With an increased number of writers using AI-powered tools to make money, it's no surprise to see how much funding has been put into Jasper. This AI startup secured $125 million in funding late last year.
This writing tool promises a 350% return on your investment in the product. Jasper utilizes AI to create content for articles, social media and advertising copy. The tool allows users to describe what they want, and then Jasper delivers the content, which can be used in various ways. 
Discover: 5 Ways To Use AI To Generate Passive Income
Typeface
This AI content generator was founded in 2022 and was able to procure $65 million in venture backing earlier this year. Typeface allows you to create custom content that can be used for marketing copy, with the ability to change the tone, style and demographics of the message.
OpenAI
You can't write about AI unicorn startups without mentioning OpenAI, which launched the revolutionary ChatGPT tool in late 2022. This startup made headlines at the beginning of the year when Semafor reported that Microsoft was looking to invest $10 billion. OpenAI also was behind the launch of the AI-based generative art tool DALL-E 2, which allows users to make art from a plain text prompt. 
Anthropic
This company was founded in 2021 by former research executives from OpenAI. The AI unicorn is behind the ChatGPT rival Claude, and the company was able to raise an additional $450 million in funding back in May.
One of the leading investors in that funding round was Google (not one of Alphabet's investment firms), alongside Zoom, Salesforce Ventures and Spark Capital. With such significant investments being made in the startup, it's worth tracking how the chatbot competes in the marketplace. 
Cognite
Cognite was able to reach unicorn status in 2021 after raising $150 million in funding. This AI SaaS company focuses on helping companies with digital transformations. It just announced that AI-based platforms can accelerate business decisions by 90%.
Synthesia
This AI startup promises to make video creation effortless. Synthesia is a tool used for generating videos from text. The users can create high-quality videos in a web browser without editing skills. This AI startup unicorn recently announced that it raised $90 million, mainly due to the creation of AI-based avatars with realistic-looking characters that can be used in videos. 
Wayve
This startup is changing the self-driving industry with a focus on AI software that will have the ability to power the autonomous vehicles of tomorrow. In early 2022, the startup confirmed that Microsoft contributed to a $200 million round of funding. With companies like Tesla heavily investing in self-driving vehicles, this software could be used by some of the largest companies in the world. 
Can You Invest in AI Unicorns?
Generally speaking, retail investors don't have the ability to invest in most of these startups as the unicorns are gathering funding from venture capital and private funding rounds. We often learn about the funding rounds and valuations once the deals are done. 
The good news is that there are a few ways you can invest your money in AI unicorns indirectly. Here are a few options for you:
Invest in the parent companies. Many larger tech firms are acquiring or creating AI startups to focus on this space. You can invest in companies like Meta, Alphabet or Tesla since they've placed an emphasis on AI.
Invest in the companies that power the technology needed. With the accelerating growth of AI-based tools, there's an increased reliance on the technology needed to power these efforts.  
Invest in the companies utilizing the power of AI. Major companies like Amazon are utilizing AI for various aspects of the business, from search algorithms to processing orders. You can invest your money into companies that invest in AI since they'll likely, at some point, need the services of one of the unicorn startups. 
With the rise of AI-powered tools, it's no surprise to see so many unicorns popping up in this space. We also should be paying attention to companies like Nvidia offering chips required to power the technology while investing heavily in startups.
Final Thought
With the use of machine learning and AI becoming prominent in every industry, you can invest in this field by pretty much putting your money into any publicly traded company. With the rise of chatbots, automated fulfillment centers, and machine learning software, you may be surprised by how noticeable the tools created by AI startup unicorns are.
More From GOBankingRates