How To Invest In Artificial Intelligence in 2023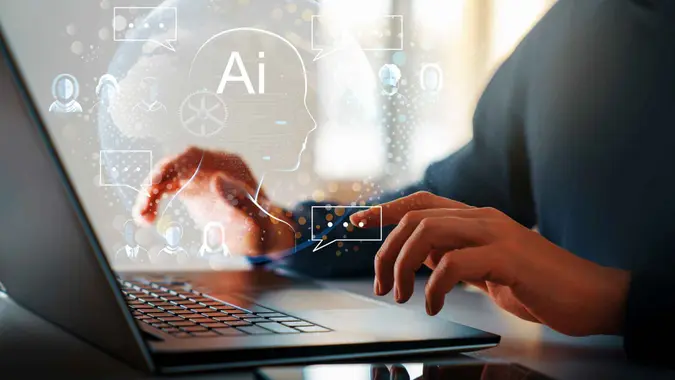 Choreograph / Getty Images/iStockphoto
In just five days after its launch, OpenAI's ChatGPT had garnered 1 million users. By April 2023, the generative AI program had achieved 1.8 billion monthly visitors. But ChatGPT is not the only game in town.
You can use AI and ChatGPT to earn money in many ways. But you might be interested in investing in OpenAI or other artificial intelligence to earn passive income from stocks. After all, the market is expected to grow to $422.37 billion by 2028, up from $59.67 billion in 2021. With such an optimistic outlook, you may be wondering how to invest in AI.  
Can You Invest In AI?

You can't invest in OpenAI, since the company is not publicly held. But there are plenty of other companies that are either developing AI technologies or using AI technologies as part of their primary product or service offerings and have stocks available to the public.

You can invest in many of these companies through your favorite stock trading platform or investment app.
How To Invest In AI: 3 Ways
If you are wondering how to invest in AI, here are a few ways you can consider.
Invest In Companies Developing AI Technologies
Many companies traded on the stock exchange already use AI technology as part of their business every day. You can invest in these companies. As AI capabilities grow, these companies at the forefront of the technology could stand to profit.
Some examples of companies already using AI as part of their core business model include:
Nvidia — chip manufacturer
Lemonade– AI-powered online insurance company
Amazon — uses AI for customer recommendations, Amazon Web Services and delivery drones
Alphabet Inc. — parent company of Google
Tesla — EV manufacturer uses AI for its autonomous vehicles
Invest In Companies That Use AI
AI will become more prominent in virtually every industry this decade, including education, e-commerce, healthcare and finance. If you want to invest in AI, explore companies that are using AI technology. Whether it is to automate business processes, provide customer service or develop marketing campaigns, if they are involved with AI, they are worth a look.  
Invest In ETFs Focused on AI and Other Tech
Exchange-traded funds are collections of stocks with similarities, such as a focus on similar industries. ETFs offer an easy way to invest in AI-related stocks. By their nature, ETFs provide diversity and help manage risk since they combine multiple stocks into one investment.
$CHAT, through Roundhill Investments, is regarded as "the first Generative AI ETF." It offers exposure to stocks mentioned above like Nvidia, Microsoft Alphabet and others. 
BlackRock offers the iShares Robotics and Artificial Intelligence Multisector ETF, which tracks the performance of companies like Intel, Netflix, Matterport Inc. and others across a variety of industries.
What Are the 5 Best AI Stocks To Invest In?
If you're looking to make long-term investments in proven names, consider these AI stocks. These companies exhibit solid fundamentals and proven staying power.
1. Amazon
Amazon almost always represents a solid long-term investment. As AI advances, the e-commerce giant only stands to benefit from improvements, whether that means better shopping algorithms to drive sales or advances in Amazon Web Services. If you can't afford the price tag, you might consider purchasing fractional shares.
2. Alphabet Inc.
Alphabet, the parent company of Google, has been a leading developer in the field of AI in recent years. AI has helped make search results more relevant and Google Maps directions more accurate. But the company is also working on AI for drug discovery through a company called DeepMind. The company was just awarded a $3 million prize for an AI system that predicts how various proteins fold. Incorrectly folded or unfolded proteins often contribute to diseases.
3. Nvidia
The stock for chip manufacturer Nvidia has skyrocketed 166% this year, but investors are saying it hasn't hit its ceiling yet. The company's AI chips are in high demand and, in a press release, founder and CEO Jensen Huang stated the company is "significantly increasing our supply." If you want to invest in technology that powers AI technology, consider Nvidia.
4. Tesla
Virtually every element of Tesla's business operations relies on AI in some form, from Full Self Driving functionality to energy management. Tesla hosts AI Day annually as a way to recruit top talent in the field and showcases some of its most compelling applications and technology. At AI Day 2022, the company unveiled a humanoid robot, dubbed Optimus.
If you purchased Tesla shortly after its stock split last year, it's a good time to use dollar cost averaging to reduce your price per share. At under $300 per share, it's also a good time to gain exposure to this stock.  
5. Adobe
Adobe recently hit a new 52-week high, exploding by 50% in the past several months. On the heels of its second-quarter earnings report, the cloud software provider turned heads on Wall Street. One of the company's newest endeavors includes the launch of Firefly, a generative AI art program that creates images, videos and digital models based on the user's text-based prompt.
How To Buy Artificial Intelligence
Once you've done your research and chosen the best AI stocks to invest in, you'll need to decide how you want to purchase them. If you already use a stock trading platform, it's as easy as putting in a call order for the AI stocks you want at the price you want to buy.
If you are new to investing, you'll want to choose one of the best investing apps, link it to a bank account to fund it and begin building your portfolio. Many stock trading apps let you buy fractional shares of stocks. These are good if you want to invest in Amazon or other pricey stocks and don't have a lot of money to begin trading or have a low risk tolerance and want to build a highly diversified portfolio.
Bottom Line
As AI continues to grow, now is the time to invest in companies on the cutting edge of the technology. As with any stock, there's no guarantee they will rise in price. It's best to speak with a financial advisor for guidance if you have questions about investing.
Information is accurate as of June 21, 2023. 
Our in-house research team and on-site financial experts work together to create content that's accurate, impartial, and up to date. We fact-check every single statistic, quote and fact using trusted primary resources to make sure the information we provide is correct. You can learn more about GOBankingRates' processes and standards in our editorial policy.