American Hartford Gold Review: Pros, Cons and Offerings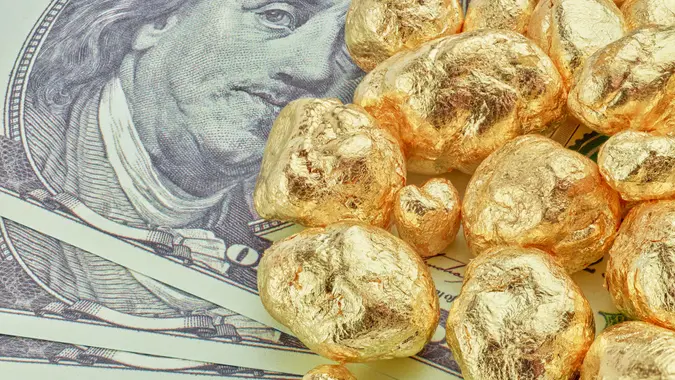 Mark Johnson / iStock.com
American Hartford Gold is the largest retailer of gold and silver in the nation. If you're interested in buying or selling gold or silver, American Hartford is worthy of consideration. But just because American Hartford is the biggest doesn't mean it is necessarily the best for you. To help you decide whether or not American Hartford is the firm for you, here's an overview of how the company operates, what its pros and cons are, and what investing in gold or silver actually entails.
How Does American Hartford Gold Work?
American Hartford Gold offers a wide variety of gold and silver, along with gold, silver and precious metals IRAs. The process of buying gold and silver through American Hartford Gold is straightforward:
Call 800-462-0071 to talk with one of the company's account executives about your needs.
Find out the best gold and/or silver options available for your investment dollars.
Receive free delivery to take physical possession of your gold and silver.
Before you take these steps, you can simply order a free 25-page information guide to learn more about the investment process. 
What Are the Pros of American Hartford Gold?
As far as gold companies go, American Hartford passes a lot of the screening tests. The company sports an A+ rating from the Better Business Bureau, and it has 5-star ratings from customers on both Google and Trustpilot. In addition to being the largest player in the industry, other pros include the following:
Free storage, maintenance and insurance for up to three years
IRAs
Bullion purchases
Coin purchases
Buyback commitment
Free shipping
Price match guarantee
If celebrity endorsements are your thing, American Hartford Gold carries recommendations from television personality and author Bill O'Reilly and the star of the television show "Pawn Stars," Rick Harrison.
What Are the Cons of American Hartford Gold?
The primary cons of working with American Hartford Gold have more to do with investing in gold and other precious metals. But the risks of investing in precious metals can't be attached to American Hartford Gold specifically, as they remain the same no matter where you purchase them. Regarding American Hartford Gold itself, here are a few characteristics that some investors may consider cons: 
$10,000 minimum to open a Gold IRA
No platinum or palladium investments listed on website
How Much Gold Can You Sell Without Reporting to the IRS?

When it comes to gold transactions, it's important to note that there are two very different reporting requirements.

The first is the same that applies to all capital transactions, such as the buying and selling of stocks. Under this requirement, you must declare your gains or losses any time you sell your gold. This can be done by reporting your date of purchase, amount and total cost, along with the particulars of your sale. Then, you must pay short-term capital gains taxes on any positions held for one year or less. Long-term capital gains taxes will apply on any positions held for longer than one year.

With gold transactions, however, there's an additional reporting requirement — although as an individual, you won't be responsible for submitting the information to the IRS. If you sell more than $10,000 of precious metals to a dealer, such as American Hartford Gold, the firm will be responsible for filing Form 8300 with the IRS. This is the same requirement that banks have regarding deposits of more than $10,000, and it is designed to combat money laundering.
Things To Consider When Investing in Precious Metals 
Investing in precious metals is different from investing in financial assets like stocks, bonds and mutual funds. One of the most important distinctions is that precious metals are not nearly as liquid as these other types of assets. While you can execute a trade in the stock market in milliseconds, buying or selling a coin can be a more involved process. 
First, if you're looking to buy a particular type of coin, you might have to locate a dealer that has it. While bullion coins are generally available at all dealers, if you're looking for a collectible coin, for example, you may have to shop around.
Next, you may have to comparison shop to get the price you want. Unlike the stock market, where a price is determined by an active market of buyers and sellers, in the coin and bullion markets, you'll generally be dealing one-on-one with a specific dealer. That dealer will rarely make their prices public unless you see them in person or talk to them on the phone. They may even attach a significant markup to the spot price that you see quoted in the financial news.
Something else to consider is that gold, silver and other precious metals don't have any earnings or business plans on which to base their valuation, and they don't pay any dividends or interest. Whereas stocks are valued at least in part on their profits and their future potential, precious metals derive their price from factors such as supply, demand, geopolitical concerns, inflation and others. As these can be hard to put a value on, precious metals prices are often volatile. 
The Bottom Line
Investing in precious metals is different from investing in the stock market. If you're willing to accept the risks, you'll want to pick a dealer that offers low costs, fair prices and additional services. American Hartford Gold, as the largest gold and silver dealer in America, can be a good choice for most investors.
FAQ
Here are the answers to some of the most frequently asked questions regarding American Hartford Gold.
Who is the CEO of American Hartford Gold?

The CEO at American Hartford Gold is Sanford Mann. He is a co-founder of the company and has been CEO of the family-owned and operated business since April 2015.

How long has American Hartford Gold been in business?

American Hartford Gold was co-founded in 2015 by Sanford Mann and Scott Gerlis, the company's current Executive Chairman. Both of these executives and co-founders have been with the firm since its inception.
Data is accurate as of June 13, 2023, and is subject to change.
Editorial Note: This content is not provided by any entity covered in this article. Any opinions, analyses, reviews, ratings or recommendations expressed in this article are those of the author alone and have not been reviewed, approved or otherwise endorsed by any entity named in this article.
Our in-house research team and on-site financial experts work together to create content that's accurate, impartial, and up to date. We fact-check every single statistic, quote and fact using trusted primary resources to make sure the information we provide is correct. You can learn more about GOBankingRates' processes and standards in our editorial policy.