At $38 Each, Are American Silver Eagle Coins a Good Investment — or Too Expensive?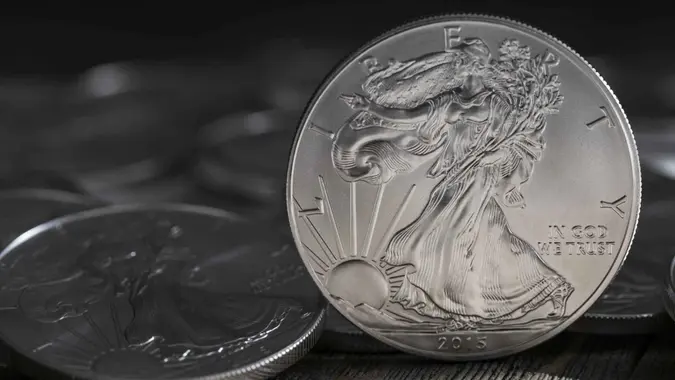 LPETTET / Getty Images/iStockphoto
Many financial advisors recommend investing in precious metals as they can help diversify a portfolio and hedge it against the volatility of the stock market as well as inflation. Gold typically takes center stage as a safe-haven asset, but silver is also a viable investment vehicle. In particular, you might want to consider investing in American Silver Eagle (ASE) coins.
Since 1986, over 565 million ASEs have been minted, according to the U.S. Gold Bureau. Each of these coins contains at least one troy ounce of 99.9% pure silver, and the weight and purity of each of these coins is backed by the government. American Silver Eagles do carry a particularly high premium at this time, per Kitco, so you can expect to pay a fair bit over spot price — spot price resting at about $22.75 as of June 30 — to add them to your holdings.
Precious Metals IRA Investment
A precious metals IRA is a type of self-directed IRA requiring you to appoint an IRS-approved custodian — a bank, trust company, or other entity — to hold your assets in a secure depository, per Forbes. You may not hold your IRA metals in your home. After selecting a reputable bullion dealer, you may then begin to stock your portfolio.
As mentioned above, American Silver Eagles are a popular choice. However, given the price premium attached to this bullion coin, other IRA-eligible silver coins are becoming popular fixtures as well. For example, bullion dealer Apmex listed a random year ASE at $37.98 as of June 30, while also listing Canadian Silver Maples at $27.97 and Austrian Silver Philharmonics at $28.48. Both of these latter coins are also fine silver, with the Philharmonic boasting .999 (99.9%) fineness, and the Canadian Silver Maple being of .9999 (99.99%) fineness.
No matter what, physical silver products will always carry a premium above spot price — this should always be kept in mind.
In order to be IRA eligible, silver must be of at least .999 (or 99.9%) purity, or fineness. Further, there are typically several fees associated with setting up such an IRA account.
Buying Physical Silver Coins for Investment
So, how can you find these ASEs (and other coins or rounds) and invest in them wisely?
For those dipping their toes into the physical silver market, starting your journey by buying from reputable bullion dealers is a great first step. Sites such as Apmex, JM Bullion, Provident Metals and SD Bullion carry a variety of product and have a long-standing reputation for honesty and quality service. American Silver Eagles remain a perennial favorite, but other bullion rounds and bars from companies such as Sunshine Mint, Asahi, Geiger Edelmetalle, KOMSCO, and Valcambi could be good to add to the stack, as well. Coins from sovereign mints such as the Royal Canadian Mint, Mexican Mint, and Perth Mint tend to also attract buyers, premium or no.
Are ASEs a good investment? Opinions vary. Some say that the premiums attached to these coins are here to stay, and are easily recoverable in private sale. Others claim that the premium may not hold up as spot price rises and supply returns to normal.
One thing to keep in mind, however. Silver (and gold) held for more than a year is subject to a 28% capital gains tax, per CNBC. That means any profit made from selling your holdings would be subject to said tax rate — a lower capital gains rate applies to short-term holdings sales.
Is Silver a Hedge Against Inflation?
Silver is typically sold as a hedge against inflation, despite having tumbled as of late. As U.S. News and World report detailed: "Recently, silver prices have been under pressure as the Fed has raised interest rates. Rising interest rates tarnish silver's appeal as an investment because the metal doesn't pay interest like Treasurys do."
With that being said, despite relative volatility in the short term, silver remains a solid long-term investment.
"When adjusted for inflation, the price of silver has risen roughly 40% since February 1915. This is good for investors who want an inflation hedge and are planning to keep the investment for a long time," U.S. News' Matt Whittaker wrote. Citing Collin Plume, CEO of Noble Gold Investments, Whittaker continued:
"With an outlook for more [recent] industrial demand, especially from solar farms, silver is catching up with gold's reputation as an inflation hedge."
More From GOBankingRates