Legendary QB Fran Tarkenton: 3 Investing Tips I Would Tell My Younger Self To Get Rich Faster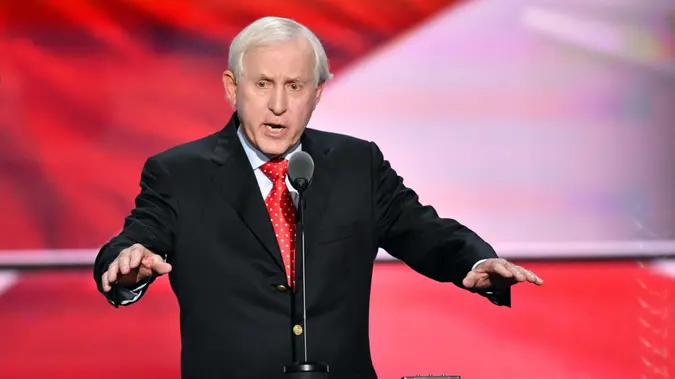 ©Kevin Dietsch/UPI/Shutterstock
Francis Asbury "Fran" Tarkenton is one of the greatest professional football quarterbacks of all time.
A Hall of Famer who went to nine Pro Bowls and three Super Bowls during his 18-year career with the Vikings and Giants, "The Scrambler" scored 342 touchdowns in 246 games between 1961 and 1978 while earning four MVP titles and one All-Pro honor along the way.
Despite achieving just about every career record a quarterback can hold — wins, touchdowns, passing yards, QB rushing yards, completions and attempts — Tarkenton did not retire a rich man. He had to build his own wealth later in life — and he has some advice for his younger self that might have sped up the process.
50 Years Ago, Football Stars Earned Little More Than a Living
In Tarkenton's day, even the greatest pro football stars didn't earn anything approaching the supersized salaries that today's NFL players command.
According to Essentially Sports, Tarkenton's starting salary was $12,500 — about $111,000 in today's money — and his annual income eventually peaked at $250,000 for career earnings of $1.2 million. Like so many other players of his era, Tarkenton worked part-time jobs in the offseason — he did stints with a trucking company, printing company and an advertising firm — to bolster his earnings.
But Tarkenton earned his real money after he hung up his cleats, multiplying his wealth by 3,650% between then and now. Today, CelebrityNetWorth estimates his personal fortune at $300 million.
Tarkenton had his mind on the future even while he was still grinding it out on the gridiron, launching business endeavors in restaurants, technology, education and management consulting while he was still playing professional football.
During more than 50 years of entrepreneurialism, Tarkenton has founded more than 20 businesses, including Tarkenton Companies and Tarkenton Private Capital, which have brought him wealth beyond his wildest NFL dreams — but he had to wait for much of it to come.
With that in mind, here are three pieces of advice the Vikings great would share with his younger self if he could go back in time.
1. 'Don't Lose Money'
Tarkenton pursued a career in pro football because of his passion and talent for the game. While he wouldn't try to talk his younger self out of it, he would advise that ambitious young man to remember that profit must be the primary motivator behind any professional pursuit.
"I have one philosophy in business, and it's the same philosophy as Warren Buffett and my good friend, Sam Walton," said Tarkenton. "Don't lose money. I've worked my entire life, starting as a paperboy as a kid to eventually launching 24 companies. Keeping as much of my money as possible has always been the goal."
2. Learn Enough About Money To Grow and Manage Your Own
As someone who has worked since childhood, Tarkenton has always been self-reliant — but he didn't always apply that ethos to his financial life. If he could go back in time, he would tell his younger self to start DIYing it sooner.
"Early on, I hired someone to manage my money for me," he said. "But over time, I educated myself by reading and watching successful companies operate, and now I manage my own money and I'm grateful that I do."
The same goes for his investments.
"I have nothing against stock brokers, but I wish I had taken the time to understand the money markets sooner," said Tarkenton. "Now that I do, I enjoy keeping up with and managing my own portfolio. The person who cares most about my money is me. To that end, I've taken the time to educate myself on my investment targets, and that's paid off for me over time."
3. Same as With Football, Remember That Fundamentals Are the Key to Success
In football, a Hail Mary pass is a desperation move that exchanges big risks for the potential for a big payoff. In the world of money, that designation goes to investments that promise fast fortunes, which Tarkenton would definitely caution his younger self to avoid at all costs.
Instead, he'd advise his more youthful incarnation to focus on the fundamentals and methodically work his way down the financial field, play by play.
"I don't like get-rich-quick schemes, and my advice to younger investors is to do your homework," said Tarkenton. "Play it safe and seek out solid companies that are partnering with others for the greater good. I was an early investor in Apple and I appreciate companies that forge solid, successful partnerships and have safe track records. I've partnered with the likes of Apple, IBM, Google and ADP in my career because they understand the value of the adage that 1+1=3. All of us should seek out partners who make us better."
More From GOBankingRates