How Does Warren Buffett Feel About ChatGPT and AI?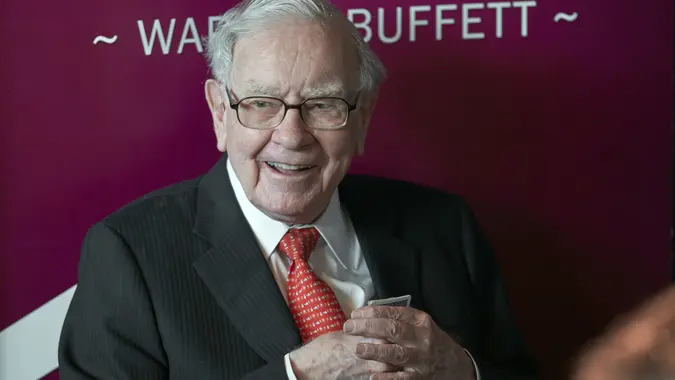 Nati Harnik/AP/Shutterstock / Nati Harnik/AP/Shutterstock
Warren Buffett is probably the most successful investor in the modern era, growing Berkshire Hathaway into a holding company worth more than $300 billion. With a net worth over $100 billion himself, Buffett knows a thing or two about the markets and investing.
But how does Buffett feel about artificial intelligence, and does he use ChatGPT on a daily basis?
Buffett recently made a few comments to CNBC about his experience with ChatGPT, how AI will revolutionize the world and his position on the future of artificial intelligence. Plus, we'll share a few companies that Buffett is currently investing in that are on the cutting edge of AI right now.
Also see Buffett's plan to tackle America's debt.
Buffett: 'I Don't Understand' AI
In the CNBC interview, Buffett was asked about the future of AI and ChatGPT in particular, and he said, "I think it's something I don't understand."
This is important for several reasons:
Buffett doesn't invest in things he doesn't understand. Buffett is famous for making slower investing decisions about new technology. In the past, his portfolio did not include tech stocks, largely because he didn't understand it.
Buffett is a patient investor. He is known for investing in companies that he never plans on selling. He is known for saying that "forever" is his preferred holding time for a stock he likes. This means he isn't jumping into AI because it's not well established who the top players are and what the long-term business upside will be.
This does not mean that Buffett won't eventually invest directly in AI technology, but it will take some time for him to get comfortable with it.
Buffett is intrigued by its day-to-day usefulness. Friend Bill Gates gave him a demonstration of ChatGPT, allowing the Oracle of Omaha to test out the technology. At the time, the chatbot was limited in performing some human actions.
"It just doesn't know how to tell jokes," Buffett said, "but it can tell you that it's read every book, every legal opinion. I mean, the amount of time it could save you, if you were doing all kinds of things, is unbelievable."
So the potential is there; but, as a shrewd investor, Buffett is concerned with how the technology ultimately turns into a tangible, valuable business. Once he understands this further, we could see Buffett placing a sizable bet in artificial intelligence companies.
AI Scares Buffett
While Buffett is in awe of ChatGPT's capabilities, he is also a bit fearful of its potential. In the same interview with CNBC, Buffett jokingly asked Gates how to ask ChatGPT if it would ruin the human race.
This joke is common when discussing artificial intelligence, as many movies and books have depicted AI becoming "self-aware" and taking over the world (e.g., "The Matrix" and "Terminator"). But Buffett also realizes that AI does come with some risks.
Buffett also mentioned speaking with a colleague who understands AI quite a bit more than him, and he said, "If it scares him, it scares me."
He also compared AI to the invention of the atom bomb. He said, "Einstein told me this [atom bomb] would change the world, and it did. I don't want to change the world too many times without having an idea of the consequences."
Buffett is cautiously aware that AI will change the world, but he is not necessarily optimistic about its future.
"I think it's an incredible technological advance in terms of showing what we can do," Buffett said. "I think this is extraordinary but I don't know if it's beneficial."
Buffett Is Investing in These AI Stocks
While Buffett is still learning about ChatGPT and its technology, he is actively investing in companies that are on the forefront of AI development and business integration.
Apple (AAPL)
When Buffett finally decided to join the 21st century and invest in tech stocks, he started with IBM. Eventually, he went heavy on Apple, buying up nearly 10 million shares back in 2016. 
Those shares have appreciated in a huge way and now represent nearly 50% of Berkshire Hathaway's holdings.
Apple has been heavily investing in AI, but most of the integration is going on behind the scenes. Devices like the iPhone and Apple Watch have AI-powered crash detection features, and reports suggest Apple is about to release its own chatbot dubbed "Apple GPT." 
Amazon (AMZN)
Buffett's holding company has another sizable bet in tech, with $1 billion invested in online shopping platform Amazon. This is a much smaller piece of the pie in the Berkshire Hathaway portfolio (less than 1%), but represents another investment that has its hands in AI technology.
Amazon is diving head first into AI, with the announcement of Amazon Bedrock and Amazon Titan models. These programs allow foundational models to be available to Amazon Web Services customers through an Amazon API. This expands the reach of generative AI to millions of Amazon business customers.
Amazon also has a ton of other use cases for AI, from tracking damaged products before they arrive at your doorstep to Alexa intelligence. Amazon is a big player in this fast-growing space, and Buffett continues to hold the stock for now.  
Snowflake (SNOW)
Buffett owns a small amount (read: almost $1 billion) of Snowflake, a cloud data company that has integrated AI and machine learning into its platform. On its website, the company touts that "Snowflake is bringing the power of generative AI to data."
As a company that optimizes company data in the cloud, Snowflake has heavily invested in machine learning and even purchased several companies to help with AI integration, including Neeva, StreamLit and Applica.
More From GOBankingRates