How Much Money Would You Have: Tesla Model S vs. Tesla Stock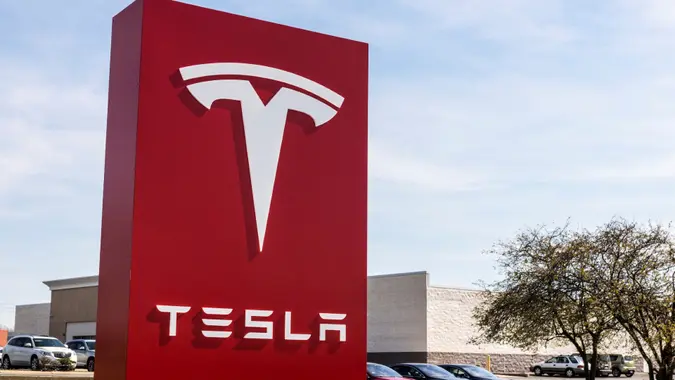 jetcityimage / iStock.com
The flagship Tesla Model S was a dream car to many when it rolled out in 2012, and it remains that way to this day. Nine years ago, an electric car that could hit 60 miles per hour in just 4.2 seconds was unheard of; yet, that car was just one step in the growing legacy of the popular electric vehicle maker. Certainly, owning that original Model S was a thrill and a conversation piece, but was it a good investment? Those who chose to buy Tesla stock instead of the original Model S are likely much happier today. Here's a look at how those numbers break down.
Read: Is Tesla REALLY the World's Most Valuable Carmaker?
Read More: Cars That Are Bad News for Tesla
Cost of Tesla Model S
Tesla began delivering its first Model S sedans on June 22, 2012. The price of the 85 kWh Model S on that day was $77,400. That's roughly $90,750 in 2021 dollars, when adjusted for inflation.
Price of Tesla Stock
The same day that Tesla's first Model S was delivered, June 22, 2012, you could have bought Tesla stock for $6.76 per share, on a split-adjusted basis. In other words, for the price of the original Model S, consumers could have instead picked up 11,449.70 shares of Tesla stock.
Take a Look: Elon Musk — 'You Can Now Buy Tesla with Bitcoin'
Current Value Today
A car is a depreciating asset, so even a vehicle as lauded as a Tesla Model S will generally fall in value over time. The only exception might be cars kept in pristine condition until such time as they become collector's items. As of 2021, however, most if not all original Tesla Model S cars are selling in the used car market for far below their original purchase price.
Stocks, on the other hand, are an investment. Over time, stocks of well-run companies tend to go up in value, not down. Tesla's stock is not just an example of this, but perhaps one of the all-time best representatives of stock price appreciation. As of the close of business on June 10, 2021, Tesla's stock traded at a split-adjusted price of $610.12, or nearly 90x what it traded for on June 22, 2012. In nine short years, an original investment of $77,400 in Tesla stock would be worth the staggering sum of $6,985,263.88. Rather than owning a nine-year-old car worth less than half its original value, Tesla investors would be multi-millionaires. Those who invested in stock rather than purchasing the original Model S could now buy the top-of-the-line Tesla for themselves and for all of their friends and likely still have millions of dollars left over.
See: The Most Reliable Car Brands on the Road
The Bottom Line
The performance of Tesla stock has been nothing short of miraculous. The stock jumped 740% in 2020 alone, and over the past nine years, it has returned over 8,900% to patient investors. No investor should expect these types of returns from any stock, but the point is that placing your money into an appreciating investment is usually a better long-term financial bet than purchasing depreciating consumer goods. While there's certainly a level of intangible enjoyment and satisfaction owners derive from owning a nice car like a Tesla Model S, most people, if given the choice, would likely have selected the nearly $7 million they could have had in the bank just nine years later over owning the original Tesla Model S. 
More From GOBankingRates
Last updated: June 23, 2021