I'm a Gen Z Investor With Around $1 Million in my Portfolio: Here's My Advice for My Peers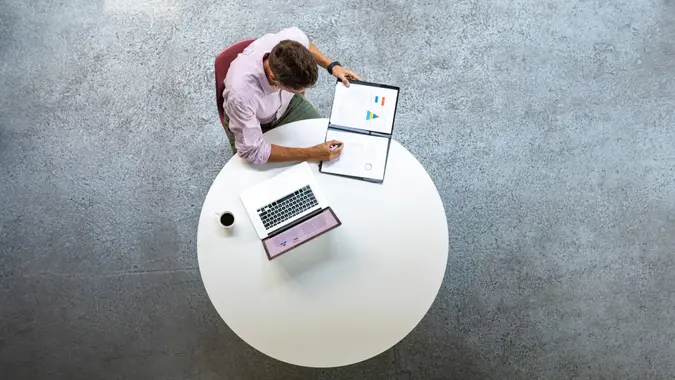 FreshSplash / Getty Images
It's good to be young and it's good to be rich. But youth is fleeting and wealth takes time to build, so the few who actually acquire fortunes usually don't figure out how until they're older.
But every generation produces a few special people who crack the code and get rich in their 20s while their peers are off finding themselves or struggling to grasp the bottom rung of the corporate ladder — and Gen Z is no different. 
Here are two of their stories.
A Tech Pro Turns a Big Income Into a Small Fortune 
Born in 1998, Kevin Shahnazari has amassed a fortune in just 25 years. He can't quite claim membership in the two-comma club yet, but millionaire status is close enough to taste.
"While my portfolio is still under $1 million, it is very close to passing that number," he said. 
Income-Based Career Selection Paved the Way for Investment Wealth
Shahnazari still has his full-time job as a data science tech lead at Coursera, but he paved his path to wealth by building multiple income streams. A realtor and successful entrepreneur, Shahnazari made his real money as a short-term rental property investor before co-founding Finlywealth.com.
But none of that would have been possible if he didn't choose his career at the intersection of what he loved and what he hoped to achieve — getting rich.
"After I finished my bachelor's in civil engineering, I understood working in that field as an employee would take years to make me a millionaire," he said. "I had to find an alternate route."
He was not interested in joining the droves of 20-somethings who pursue their passions while living on ramen noodles, so he conducted exhaustive market research into fields that he was passionate about but that also offered substantial pay.
"In my case, the field was tech, and with the strong financial foundation I got from my strong income, I was able to take more risks and make more aggressive investments," said Shahnazari. "I believe the sentence 'follow your passions' is overrated. I think it should be 'follow your passions — but only the ones that pay well.'"
Shahnazari Learned Valuable Lessons That You Can Follow
After earning a master's degree in data science from the University of British Columbia, Shahnazari worked as a data scientist, software engineer and software product manager — high-income jobs that helped him accumulate seed money for the pursuits that would put him on the path to becoming a young millionaire. 
But his career choices gave him more than capital — they gave him the freedom to take calculated risks.
"Be bold and try and learn things way out of your comfort zone, especially things unrelated to your daily job," said Shahnazari. "By exploring new fields, you build new connections and learn of opportunities you didn't know existed. In my case, after my daily work, I researched and learned about many other topics, and that was how I learned and got into short-term rental property investment, which doubled my income rate. It was also my research and going out of my comfort zone that helped me identify a gap in the personal finance space, which led me to start my own company called Finlywealth.com."
Live a Little Along the Way — That's Why You're Doing This, Right?
While he's always been cash-conscious, Shahnazari does not subscribe to the FIRE mindset of financial freedom through ruthless frugality. 
"Many popular opinions state that as you start earning more, you should avoid spending more and invest everything, which I'm afraid I have to disagree with," he said. "The road to building wealth is a complex and long one, and it's perfectly OK to reward yourself with something expensive from time to time to keep yourself motivated and remind yourself why you are working so hard."
A Venture Capitalist Leverages Global Connections for Early Success
May Li is the founder and managing director of J20 Ventures, a cross-border, early-stage, Gen Z- and millennial-focused venture capital firm in New York City with a portfolio worth roughly $1 billion. 
As a Gen Zer herself, she knows her audience well — and they've made her a millionaire. 
"I started J20 while I was in college, and since I knew some of my limited partners (LPs) personally, I felt the pressure of being successful," said Li. "While I was lucky enough to have people who trusted me from the start, that trust only became stronger when they saw the successes of my investments. From people I knew back in China to connections I made in the U.S., I was able to get things off the ground."
In College, Book-Learning Came Second to Her Entrepreneurial Practice Run
While studying at Georgetown, Li interned at a VC fund. Exposed to the high-stakes, big-money world of private business funding, Li polished her skills and founded an intercollegiate entrepreneurial society that would serve as the model for J20.
The idea was to create a "junior version" of the G20 Summit — hence the name of her firm. 
"I created the J20 Society, which tied together very prominent family businesses from top-20 economies from all over the world," said Li. 
The society held large receptions attended by hundreds of students in New York, D.C. and Connecticut. Its members came from Mexico, China, New York and beyond.
A College Society Becomes a Corporate Entity
After several years, Li had acquired the two most important things for any venture capitalist to have — credibility and connections with real-world entrepreneurs and investors.
The next step was to become one herself. 
"I started J20 Ventures in my junior year of college to tie members together but also to support their entrepreneurship. Because I was only a junior in college and starting my own VC fund, I had to use my already-existing connections, so my LPs came from prominent Chinese entrepreneurs and fund managers who knew and trusted me."
Riding an International Network to Millionaire Status
Li's greatest asset was her cross-border knowledge of China and the United States — her niche was her ability to give LPs from one country exposure to the other.
"One of the value-adds of my fund is that I can offer access and opportunities in China to all the portfolio companies that are interested in the Chinese market," said Li. "Not everyone has the ability and knowledge to do that."
So, what are Li's tips for young up-and-comers who want to get rich and build something big at a young age? 
"No matter your age, race or gender, you can accomplish anything you are passionate about," she said. "Don't be afraid to accept a lending hand from the people who know and trust you the most. We are the future of the world and we have a good understanding of what brands stick out amongst the crowded spaces."
More From GOBankingRates