Make Investing Your New Year's Resolution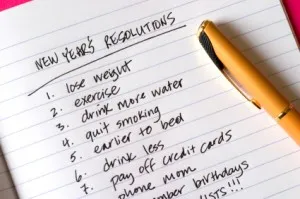 Weight loss, quitting smoking and getting in shape are common promises we make to ourselves on Jan. 1, but if there is only one New Year's resolution that you plan on keeping, it should be making wise investments to improve your financial security. As a matter of fact, according to a survey from online broker TD Ameritrade Holding Corp, 75% of those surveyed plan on making a financial-themed resolution this year.
In order to work toward your New Year's resolution, you must have excess financial resources in the form of savings. Even when money is tight, that goal of building a nest egg can be more easily obtained by setting up and sticking to a budget and reducing your spending by 10%-15%.
Once you are on track for that move, you can clearly determine the amount of money that can be invested. We've got some techniques that you should think about if investing is your resolution this year.
Upping the automatic contribution to the maximum allowed will get extra cash out of temptation's way and immediately into an investment account. Bonus points if your company is still making matching contributions.
Self Employed? You Need a 401k, Too
Entrepreneurs can make contributions to their SEP IRA, profit sharing plan or individual 401(k) plan thus building their nest egg. Just because you sign your own paycheck doesn't mean that you should short yourself on retirement.
Hedge Stock Losses with Portfolio Redistribution
Diversifying investment strategies are the best way to hedge losses during volatile stock markets. Since the Dow has finally broken the 10,000 mark, there is no time to waste.
Expert advice offered by a Wells Fargo portfolio manager includes making sure to check  the investment strategy of you and your partner to avoid duplication and to expand as a team.
Reduce Debt
You've heard it plenty of times from us, but interest rates on credit cards have skyrocketed as card issuers have made great attempts to close their financial gaps created by the recession.
Focusing your efforts on credit card debt reduction will eventually free up your money in order to target potential long term investment strategies.
With rumors of an economic recovery, higher interest rates are looming on the horizon. Before they spike, purchasing a home as an investment property may be a smart strategy.  The real estate market is believed to have bottomed out and if you buy the property for a long term investment strategy, the prices are sure to rise in the future.
Already Own a Home? Pay Extra on Your Mortgage
Homeowners already have the perfect opportunity to easily build their nest eggs. By making extra contributions to the principal of your home loan, you will not only immediately strengthen your equity, but pay off your loan earlier thus saving money in the form of interest.
Making and sticking to a New Year's resolution can be challenging, but once accomplished you'll see plenty of reward. As long as you are truly motivated towards achieving your goal of sticking to your New Year's resolution and investing, with effort and thought, it shall come to fruition.
Is investing your New Year's resolution? How do you plan on achieving it?