I'm a Self-Made Millionaire: Why I Avoid Saving and Focus More on Investing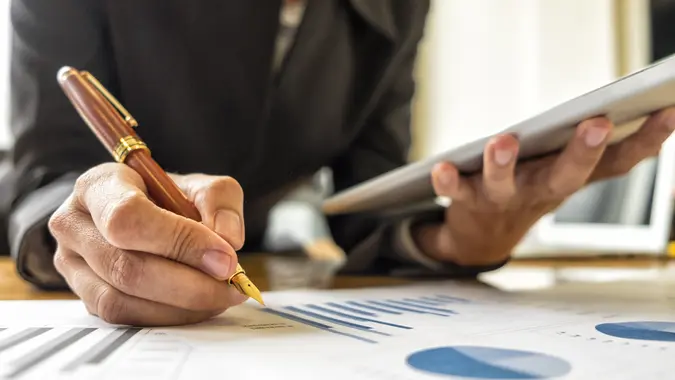 veerasakpiyawatanakul / iStock.com
When we think of self-made millionaires, we may envision people who carefully save money and steadily ascend from penny pinching to financial freedom.
What if this is not the case? What if these self-made millionaires are not saving their money but prioritizing investing instead?
GOBankingRates spoke to two self-made millionaires who put investing first to find out what they each invest in and how this strategy helped them grow their net worth. 
Here's why these self-made millionaires avoid saving and focus more on investing. 
Investing in Products and Services That Help Customers
Ari Rastegar, founder and CEO of the Rastegar Property Company, is proud to say the word "savings" is not in his vocabulary. Self-made millionaires, Rastegar said, do not save money. They invest.
But what do they invest in? Rastegar said they invest in products and services that help their customers. By doing this, they take the money they have and treat it as a worker. Once every dollar has a job, it is treated as a vehicle to get more money and roll it into products and services that will grow, employ other people and garner you passive income sources that help you become a millionaire. 
Take Our Poll: Would You Put All of Your Savings in an Apple Savings Account?
Investing in Liquid and Illiquid Assets
Throughout his career, Jason Mudd, founder and CEO of Axia Public Relations, has avoided savings in favor of focusing on investing. Mudd said he has done well by investing in stocks that pay dividends, reinvesting those dividends in diverse funds and investing in appreciating assets such as real estate that generate income. 
Mudd recommends aspiring millionaires not only develop multiple income streams, including active and passive income, but invest their money in liquid and illiquid assets. 
"When you save money, your money doesn't really grow. If it does, it does so at a snail's pace," Mudd said. "That's why the cliché 'cash is king' is wrong. Cash isn't king. Cash flow is king. As long as you have a steady cash flow, you'll have plenty of cash to invest in smarter and higher value opportunities."
As an entrepreneur, Mudd said there are risks and rewards to owning your own company. One of the greatest rewards is that the company has value. Mudd said entrepreneurs who run their businesses well enjoy a salary and regular profit distributions.
Invest In Yourself
Both Rastegar and Mudd said investing in yourself is key to becoming a self-made millionaire. 
Rastegar recommends getting into the habit of paying yourself first. This is one of the building blocks of long-term wealth building where people put money immediately into investment accounts — often by automating the process — rather than waiting until later to put in contributions. You making you the priority, Rastegar said, will make you a millionaire. 
Throughout his career, Mudd said, the investments have started in and with him. One critical aspect of investing in yourself is hiring someone to do the things you're either not good at or don't enjoy doing. Mudd said there's someone else who gets it and has the capacity to do it. While they're doing these things, you can focus on areas where you're at your highest and best use. 
Investing in yourself also means emphasizing self-care practices. This may include fitness, professional development, reading and networking.
Above all, Mudd recommends being intentional about becoming 1% better every day.
"Whether it's in your relationships, exercise, work or investments," he said, "I learned 20 years ago that by simply improving 1% every day, in 70 days, you'd be twice as good."
More From GOBankingRates