America's Bestselling Cars in 2023 Are Also Among the Most Stolen (and More Expensive To Insure)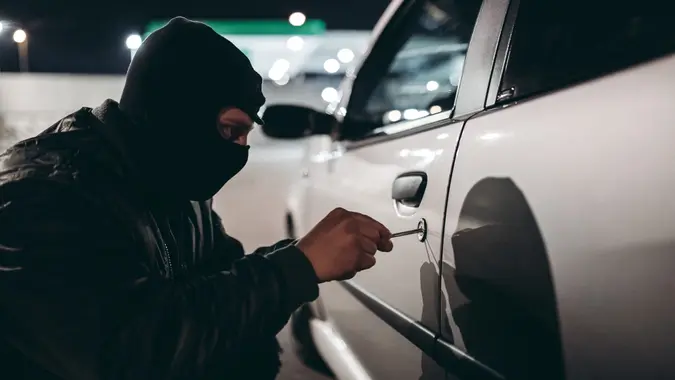 urbazon / Getty Images
If you purchase one of the top 10 bestselling cars in America for 2023, you may think you're getting a bargain. After all, many of them have a lower-than-average sticker price. Brands like Toyota and Honda also receive high marks for reliability, making them an excellent value.
But a new report from Insurify revealed that these vehicles also come with a surprising hidden cost. The 10 bestselling cars in the U.S. are also among the 10 most stolen cars, and that drives up their auto insurance rates to 44% more than the national average.
According to Insurify data, the average cost to insure a motor vehicle is $172, while the average cost to insure these 10 bestselling vehicles is $249.
Does the added insurance cost justify the purchase of one of these vehicles? It might, if you consider that they cost almost 40% less, on average, than the overall average price of a new vehicle, according to Insurify, citing Kelley Blue Book.
Take a look at the chart below to see the 10 bestselling cars and how much they cost to insure, on average.
| | |
| --- | --- |
| Vehicle | Average Monthly Cost To Insure |
| Ford F-Series | $253 |
| Toyota RAV4 | $264 |
| Honda CR-V | $206 |
| Toyota Camry | $285 |
| Toyota Tacoma | $258 |
| Toyota Highlander | $231 |
| Toyota Corolla | $285 |
| Hyundai Tuscon | $200 |
| Honda Accord | $278 |
| Ford Explorer | $234 |
Why Is Insurance So High on These Vehicles?
The high insurance costs could due to a variety of factors, including, in some cases, the demographics of the drivers. "Toyota's higher insurance costs may be influenced by age," Insurify writer Cassie Sheets said. "In a J.D. Power study, 40% of Toyota Corolla owners identified as Gen Y or Gen Z." Insurance companies charge more for drivers age 25 and under, Sheets noted.
"Several of the most stolen vehicles have glaring vulnerabilities," Sheets explained. "In some cases, like the Honda Accord, thieves targeted older models that lacked anti-theft immobilizer technology. In others, like the Kia Optima, the vehicles lacked anti-theft features that have become standard in newer models."
Hyundai and Kia were slow to introduce anti-theft devices in their vehicles, which made them targets of a viral TikTok challenge where thieves posted instructional videos showing people how to bypass the security systems. "Only 26% of their 2015 vehicles came equipped with standard immobilizers compared with 96% of all other makes combined," Sheets noted, citing Highway Loss Data Institute data.
However, even cars stacked with safety and anti-theft features can be enticing to thieves, in part because of their popularity. They are easy targets because you can find them anywhere and they tend to be inconspicuous on the road.
How To Save On Auto Insurance
Taking steps to protect your vehicle can lower your auto insurance rates.
For example, if your car is equipped with safety and anti-theft features, make sure your insurance agent is aware of them and that your premiums reflect any eligible discounts, said Insurify director of content Evelyn Pimplaskar.
"Many insurers offer discounts for these devices because they lower the chance your car will be stolen — and that you'll have to file a claim for vehicle theft. But not every insurance agent will know that your car has a particular safety feature, so it's a good idea to ask about a discount," she said.
Before you make a purchase, get multiple insurance quotes for the vehicles you are considering. The high cost of insurance could be a deal-breaker. Or you might find that you'll qualify for enough discounts on a car with robust safety features that you'll be able to manage the payments.
"Not all insurers offer the same discounts or even the same number of discounts, so be sure to shop around for car insurance," Pimplaskar emphasized.
Another way to reduce your insurance premiums over time is to minimize claims. If you're driving a high-theft car, you'll want to take steps to protect your vehicle.
How To Keep Your Car Safe
A good way to protect your vehicle from theft is to make it a less enticing target than others around it.
If you have a popular vehicle, it's already getting unwanted attention from thieves. "You want to do everything you can to reduce a thief's opportunity to steal your car," Pimplaskar said.
For starters, this means simple steps like locking your car doors. "Car thieves are opportunistic," Pimplaskar said. "If they try your car door and find it locked, they're more likely to move on to the next vehicle rather than risk the time and noise it will take to break into yours."
Likewise, never leave your keys in the car. Many newer vehicles alert you if you leave the keys inside and try to lock the door. But keys left in vehicles still account for roughly 11% of vehicle thefts, Pimplaskar said, quoting statistics from the National Insurance Crime Bureau.
"[T]urn off the vehicle, take the keys out of your car, and lock the doors whenever and wherever you park it. Every single time," she said.
Whenever possible, lock your car in a garage overnight. "In the south, where I live, people commonly use their garages for storage," she said. "But it makes zero sense to leave a vehicle that costs tens of thousands sitting on your driveway while you use your garage to store a few hundred dollars' worth of stuff."
If you don't have a garage, seek out a well-lit area to park. This might mean installing motion-sensing lights in your driveway or parking directly in front of your home instead of around the block.
When you park away from home, "try not to park in an isolated location — it's not safe for you or your car," Pimplaskar advised.
The cars on this list are bestsellers for a reason, and you shouldn't shy away from them. Just make sure to be diligent about protecting your vehicle.
More From GOBankingRates