Auto Repair Financing: How To Pay for Auto Repairs When You're in a Pinch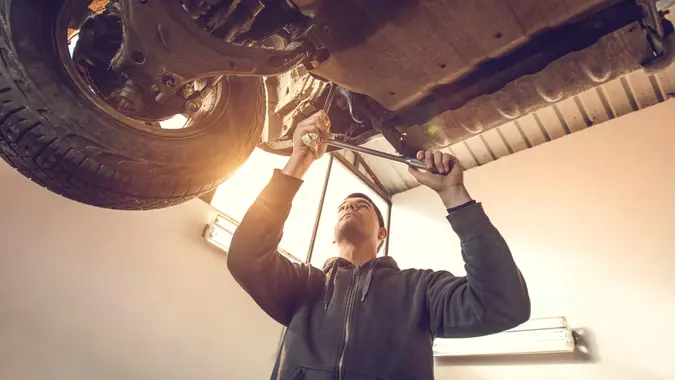 BraunS / Getty Images
If you own a car, you're probably familiar with the financial struggles that come with maintaining it. After all, vehicles can be expensive, especially if you have an older car or one with uncommon or imported parts.
The American Automobile Association, otherwise known as AAA, found that the average total cost of owning and operating a new car was $10,728 in 2022, or roughly $894 a month. The cost of maintenance and repairs is $0.968 per mile. Given that the average person drives 13,476 miles in a year, annual maintenance costs break down to roughly $1,304.
If your vehicle needs repairs, you might find it hard to pay for them out of pocket. But with auto repair financing, you can deal with any maintenance or repair expenses without having to drain your bank account.
Best Auto Repair Financing Methods
When it comes to auto repair financing, there are several methods you can use to cover the costs. Two of the most popular options include low-interest credit cards and personal loans. Each financing option has its own advantages and drawbacks, so here's what you should know before you choose one.
Credit Card
One of the easiest ways to pay for auto repairs is with a credit card. Not only are credit cards convenient, but there's a good chance you already have one or two. This makes them especially helpful in a financial pinch or emergency situation.
When you use a credit card to pay for auto repairs, you have the added benefit of time. Unlike when using cash, you don't have to worry about paying the full amount upfront. Instead, you'll typically have several months or even years to pay off the balance. You will, however, have to make the minimum payment each month.
The downside is that most credit cards come with interest, which gets tacked on to the card's balance. According to the Federal Reserve, the average credit card interest rate is 22.16%. The rate is primarily based on your credit score, so you could get a higher or lower rate.
Before using a credit card for auto repair financing, consider how much the auto repairs will cost. Also, make a plan for how long it will take to pay off the credit card bill. The sooner you can do this, the less you'll pay in interest.
There are also 0% introductory APR credit cards, which are reserved for borrowers with good credit or better. With one of these credit cards, your balance won't accrue interest for a certain period of time. Capital One's VentureOne Rewards credit card, for example, has 0% APR for the first 15 months. As long as you pay off your card before the introductory period ends, you won't have to pay anything in interest.
Personal Loan
A personal loan is a type of loan that you can use for nearly any reason, including auto repairs. Many personal loans are unsecured, meaning you don't need collateral to get funds.
However, you'll typically need good credit, steady income, and a low debt-to-income ratio to qualify for a loan with the best rates. If your credit score isn't high enough, you might end up with a higher rate or shorter repayment term. Or you might not get a large enough loan to cover your auto repairs.
With most personal loans, you'll need to make fixed monthly payments toward the principal balance and interest. When you get the loan, you should receive a repayment schedule that tells you how much you'll be paying and for how long. Repayment terms usually last anywhere from a few months to several years.
As long as you make every payment on time, you'll be able to repay the loan as scheduled. If the lender doesn't charge a prepayment penalty, you could even save money on interest by paying off the loan early.
Before choosing a lender, compare several options to see which ones offer the best rates and terms. As with credit cards, the higher the interest rate is, the more you'll end up paying in total. But beware of other fees, too, since some lenders charge application fees, origination fees, and other fees.
If you're not sure where to find a lender, start with your bank or credit union. They might offer financing options to help with your auto repairs. If they don't, or if they charge more than you're comfortable with, check out private online lenders instead.
Cash Advance
Some companies, like Earnin and Dave, let you borrow money from your upcoming paycheck a few days early. These cash advance apps are helpful in a pinch, since you can typically get a few hundred dollars within a day or two of requesting them. And, since you're borrowing against your own paycheck, you don't need to worry about having good credit or a low DTI. As an added bonus, many cash advance apps are also free to use.
But there is a downside to using cash advance apps. Specifically, taking money out of your upcoming paycheck could put a strain on your budget later. And if you need the funds right away, you may have to pay a fee for expediting the transfer to your bank account.
Only request a cash advance if you're certain that you'll still have enough money to pay for other expenses or bills once you receive the rest of your paycheck.
Mechanic Financing
Some auto mechanics have in-house auto repair financing options. Others work with banks or other financial institutions to provide financing for customers. In some cases, you may even be able to get on a payment plan that gives you time to pay what you owe.
Check with your auto mechanic to see what options are available. Ask about any fees or interest charges. And be sure to read the fine print before signing up for anything.
Other Auto Repair Financing Options
If none of the previous options are quite right, here are a few alternatives to consider:
Friend or family loan: Borrowing money from someone you know can be a great option. Not only does this not require a credit check, but you typically won't have to pay any interest or other fees. Make sure you can reliably pay back what you owe.
Title loan: A title loan is a short-term loan that uses your car as collateral for funds. You can typically borrow between 25% and 50% of the vehicle's value. You'll also usually have between 15 and 30 days to pay back what you owe plus interest. This can be risky since failure to repay the loan could result in losing your car. But it can also be helpful in an emergency.
Payday alternative loan: Offered through credit unions, PALs are much more regulated than high-interest payday loans. You can borrow up to $2,000, provided you meet the credit union's requirements. You'll also typically have anywhere from one month to a year to pay back what you owe plus interest.
Emergency savings fund: If you have an emergency fund, consider using it to cover your auto repairs. Just be sure to max out your fund when you can so you have it for future emergencies.
Final Take
Paying for auto repairs can be challenging, which is why it's important to weigh your auto repair financing options. This could mean using a low-interest credit card or a personal loan. Or it could mean asking a loved one for a small cash loan.
If possible, ask your mechanic for an estimate of what the repairs will cost before getting anything done. This will help you make an informed decision and ensure you choose the best option for you.
Our in-house research team and on-site financial experts work together to create content that's accurate, impartial, and up to date. We fact-check every single statistic, quote and fact using trusted primary resources to make sure the information we provide is correct. You can learn more about GOBankingRates' processes and standards in our editorial policy.