Gas Prices: How Israel-Hamas War Could Have a Major Impact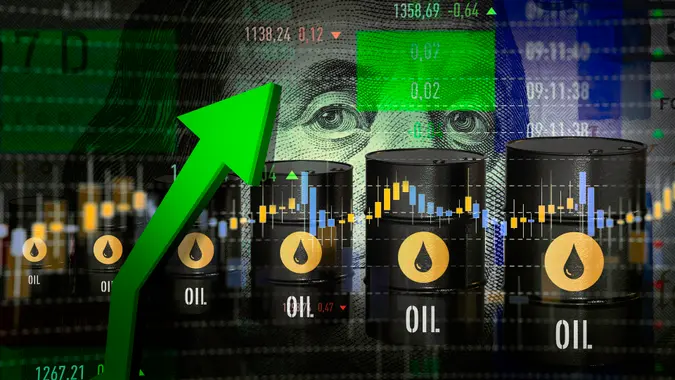 sefa ozel / Getty Images/iStockphoto
Considering the human toll of the war between Israel and Hamas in the Gaza Strip, it's understandably hard to think about the economic impact. But because the conflict takes place in a major oil region, markets across the globe are concerned about how it will impact oil and gas prices.
In the United States, at least, the impact so far has been muted. Energy analysts expect prices at the pump to keep falling, NBC News reported. That's mainly because Israel and its immediate neighbors are not major oil producers — and oil prices are the main drivers of gas prices.
The average price for a gallon of gasoline in the U.S. was $3.565 as of Thurs., Oct. 19, according to AAA. That was down from $3.646 the previous week and $3.880 a month earlier. Prices have fallen about 7.5% from a year ago, even though the Israel-Hamas conflict is already into its third week.
As long as the conflict doesn't expand into geographic regions that do produce a lot of oil, gas prices should maintain their recent pace, according to Tom Kloza, global head of energy analysis at the Oil Price Information Service.
"On balance, we're looking at gasoline prices dropping in all 50 states," he told NBC News.
Another reason the global energy markets aren't rattled by the Israel-Hamas conflict is that the OPEC oil-producing states are not as influential as they used to be. This is mainly because the world economy is not nearly as dependent on oil now as 40 or 50 years ago, The Guardian reported
A report from the Center on Global Energy Policy at Columbia University found that the world used a little less than one barrel of oil to produce $1,000 worth of gross domestic product five decades ago. By 2019, the figure was 0.43 barrels — a decline of 56%.
"Oil has become a lot less important and humanity has become more efficient in making use of it," the Center on Global Energy Policy stated.
That doesn't mean the war hasn't had an impact. As NBC News reported, the price of global crude oil rose to more than $87 a barrel by Monday, Oct. 16 — up from less than $83 late last week. But prices have since fallen back, dipping to $83.62 early Wednesday.
In a note earlier this week, GasBuddy analyst Patrick De Haan said the initial spike in crude oil prices was a "knee-jerk reaction." He also said there is a "very, very low risk" of U.S. gas prices rising.
The wild card is how far and wide the Israel-Hamas conflict will spread. The bombing this week of a hospital in the Gaza Strip has caused fury throughout the Middle East, leading to fears that the war could rapidly move into neighboring countries.
"If you wake up and the theater of war has been expanded to Iran, that changes the calculus." Kloza said.
More From GOBankingRates