How Many Mortgage Payments Can I Miss Before Foreclosure Happens?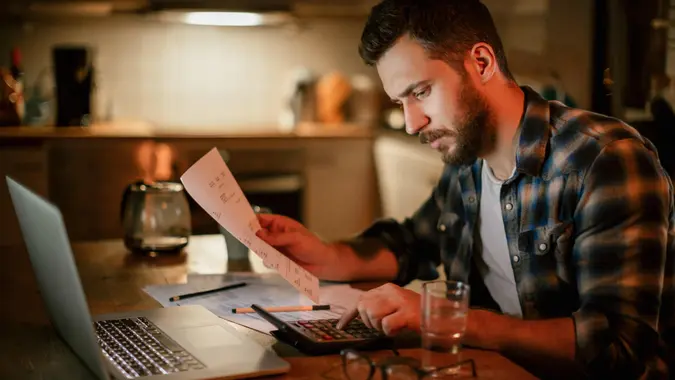 Geber86 / Getty Images
When borrowers take out a home loan, they have to start making monthly mortgage payments. As many homeowners know, it can be easy to miss a few payments. You might wonder how many mortgage payments you can miss before foreclosure happens. The answer is that in most cases, the lender can begin the foreclosure process once you've missed your fourth payment and are 120 days past due.
What Happens When You Miss Mortgage Payments?
As a rule, the more mortgage payments you miss, the more trouble you'll be in with mortgage companies. Missing mortgage payments can cost you more — with each missed payment, you'll incur late fees and inch closer to foreclosure.
Paying your mortgage should be among your top priorities. Missing mortgage payments can be disastrous for your personal credit and can have an adverse effect on your credit score, for which payment history is a major factor. If you do start missing payments, you should be familiar with the penalties and what can happen after each missed payment.
First Missed Mortgage Payment
Lenders typically offer a grace period of 10-15 days after the mortgage payment due date. If you make your full payment within that period, you won't be charged a late fee, and most importantly, the lender won't report a late payment to the credit bureaus.
Once this grace period is up, however, you'll be charged a late fee if you've missed the payment or have only made a partial payment. This fee is usually a fairly substantial percentage of your mortgage payment, such as 4% to 6% of the monthly payment amount. Refer to your mortgage loan documents for the exact fee.
You'll receive an overdue notice, and perhaps a phone call, after your first missed payment. In addition, the lender will report the delinquent payment to the credit bureaus, which can affect your credit score and stay on your credit report for up to seven years.
Depending on the type of foreclosure your state uses, the lender might send you a notice of its intent to foreclose or a pre-foreclosure notice after the first missed payment, although most wait until you've missed two or more payments. 
Second Missed Mortgage Payment
If you miss your second mortgage payment, your mortgage is likely considered to be in default. If it hasn't already, the lender will probably contact you to find out why you haven't made your payments. This is a good opportunity to explain your situation; your lender may be able to put you on a plan to temporarily reduce or suspend your payment.
Your mortgage servicer will usually become increasingly aggressive about getting paid if you miss your second mortgage payment, but it gets even worse if you continue missing payments.
Third Missed Mortgage Payment
Once you're 90 days past due, you'll receive a notice of default. The notice informs you of the amount you are delinquent and that you have 30 days to bring your mortgage current.
This is your signal that the lender's formal foreclosure process has begun. In Maryland, for example, where foreclosures go through the court system, the lender will have filed and served you with an order to docket — the first court filing in the foreclosure process. 
You still have time to try to work out an arrangement with your lender, but it's unlikely that it will take less than the total amount of mortgage payments you owe.
If you can't make up the payments by the deadline and are unsuccessful in reaching an agreement with the lender, it's game over: The lender will begin the foreclosure process and bring legal action against you.
Fourth Missed Mortgage Payment
After you've missed the deadline provided in the demand letter and you are four months behind on your mortgage payments, the foreclosure process will usually begin. First, you'll be referred to your lender's attorneys. As a result of your delinquency, you'll be required to pay any legal fees incurred during this time. You could still have a chance to avoid foreclosure if you can make your payment or work something out with your lender.
Foreclosure
If you've reached the foreclosure stage, you have the right to stay in your home throughout the process, but it will be difficult to halt the proceedings. After all legal work has been completed and the lender is legally allowed to foreclose on the home, it will sell the home to recoup its loss. The exact process will depend on the legal processes in your state.
You'll receive notice of the sale date, and in some states, the lender must file a notice of sale a certain number of days before the sale takes place. The notice may be mailed to you, published in your local newspaper, posted on your home and displayed in a public place, such as the local courthouse. The home is auctioned after the notice period ends.
You will immediately lose control of your home once it's sold. If you haven't already moved out, the new owner likely will file to evict you. However, some states allow you to live in the home during the redemption period following the sale. The redemption period is a certain amount of time after the foreclosure sale when you can reclaim your home by making up your back payments and paying any fees the lender incurred during the foreclosure process. 
Foreclosure is the last thing you want to happen to your home, but it can be relatively easy to get caught up in other expenses and even lose the home in a matter of months. By making your payments on time — and if that's not possible, taking advantage of the grace period — you can avoid any legal difficulty with mortgage payments.
If you're having trouble making your mortgage payments, contact your lender to see what your options are and avoid foreclosure.
Daria Uhlig and Cynthia Measom contributed to the reporting for this article. 
Our in-house research team and on-site financial experts work together to create content that's accurate, impartial, and up to date. We fact-check every single statistic, quote and fact using trusted primary resources to make sure the information we provide is correct. You can learn more about GOBankingRates' processes and standards in our editorial policy.