Is Your Mortgage Rate Over 5%? Here's Why You May Want To Sell Your House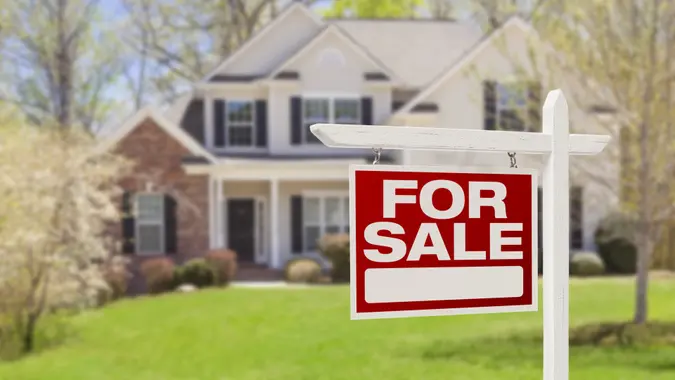 Feverpitched / Getty Images/iStockphoto
Homeowners who took out a mortgage before rates began an earnest climb in late 2021 might feel like they've dodged a bullet and are in no rush to trade their low rate for one that could be 4 points or more higher. That's the finding of a recent Zillow survey that looked at how mortgage rates influence homeowners' willingness to sell their home. While just 21% of those with rates below 5% plan to sell, 38% of those with rates above 5% plan to sell — with good reason.
Good Reasons To Sell Your House If Your Rate Is Over 5%
If your rate is 5% or higher, you could benefit from selling your home.
Low Inventory Is Keeping Prices High
Despite today's high interest rates — the average for a 30-year fixed-rate mortgage is 7.23% as of Aug. 24 — there's still more demand for homes than there is supply, especially when it comes to existing homes vs. new construction. In fact, July's inventory of unsold existing homes reached the equivalent of a 3.3-month supply — just a 0.1% increase compared to July 2022, according to the National Association of Realtors. The tight inventory is due in large part to those rate-locked homeowners who are leery about trading their current mortgage loan for one with a higher rate.
Your Home Could Be Worth a Lot More Than When You Bought It
Home prices skyrocketed during the pandemic, creating $9 trillion in wealth for owner-occupants, according to the Federal Reserve. While high home prices have accompanied general inflation that has driven up most consumer prices, the increase has hit home prices disproportionately, driving as much as one-third of the increase in the consumer price index.
That's bad news for buyers, but it works in the favor of sellers. Every dollar your home value appreciates equals one dollar of new equity.
Waiting for the Market To Change Is Risky
If you're basing your decision on the market, you should base it on the current market. Holding off on the sale until the market changes in some expected way, whether that means lower rates, higher prices or some other metric, is notoriously risky because no one knows for sure what the market will do. Economists and analysts whose job it is to forecast mortgage rates, for example, rarely agree on actual figures vs. trends, and they sometimes don't even agree on trends, at least for the short term. In addition, they change their predictions on a monthly basis based on the newest data.
By the time you sell one home and find another to purchase, the market might change in a way that works against you.
You've Lost Your Job or Are Worried You Might
If you've lost your job or think your job is in danger and you don't have emergency savings to fall back on, it might make sense to sell now if you've been thinking about selling anyway. One late payment in the previous 12 months might not be a deal breaker in the event you want to sell later and finance a new home. However, more than that can make it harder to borrow and result in a higher interest rate even if you get approved. Too many missed payments can even land you in foreclosure.
Of course, you need a place to live, and you can't take out a new mortgage while you're unemployed. However, you could use some of the proceeds from the sale to prepay rent.
It's a Lifestyle Choice, Not a Financial One
The decision to sell a home isn't always a financial one. Sometimes it makes sense because it'll provide a desired lifestyle change. If, for example, you have the opportunity to move to a place where you've always wanted to live, or selling your home will let you live closer to family or friends, selling could be the best thing for you even if it's not the best thing for your finances. But it can work in your favor in that sense, too, if the place you move to is less expensive — or you downsize to reduce costs.
Why Is 5% Important?
Five percent isn't a magic number as much as it is an inflection point, according to the Zillow report. Whereas homeowners with low rates have fewer financial incentives to sell their home, those with higher rates have fewer incentives not to sell.
The greatest divide currently is between homeowners with 4.00% to 4.99% rates and those with 5.00% to 5.99% rates, but the inflection point has ranged from 4% to 5% over the last four quarters.
Is 5% a Good Rate?
Whether or not 5% is a good rate depends on the prevailing rates at any given time. The average rate was 7.23% as of Aug. 24. A 5% rate is good in comparison. In fact, it could mean the difference between a loan being affordable and it being out of reach. If you had a $250,000 mortgage loan with 5% interest, the payment would be $1,342. With a 7.23% rate, that payment would be $1,702.
How To Qualify for a 5% Mortgage Rate
Mortgage lenders have a range of rates they offer to borrowers. The specific rate you're offered within that range depends on many factors, including the loan type and features, loan amount, your financial health and your creditworthiness.
Here are some steps you can take to qualify for the lowest rate possible on a purchase loan:
Improve your credit.
Pay down debt.
Save up enough to put at least 20% down.
Compare rates from several different lenders.
Opt for an adjustable-rate loan with a lower promotional rate.
Buy down your rate by paying points on the loan.
Select a 15-year or 20-year mortgage instead of the usual 30-year loan.
To get the lowest rates on a refinance loan, take these steps:
Improve your credit.
Pay down debt.
Compare rates from several different lenders.
Refinance into a mortgage with a shorter term.
Switch from a fixed rate to an adjustable rate, or vice versa, to reduce your rate.
Our in-house research team and on-site financial experts work together to create content that's accurate, impartial, and up to date. We fact-check every single statistic, quote and fact using trusted primary resources to make sure the information we provide is correct. You can learn more about GOBankingRates' processes and standards in our editorial policy.