65% of Student Loan Borrowers Have Even More Debt Than Before the Pause — Here's Why (and Ways To Deal With It)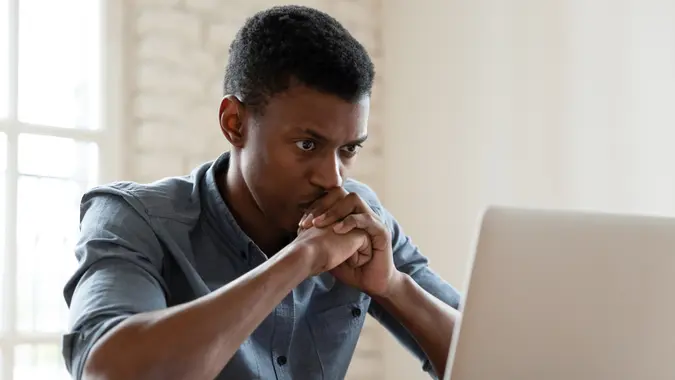 fizkes / Getty Images/iStockphoto
With the resumption of student loan payments scheduled for October, it's not surprising that borrowers are feeling a weight on their shoulders. A recent survey by Achieve revealed nearly half of borrowers are experiencing significant stress, with over a quarter expressing concerns that restarting payments may lead them to accrue additional debt in order to meet their financial obligations.
In fact, 29% feel more encumbered by their student loans now than they did when the forbearance period began. This is primarily attributed to the fact that 65% of respondents took on new debt during the three-year payment pause.
Austin Kilgore, an analyst at the Achieve Center for Consumer Insights, noted that this outcome was not unexpected, especially considering the record-high inflation witnessed over the past couple of years, making it more challenging for individuals to meet their financial needs.
While 45% of student loan borrowers utilized the forbearance period to address other outstanding debts, those who incurred additional debt attributed it to credit cards (41%), car loans (17%), personal loans (16%) and medical debt (15%).
Regarding the magnitude of debt, Achieve's research indicated that one-third of borrowers (32%) reported amounts exceeding $10,000, while 26% indicated their new debt was less than $2,500.
As a result, it comes as no surprise that 45% of respondents admitted feeling extremely or very stressed about resuming their student loan payments. Furthermore, 28% of borrowers anticipate having to take on new debt to effectively manage their personal finances when federal student loan payments recommence. An additional 24% anticipate needing financial assistance or hardship provisions to navigate the transition.
"Personal finances are often a source of stress for consumers," Kilgore emphasized. "With student loans, there was so much uncertainty about whether this debt would ultimately be forgiven and that probably added to borrowers' anxiety." He further noted that many borrowers seem to anticipate relying on credit cards and adjusting their household budgets to accommodate the resumption of student loan payments.
"It will be interesting to see how many borrowers obtain the new repayment options the Biden administration recently announced, and how much relief those options provide," he added.
Regarding the expected payments in October, 62% of respondents anticipate monthly payments to be under $250, while 13% expect payments to amount to $500 or more. Kilgore underlined that, "for consumers already living paycheck-to-paycheck, even an extra $100 expense can be difficult to shoulder, so it's not surprising that student loan borrowers are so concerned about resuming payments."
A notable consequence of student loan debt is its impact on life milestones, such as homeownership and starting a family. The survey indicated that 65% of respondents have postponed such goals. Specifically, 36% have postponed establishing an emergency savings fund, 30% have not saved for retirement, 26% have not reduced other debts, 23% have been unable to purchase a home, 17% have been unable to buy or lease a vehicle, 7% have delayed or opted not to get married, and 9% stated that student loans have affected their plans to have children.
Kilgore advised exploring income-based repayment options and other new relief measures outlined in the Biden administration's "Saving on a Valuable Education" (SAVE) plan, emphasizing the importance of recognizing that federal student loans cannot be discharged through bankruptcy, and borrowers may face wage garnishment and withheld tax returns if they fall behind on payments.
More From GOBankingRates